With so many items and crafting materials to collect, it's no surprise you'll want to increase your backpack and storage capacity as soon as you can in Hokko Life. Slots are at a premium in the early going, and it's likely you'll have to do some creative sorting and selling to carry and store everything you need.
This Hokko Life guide tells you how to increase your backpack carrying capacity and how to build storage chests to keep around your house. It will also quickly go over how to dismantle items if you need to break something down for more space.
How to Increase Backpack Carrying Capacity
You start with 16 backpack slots initially, which fill up very quickly. To add more space, you'll need to complete two Mayor Merits, little challenges that unlock myriad different things in Hokko Life, like the fishing rod, the pickaxe upgrade, and the ability to demolish and move houses.
The two you need to complete here are found in the first subsection (the blue sub-tab with three people) of the Mayor Merits tab in your player menu.
Backpack Upgrade 1: +8 slots. Make 5 Villager deliveries.
Backpack Upgrade 2: +8 slots. Make 10 deliveries, sell any 50 items, and reach the Small Wood.

To reach the Small Wood, take the path into the Woods from the Torii Gate in the northern part of the Village. When you load into the Woods, follow the path north, then east when it turns right up the hill. Follow that path east, past the fork and the grassy area with the bench. Use the bomb to blow up the rocks at the end of the path.
These Mayor Medal challenges will take a while to complete, as some Villager Deliveries can prove difficult or time-consuming. When all's said and done, you'll have a total of 32 slots in your backpack.
How to Unlock the Fishing Bag
You can also unlock a fishing bag to store your various Baits from your main backpack inventory separately. First, unlock the three different Fishing Baits under the Insects and Fish sub-category in the Mayor Merits tab. Then catch 10 unique fish and use bait 15 times to get the fishing bag, which shows to the left of your backpack inventory.
How to Get Storage Chests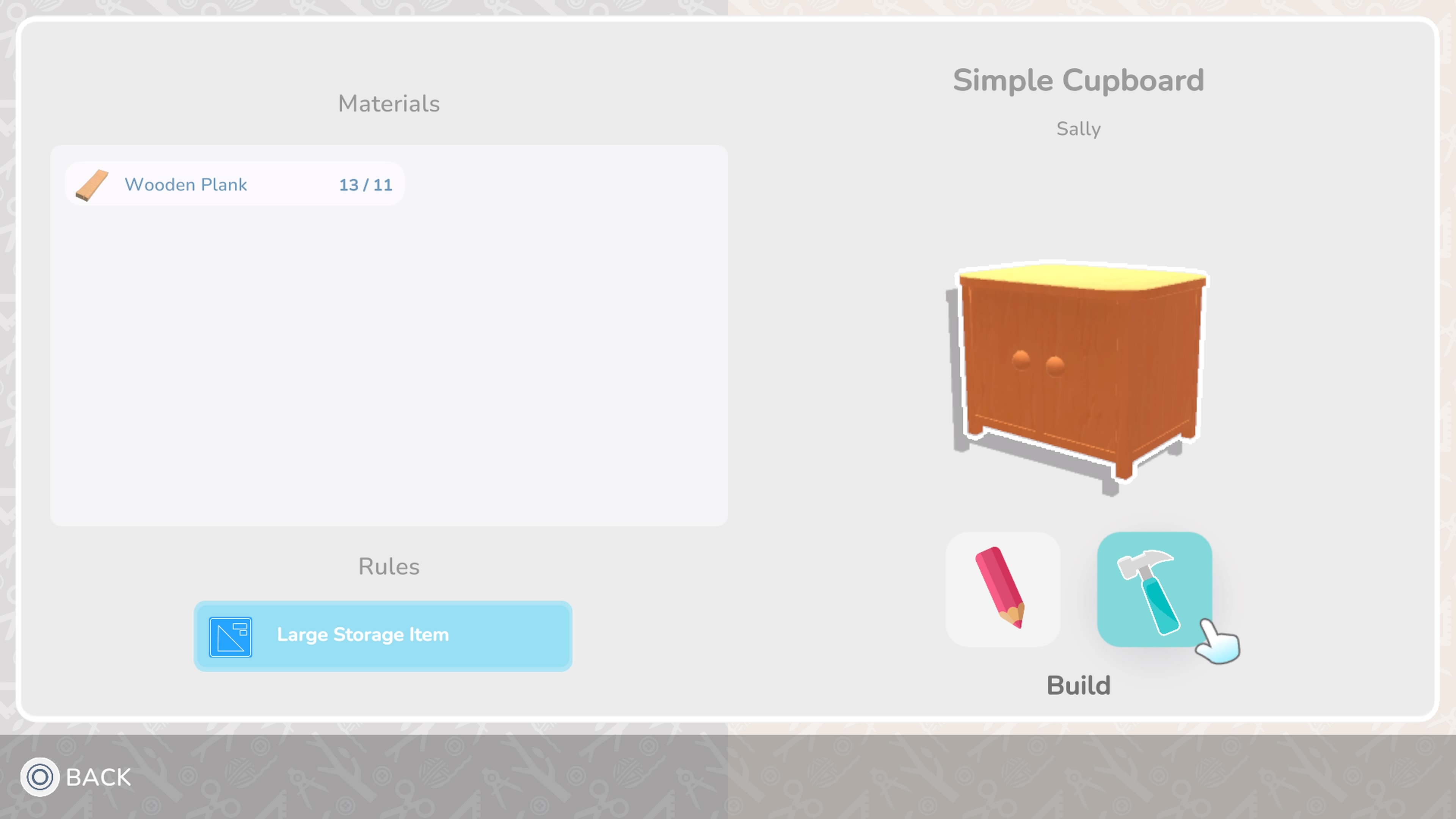 Unlike some other life-sims, Hokko Life doesn't have a blueprint for chests, so you may be wondering how to store items for later in your home.
One of the game's key components is building furniture and unique items yourself through the Design Table, which is found in the Workshop and Unlocks while building the simple bridge.
As you play through Spring, make sure to speak to the townsfolk for more Design Table requests. Eventually, Niko will ask for a Simple Cupboard, giving you the design; build one for 11 Wooden Planks, and complete their quest. Hokko Life doesn't tell you, but the Cupboard is the only "actual" storage chest in the game. It has 24 slots.
You can certainly build your own storage containers once you get through all of the Design Table tutorials. Just choose the Blueprint icon at the table, Large Storage Item at the bottom of the list that appears, and build within the dimensions for your own unique box.
There are plenty of great tutorials on YouTube that showcase other players' creations that may give you a spark of inspiration. You can also visit the city to download creations if you have other players' shop code.
It's worth noting that you can move storage items without emptying them first.
How to Dismantle and Deconstruct Items
If you need crafting materials but don't want to go out and source them yourself, you may want to break down an item you're not using, such as a bookshelf or bed.
To break an item into its initial crafting components (e.g. Wooden Planks, Stone, etc.):
Pick the item up and place it in your backpack.
Interact with the Workbench in the Workshop
Look in the bottom center for the "Dismantle" button (ex: Triangle on PlayStation)
Choose the item
Choose how many to deconstruct.
Press the button highlighted underneath the number you've chosen to break down.
It's never a bad thing to have more backpack space or storage capacity. With all the farming and gathering you'll do, having more slots makes Hokko Life's day-to-day much more manageable. That's not to mention you won't have to worry about running to Moss' shop during fishing tournaments — a big quality of life upgrade — and picking up relics on the island won't be such a hassle. For more, head over to our Hokko Life guides hub.
About the author