Fortnite's Spring Breakout brings new weekly challenges to the battle royale, and you may be wondering how to complete the quests in Week 3 of Season 2, Chapter 4. Completing the challenges will give you XP for your Battle Pass, and give you more to do in-game, too. Here's find all you need to know to complete the challenges in Week 3.
Fortnite Season 2, Chapter 4 Week 3 Quests Guide
Screenshot by GameSkinny
Accept a bounty at different dueling circle Bounty Board locations (12,000 XP)

Go into your quest menu, and select this challenge from the list to reveal the challenge locations on your map in-game. They appear as star symbols. You'll need to accept two bounties total.

North of Mega City
Northeast of Mega City, above Knotty Nets
Southwest of Kenjutsu Crossing
Southwest of Steamy Springs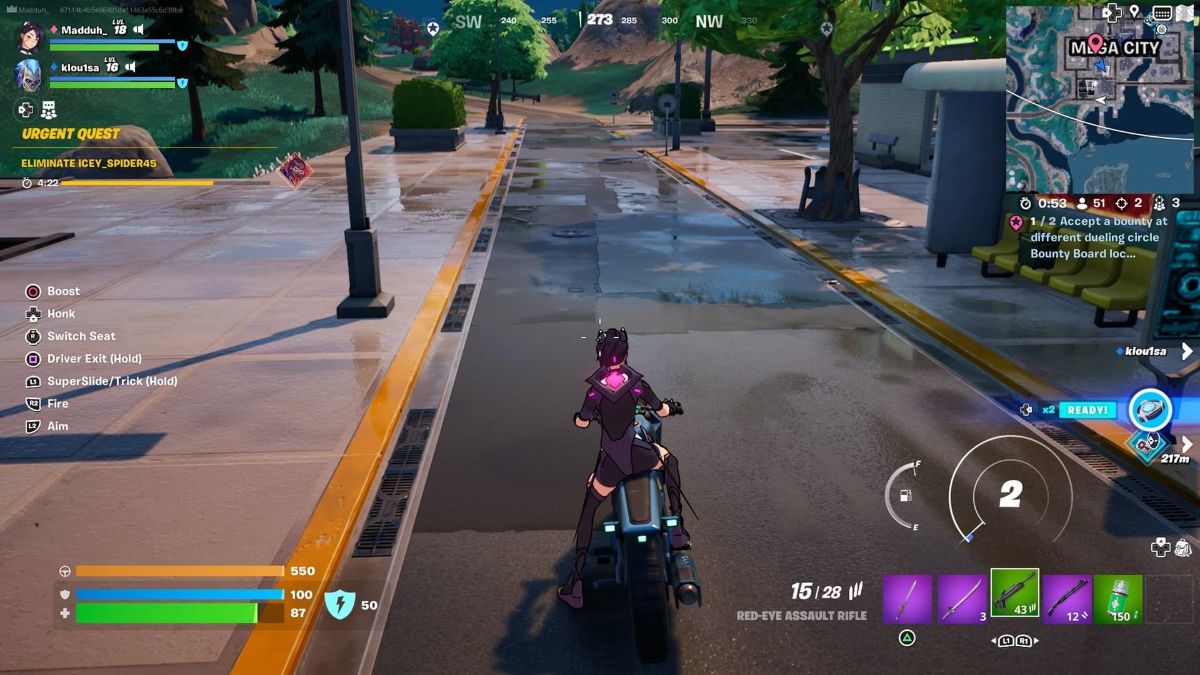 Screenshot by GameSkinny
Hit a speed of 86 on a Rogue bike (12,000 XP)

You can complete this Fortnite quest with any Rogue bike found on the island, but the bikes are most easily found in Mega City. You'll have the best luck picking up speed on the bike if you stick to the roadways; Offroading isn't this vehicle's strong suit, and you'll quickly notice it struggle when you veer to the dirt. Once you're on the road, hit your respective boost button found on the left side of the screen.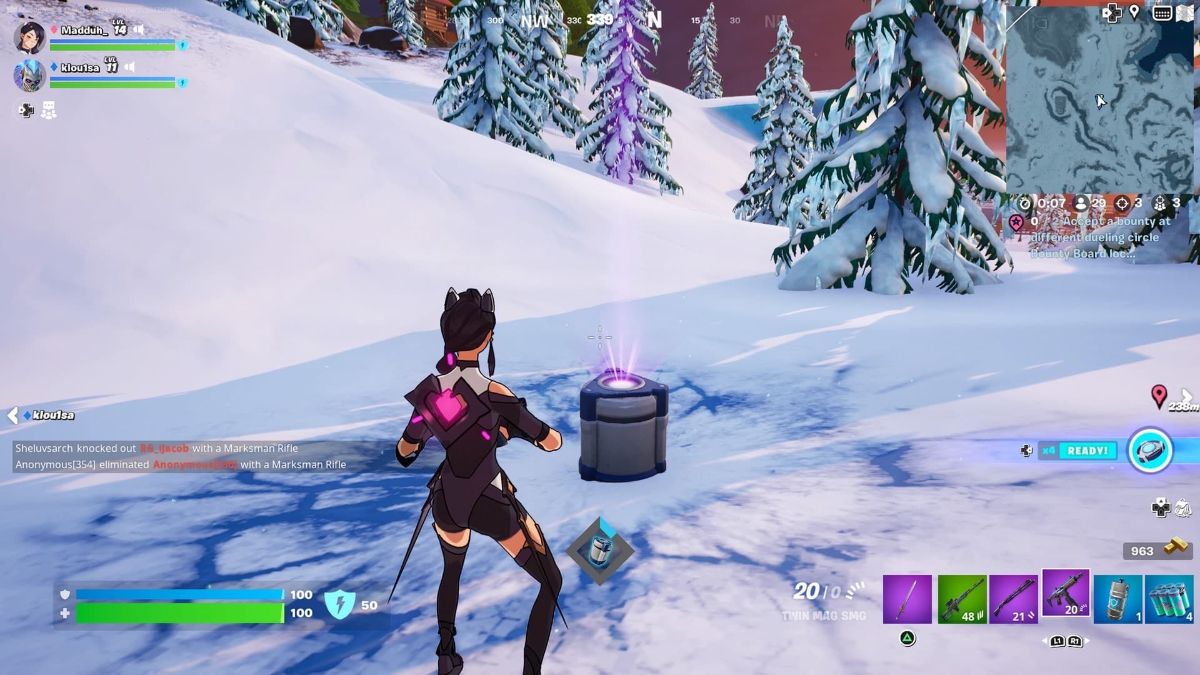 Screenshot by GameSkinny
Recover a Combat Cache (12,000 XP)

Combat Caches can be regularly found throughout a match and are marked on the mini-map when you're nearby. This challenge is particularly great because Combat Caches can provide you with some amazing loot if you reach them quickly. However, the recovery process takes an entire minute, so make you have a safe place to wait.
Screenshot by GameSkinny
Hire a Scout, Heavy, Supply, and Medic Specialist (2,000 XP)

You'll need 900 gold bars to complete this challenge.
If you go into your quest menu and select this challenge from the list, it will reveal the NPC locations on your map in-game. They appear as exclamation points. Simply hire all four NPCs to complete the challenge.

West of Steamy Springs
Northwest of Brutal Bastion
North of Breakwater Bay
Southeast of Lonely Labs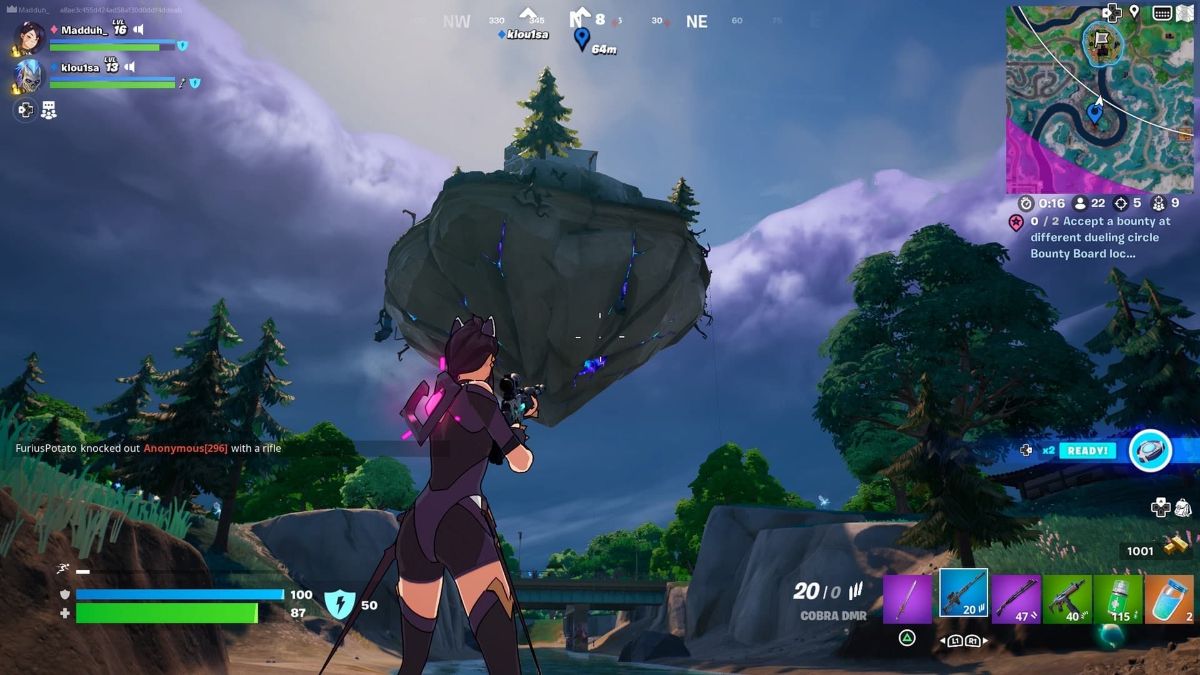 Screenshot by GameSkinny
Claim the Capture Point on the floating Loot Island (12,000 XP)

The floating Loot Island appears after a few Storm Cycles have elapsed. Once enough time has passed, you'll be able to spot it on your map and mini-map.
Getting to it is just a matter of riding a zipline up the side or gliding over. Once you reach the island, capture the Point by staying within the flag zone until the flag reaches the top of the pole. Once you capture it, you'll get treated to some legendary loot.
That's it for completing the Week 3 Fortnite challenges in Season 4, Chapter 4. There will be new challenges released every Tuesday at 9 a.m EST/6 a.m. PST, so stay tuned for more guides on Spring Breakout.
Feature image by GameSkinny
About the author