While most pirates are known for hunting gold and doubloons, there's a third coin in Sea of Thieves that enterprising buccaneers should keep in mind: Ancient Coins.
Ancient Coins are a premium currency. That means they are associated with real money. They are used to buy pets, ship cosmetics, and more. They are dead useful and can be claimed in a few ways, some with a cost and some through free mechanisms. We'll walk you through how each works in this Sea of Thieves Ancient Coins guide.
What are Ancient Coins?
Ancient Coins are another in the long-running live service game tradition of premium currency. They are a type of in-game money intended to be purchased with real-world cash. The exchange rate isn't a perfect 1:1 ratio, but generally, you can get around 1,000 Ancient Coins for $10 USD, with some variation for sales and bundles.
Screenshot by GameSkinny
Once you have Ancient Coins, you can spend them at the Pirate Emporium. Here you will find pets, costumes, ship cosmetics, and more. None of these will make your pirate any tougher (Sea of Thieves isn't pay-to-win, after all), but they can make you look and feel the part.
Ancient Coins are also how you opt into the seasonal Plunder Pass. Similar to a Battle Pass in other games, this grants an additional series of prizes as you work your way up 100 levels of renown.
How to Buy Ancient Coins in Sea of Thieves
Purchasing Ancient Coins is easy, provided you have the funds. Visit the Pirates Emporium from either the main Sea of Thieves menu or at one of the in-game Outposts. From here, you can launch into a sub-menu to make your purchase.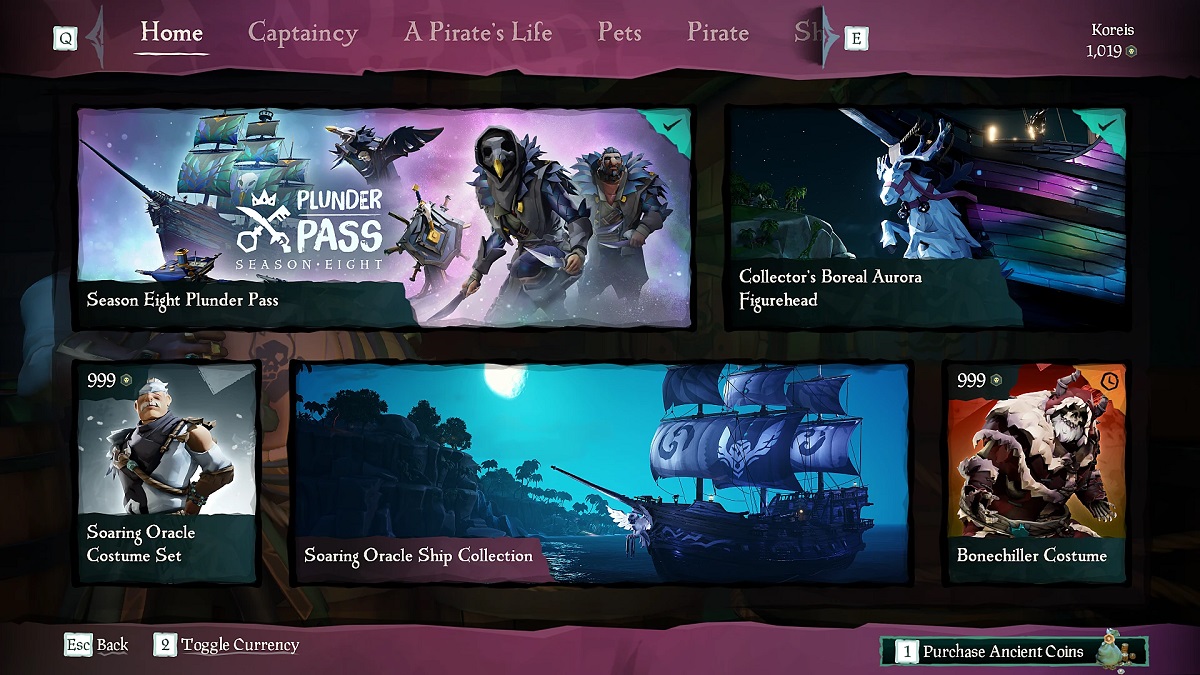 Screenshot by GameSkinny
Ancient Coins can also be acquired from either the Microsoft Store or Steam Store. In any of these cases, expect to provide a card number in order to fund the purchase. The coins should be available immediately after the order processes, usually within a few seconds].
How to Earn Free Ancient Coins in Sea of Thieves
There's nothing inherently wrong with buying your coins, but any proper scallywag should know how to come by them for free. There are two ways this can be done, though one does stretch the definition of free a bit.
The best, and "free-est" method involves Ancient Skeletons. They look similar to the other skeletons you encounter but emerge from the sand with a telltale jingle-jangle of coins. They're a rare occurrence, but if you do come across one and slay it, you and anyone in your crew will be awarded a small bounty of Ancient Coins. There's no way to predict where and when an Ancient Skeleton will pop up, so it's best to keep adventuring as usual and seize the opportunity if it ever arises.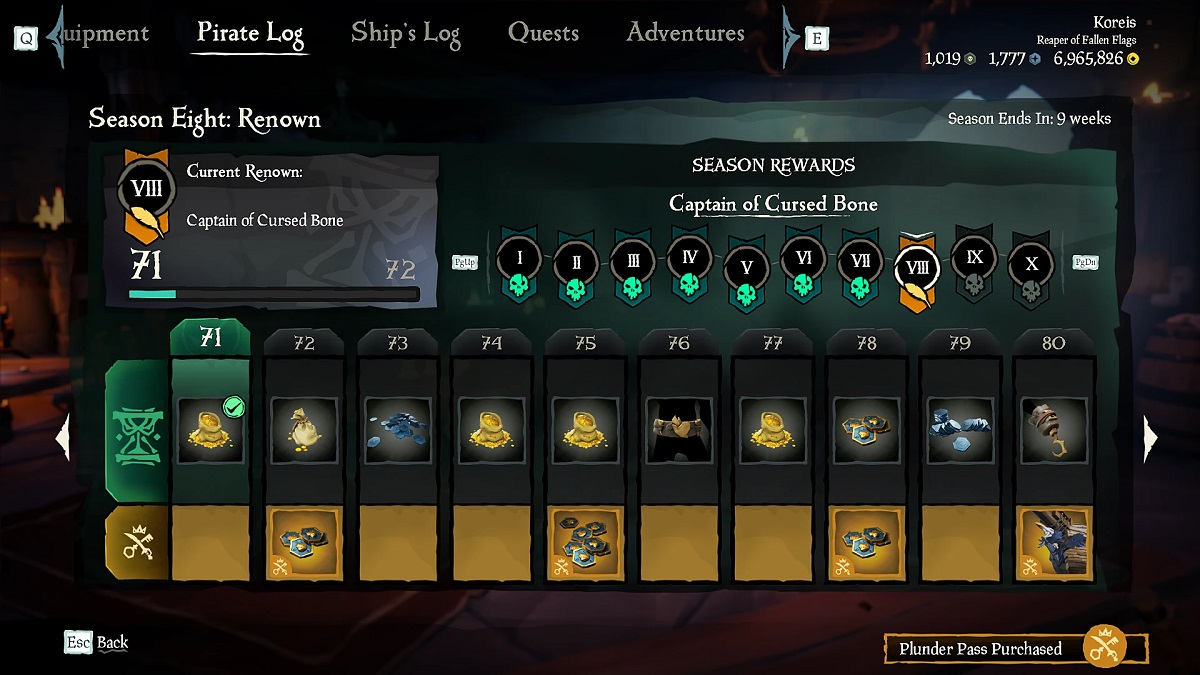 Screenshot by GameSkinny
The other option is to level up the Plunder Pass. Sure, you need to pay to access it, but once you have it, you'll have access to the premium rewards. These include fancy cosmetics and costumes, but more importantly for this guide, there are Ancient Coins rewarded at regular intervals throughout the pass.
Generally, it works out to around the same number of coins needed to buy the Plunder Pass in the first place, so don't plan to turn a profit, but it can effectively reimburse what you spent at the outset.
Once you have some Ancient Coins, you could consider investing in a new pet. Or you could deck out your pirate in the most dashing fashion and take on one of the story-driven tall tales. Whatever your interests, we have guides to that and more on our Sea of Thieves guides page.
Featured image by GameSkinny.
About the author