Dreams is a platform for all kinds of imaginative, user-generated content. But did you know there's also a progression system that tracks how many experience points you've gained over time?.
Leveling up in Dreams is a major part of the experience, as it shows other PS4 players how familiar you are with the entire package. As you grow in level, your favorite activities are recorded and turned into an "aura," which shows off what kind of dreamer you are.
How do you gain levels in Dreams, then? It's extremely simple; everything you do in Dreams earns you experience points and communicates whether you prefer to spend time playing, rigging characters, recording music, sculpting artwork, or designing gameplay.
How to Level Up in Dreams
You can split Dreams into two different "universes" of play: DreamShaping and DreamSurfing.
DreamSurfing
DreamSurfing is as simple as it sounds. You can surf the entire world of dreams that others have created, playing through vignettes and even finding a few entirely finished games.
By spending time in DreamSurfing mode, you gain experience points in the Play section of your profile. There's even an AutoSurf option that lets you quickly sample content without falling into a pesky bout of choice paralysis.
DreamShaping
DreamShaping is the essential toolkit that ties Dreams together. This is where you get to create anything and everything you can imagine, including individual elements, scenes, and entire dreams.
Virtually everything you do in this mode can earn you XP, but you may want to focus on completing objective-specific Imp Quests and Tutorials when you're first starting out to gain experience.
These will teach you how to navigate the DreamShaping toolset, but they also grant significant XP rewards upon completion.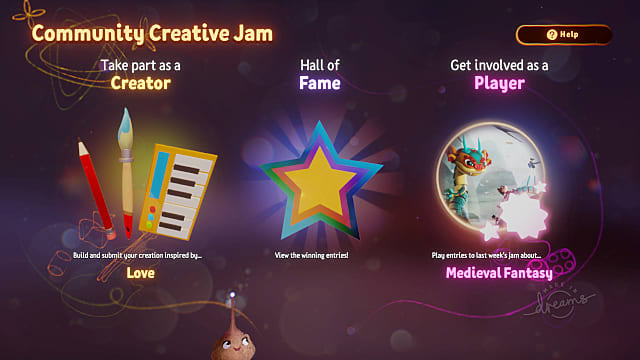 Community Jams
Regardless of whether you're a shaper or a surfer, you'll find plenty of stuff to do during community events. Even if you aren't creative, community jams are themed around a simple prompt, such as "Medieval," making it that much easier to get those creative ideas rolling.
Likewise, these jams provide the perfect opportunity for creators to take a break and try their hand at experiencing and even judging others' work.
—
That's everything you need to know on how to level up in Dreams on PS4. Doing so is a fundamental part of the game, so once you start playing, you'll be leveling up in no time at all.
Stay tuned to GameSkinny for more Dreams tips and tricks, including a guide on how to get more imps.
About the author