Hordes of shambling undead make their triumphant Call Of Duty return in Infinite Warfare with the Zombies In Spaceland mode, which is packed to the gills with unlockable areas and hidden equipment.
While fending off a wave of zombies you may run across souvenir machines inside the Spaceland park that require special colored coins. Unlike with the tickets at the arcade, there's no real indication at first of how you get these Souvenir Coins or what can be bought at the machines.
Below we cover everything you need to know about collecting Zombies In Spaceland Souvenir Coins, and the different combinations available for buying new equipment.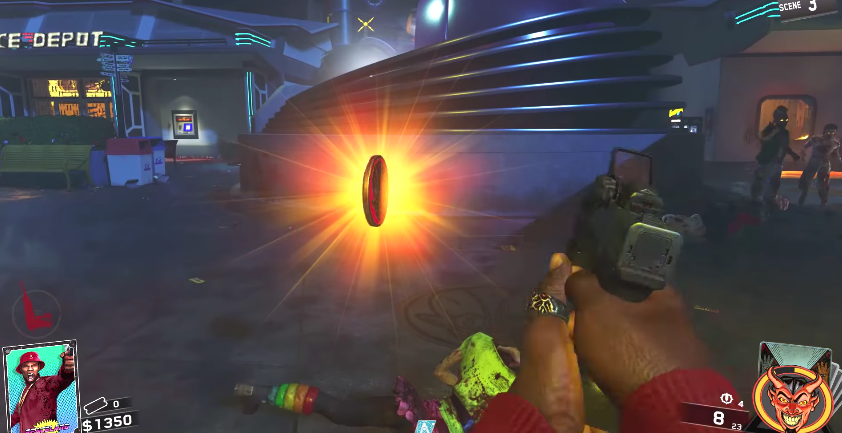 Red Souvenir Coin
Need even more Infinite Warfare help? Be sure to also check out:
Infinite Warfare Souvenir Coin Collecting
Unfortunately there's no special location to farm Souvenir Coins, as they are simply dropped randomly as you kill zombies in each wave. No one single weapon or number of kills seems to cause these Coins to drop more frequently.
Each player can only hold a single Coin at a time, meaning solo players will have a harder time unlocking equipment than a full group of four players cooperating online.
Grabbing a new Coin swaps out the current Souvenir Coin in your inventory, so you need to place them in the machines strategically to ensure you get the final result you are looking for.
Keep in mind before dropping a Coin into a machine, the power in that area must first be turned on, so be on the lookout for power switches if you haven't flipped them all already!
Spaceland Souvenir Machine
Zombie Souvenir Coin Combos
Here are all the combinations we've discovered so far in getting rewards from the souvenir machines!
| Coin 1 | Coin 2 | Coin 3 | Reward |
| --- | --- | --- | --- |
| Red | Red | Red | Alien Doll (Shredder component) |
| Green | Green | Green | Repcrator |
| Blue | Blue | Blue | Sentry Gun |
| Blue | Blue | Green | Electric Trap |
| Blue | Green | Green | Boom Box |
| Green | Green | Red | Sentry Turret |
| Green | Red | Red | Boom Box |
| Red | Red | Blue | Fireworks |
| Red | Blue | Blue | Window Laser Trap |
| Red | Blue | Green | Kindle Pop |
Let us know if you find any other uses for the Souvenir Coins or manage to get any different combinations going at specific machines!
About the author