New challenges keep landing for Mario Kart Tour, giving you opportunities to grab extra grand stars and coins galore. Looking to finally finish the land 3 hits with Bowser's Shell challenge? We've got you covered.
This challenge can only be completed with two specific drivers, so if you don't have them yet, it's time to spend all of your rubies on pipe pulls and keep your fingers crossed. Of course, you could head to the shop and hope they appear in the random rotation.
Landing 3 Hits With Bowser's Shell in Mario Kart Tour
You can complete this challenge in absolutely any level using either Bowser or Dry Bowser.
That being said, it's easier in their favored courses since you get more items per box and are more likely to pull the special Bowser's Shell item. It is completely separate from a normal red or green shell, so keep that in mind.
Since this is a special character-specific item, there aren't any karts or gliders that increase your chance of pulling Bowser's Shell.
Instead, this challenge comes down to random chance, pulling the item, and then hitting three drivers.
Bowser's Castle 1 and Bowser's Castle 1R are the best spots to complete this challenge since the sharp corners and short corridors mean it's more likely you will hit multiple drivers at once. Below are the favored courses for both drivers so you can quickly snag this challenge badge.
Bowser's Favored Courses:
Dino Dino Jungle T
Bowser's Castle 1
Bowser's Castle 1T
Neo Bowser City
Dry Bowser's Favored Courses:
Dino Dino Jungle
Dino Dino Jungle T
Bowser's Castle 1R
Shy Guy Bazaar
Neo Bowser City T
Where did you finally complete the 3 hits with Bowser's Shell challenge? Let us know in the comments below!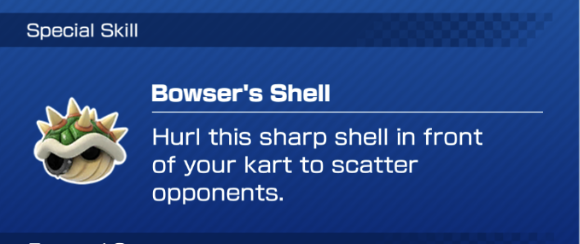 Need help with the rest of the Paris tour challenges? Be sure to bookmark our other Mario Kart Tour tips and tricks and check back soon for more:
About the author