Are you both a hockey fanatic and a trophy hunter? Want to know all the trophies there are in this year's game and how to unlock them? Look no further than our NHL 18 trophy guide.
This guide was written using a PS4 copy of the game — but if you're playing the Xbox One version, the achievements should be similar! We've broken this list down by bronze, silver, gold, and platinum trophies. Let's dive in!
Bronze NHL 18 Trophies
These are the easiest trophies to unlock — and the most numerous! There are 37 bronze trophies in NHL 18.
Someone Get That Kid a Puck: Score your first NHL goal in Be a Pro mode.

That's Number 50: Score 50 goals in one season as a rookie in Be a Pro mode.
Win It for Dale: In Be a Pro Mode, win the Stanley Cup.
Goose Egg: During the regular season in an NHL game, completely shut out the opposing team.
Drafted: In Be a Pro mode, have your player get drafted while playing an entire season in the CHL.
Practice Makes Perfect: Complete all training camp drills.
Knighted: After doing an expansion draft in Franchise Mode, you must win the Stanley Cup as the newest addition to the NHL — the Las Vegas Knights.
Bobble Head Star: During their Bobble Head night in Franchise Mode, have that player score a hat trick goal (3 goals in one game).
Developer: Reach 90+ overall with a player you drafted in Franchise Mode.
3 Star Performance: Win an NHL Threes Circuit Game with 3 stars on any difficulty.
King of the Pacific: Defeat the final boss of the Pacific Circuit in the new NHL Threes mode.
Cooperative: Win an online co-op threes games with a friend.
Mascot Sniper: Score 5 goals in a single game with a mascot player in a threes game.

League Champions: Return to the Seasons HUB as a member of a League Title winning EASHL club.
Conference Champions: Return to the Seasons HUB as a member of an EASHL club that has won the Division Title.
On A Roll: Return to the Seasons HUB as a member of an EASHL club who finished the last season with a perfect record.
Victorious: Return to the Seasons HUB as a member of an EASHL club that has recently won a playoff cup.
Triple Threat: Finish 3 EASHL 3-on-3 games.
Overtime Heroics: Score the game-winning goal during overtime in an EASHL game.
You'll Always Remember Your First: If you're a skater, score your first goal in an EASHL game. If you're a goalie, win your first game.
Veteran Club Members: Have a member on a team that reached level 25 in the EASHL.
Flip Biscuit: Not to be confused with Limp Bizkit, you can get this NHL 18 trophy in any mode by scoring a goal through flipping the puck back against the grain from the backhand toe drag.
Extend the Twig: With the defensive skill stick, deflect a shot in any mode!
Kids a Beauty: Using a between the legs shot in any mode, score a goal!
Manual Sauce: In any mode, get an assist from a manual saucer pass.

Tee It Up: In any mode, score a goal with a manual one timer.
Own the Crease: As a user-controlled goalie in any mode, have a shutout victory.
Costume Party: As one of the mascot characters, score a goal in an NHL threes game.
Tuck Me In: In any mode, score a goal with a one hand tuck.
Apple a Day: In any NHL 18 mode, get an assist with a between the legs pass. Now that's a stylish way to get a trophy!
First Timer: Complete a Hockey Ultimate Team Set for the first time.
A Little Help From My Friends: If your buddies are fellow hockey fans, this is an easy one. All you have to do is complete a co-op challenge with one of them.
Buzzer Beater: Complete a limited time Hockey Ultimate Team Set.
Competitor: Earn a HUT Competitive Seasons reward.
Synergized: Activate a Synergy Style in Hockey Ultimate Team.
Drafted: Complete a Draft Champions Draft.
All the Way: Win every game in a Draft Champions Draft. An easy one for skilled players.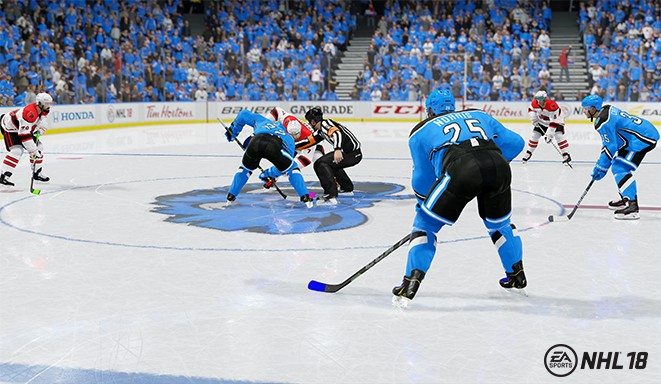 Silver NHL 18 Trophies
These trophies are a step up in difficulty from the bronze ones, and will likely take a bit longer to earn. There are 9 silver trophies in NHL 18.
Cup Champs: In Franchise Mode and after an expansion draft, be the 32nd NHL team to win the Stanley Cup.

Star Collector: Collect all the stars possible in an NHL Threes Circuit.
Circuit King: In NHL Threes Mode, you must win the final circuit trophy. You earn a trophy to earn a trophy!
How Prestigious: You must level up your EASHL pro beyond level 50.
Not My Bottle!: This is one of the more fun NHL 18 trophies — you have to knock the opposing goalie's bottle off the net by scoring a goal.
You've Been Counting Stars: In HUT Challenges, earn a total of 50 stars!
Championship Belt: Return to the HUB for Hockey Ultimate Team after recently winning the title during a Hockey Ultimate Team season.
OP: In Hockey Ultimate Team, have your active lineup consist of players that all have an active Synergy Style.
Ultimate Competitor: Earn a ranking within every round of a season during HUT Competitive Seasons.
Gold NHL 18 Trophies
The second most difficult trophies in the game! There are only two gold trophies in this year's iteration of NHL.
Master: Complete a Hockey Ultimate Team Master Set.

You're Crafty: Complete 50 Hockey Ultimate Team Sets for this trophy.
Platinum NHL 18 Trophies
Only the best players will lay claim to the only platinum trophy. Congratulations if you make it this far!
Raise Your Banner '18: Unlock all of the previous trophies to earn this one!
—
That's all the trophies you can collect in NHL 18! For more tips and tricks to help you earn every one of them, check out the rest of our NHL 18 guides so you can start dominating on the ice.
About the author