What good is new DLC without a gob of extra ranged and melee weapons with which to deal savage, unrelenting death? Luckily, the final Fallout 4 DLC Nuka World has its share of both weapons and slick, stylish power armor to round out your collection and display in your settlement.
Below we cover all the best new weaponry and armor to pick up while exploring the 200 year old amusement park, and completing quests for its raider inhabitants. Looking for more guides to find everything Nuka World has to offer? Be sure to also check out:
Best Nuka World Weapons
Nuka Nuke Launcher
A brand new, fizzy soda rendition of the devastating Fat Man mini nuke launcher, this efficient dealer of mass destruction launches nukes filled with Nuka Cola Quantum – which was apparently originally designed as a deadly weapon. The fact that it turned out to be a highly addictive soda was just icing on the cake.
You get this weapon by finding all the hidden Cappys during the Cappy In A Haystack quest and then choosing to turn off the power and kill Bradberton. When the power goes out, search the unlocked vault in the back room.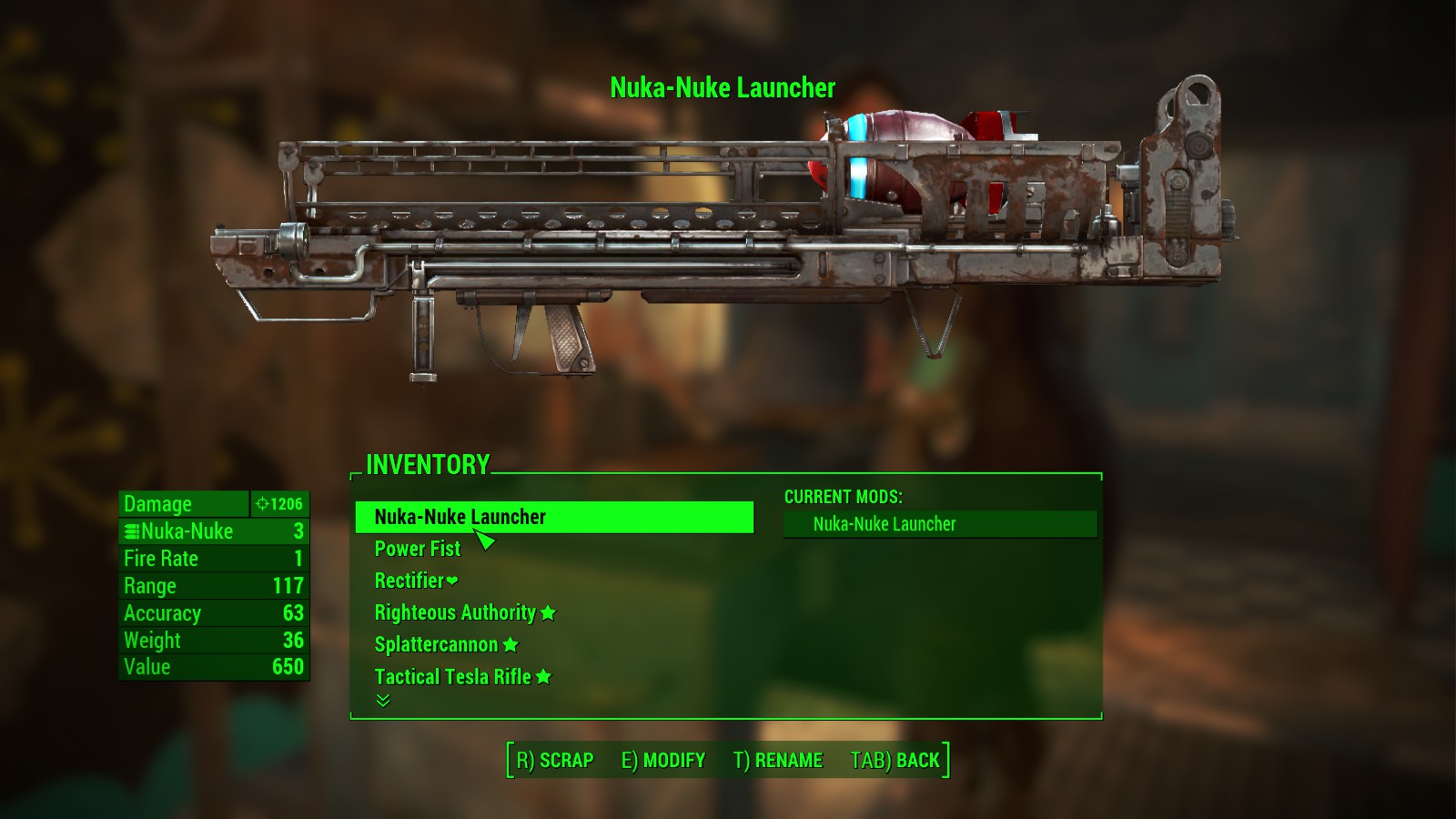 Nuka-Nuke Launcher
Splattercannon
You can always use a new automatic assault rifle in your inventory, right? There's no special quests to pick this up, but it's going to cost you a pretty penny (or a shiny cap I suppose).
Unless you have perks to lower the cost, this bad boy will set you back a whopping 10,000 caps and can be bought from Aaron Corbett at the Nuka World Market.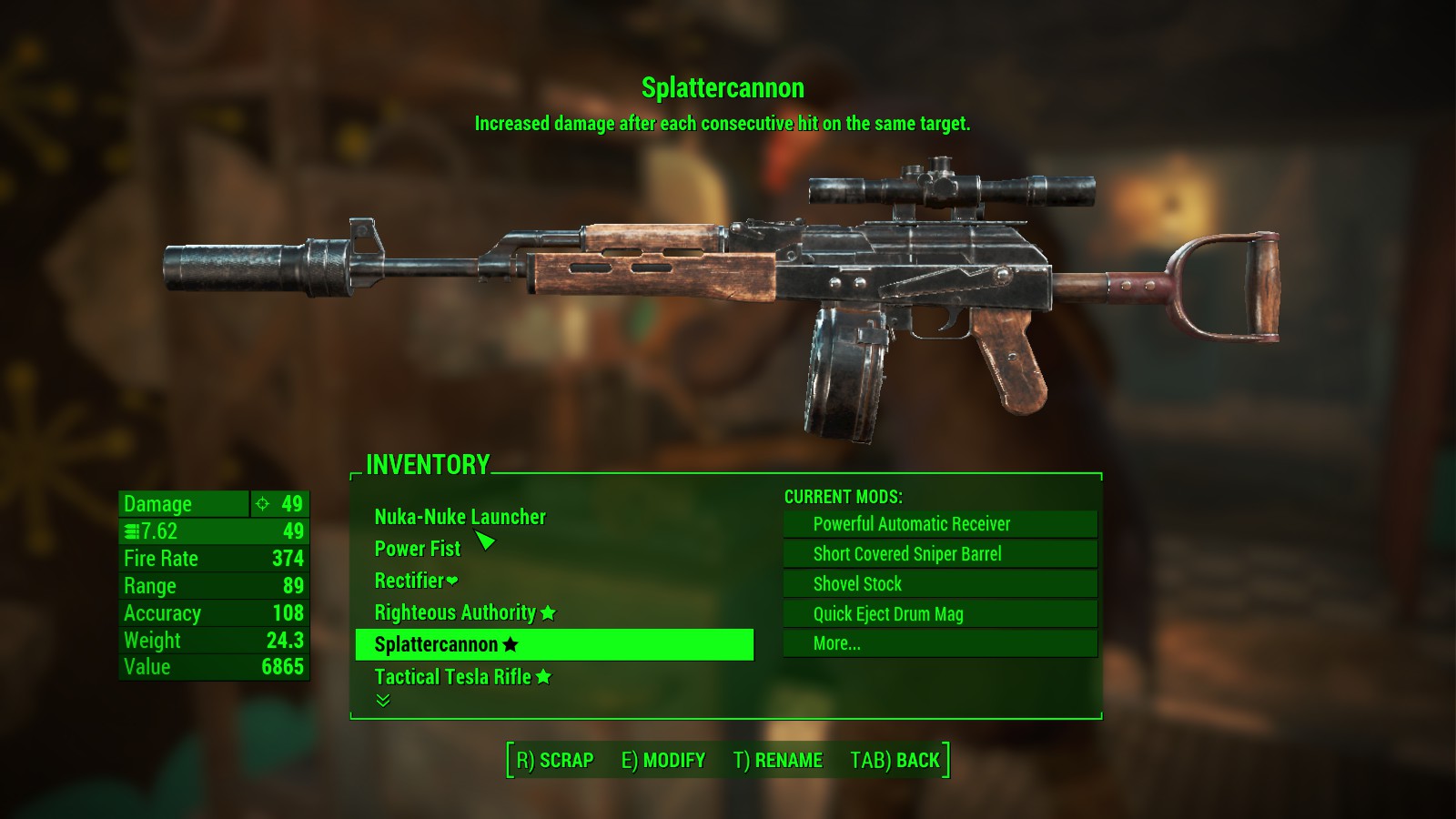 Splattercannon
Throatslicer
Another weapon that is available to buy at the Market without having to actually finish any quests, this vicious little melee weapon costs five grand when bartering with Katelyn, but the results are worth it for an up-close-and-personal fighter.
Since it deals 25 points of bleed damage (keep in mind – that's per hit), it basically has the Wounding special quality some Legendary weapons receive.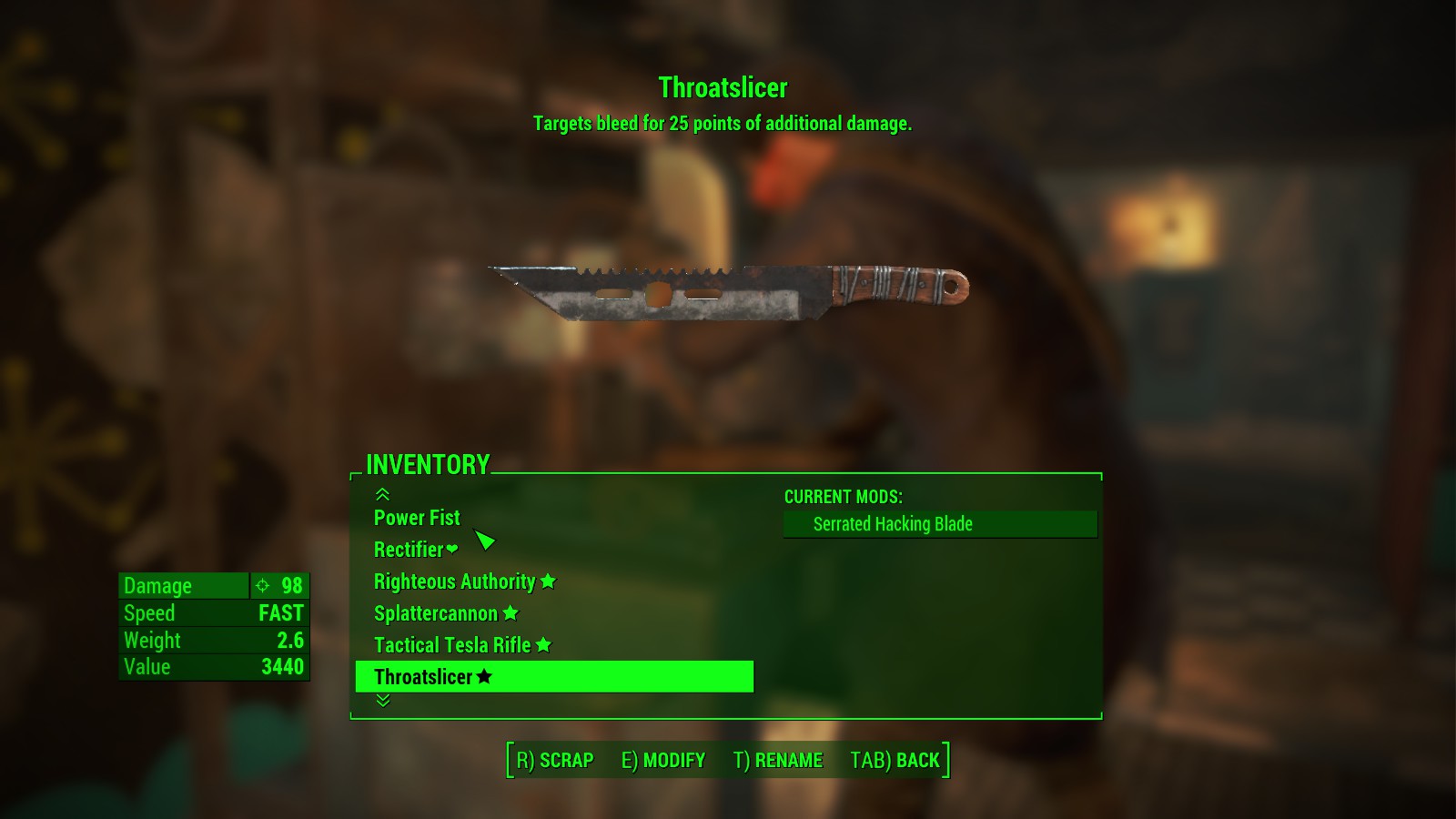 Throatslicer
Commie Whacker
After the Thirst Zapper squirt gun you have to use during the game's opening quest, this is the zaniest little weapon that Nuka World has to offer. You don't have to buy this one or complete a quest to get some hilarious kills.
Instead, just walk into the NukaCade and head over to the line of Red Menace Whack-A-Commie arcade games located near a concrete staircase. The Commie Whacker is lying on the ground in front of the machine.
Commie Whacker
Sword Of Wonders
Another excellent option for melee-focused Fallout 4 character builds, the Sword Of Wonders doesn't have a super high base damage, but it does ignore a portion of damage resistance, making it more useful than it seems.
The Sword Of Wonders is bestowed to you by Oswald in King Cola's Castle at the end of the A Magical Kingdom quest. You can also pick it up off Oswald's corpse if you go the violent route.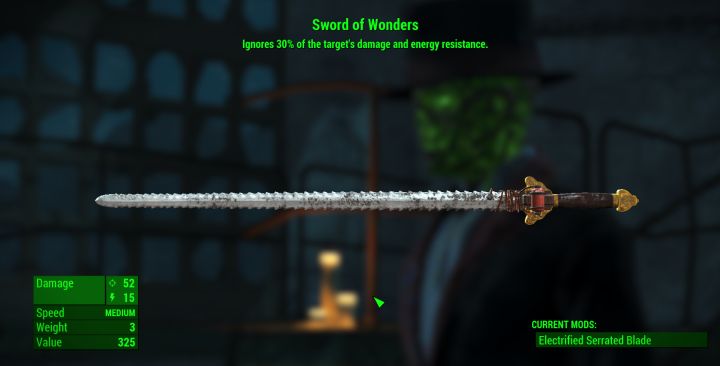 Sword Of Wonders
Problem Solver
I absolutely love the bizarre, Joker-style color schemes used by the Pack raiders. If you want to add a colorful new addition to your weapon options, you can talk Pack leader Mason into giving it up with a successful speech check.
The Problem Solver
Hub's Alien Blaster
This alien hand pistol is awarded at the end of the quest started in the Huboligist's camp to the southwest of the main park area. While not much different from any of the other energy-based weapons, it does deal double normal critical damage and fills your critical gauge faster.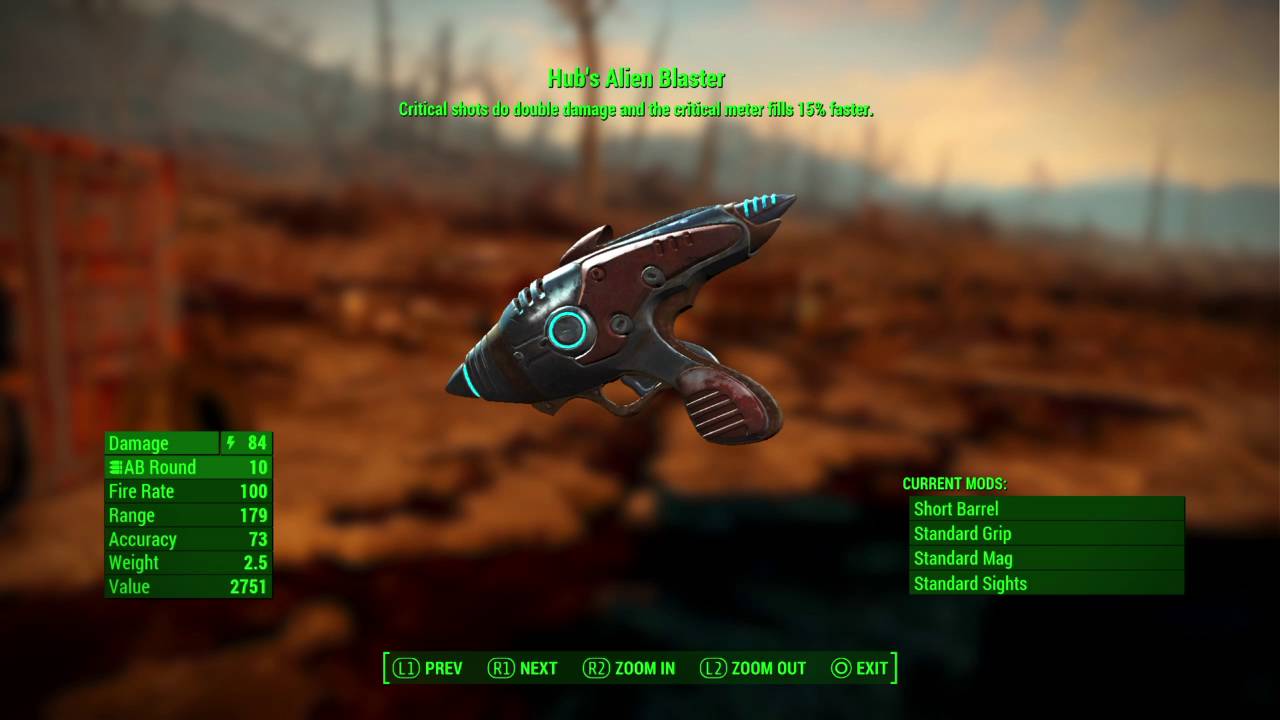 Hub's Alien Blaster
Cito's Shiny Slugger
Making us think of Lucille and the still up-in-the-air fate of Rick's crew in The Walking Dead, this spiked bat is given to you by Cito in the Safari attraction when you finish the Safari Adventure quest.
Cito's Shiny Slugger
Best Nuka World Armor
Nuka Cola T-51 Power Armor
With all the hilarious and bizarre merchandise found in the park, of course there was going to be branded Nuka Cola power armor! This one's actually pretty easy to find.
Located in the sewer section of the World Of Refreshment attraction, you can see the armor behind a locked glass panel. To access it, you just have to pick the lock to the employee area and then unlock the door using the employee terminal.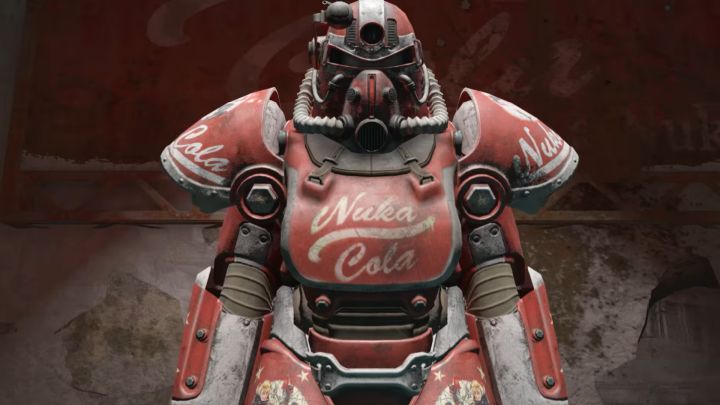 Nuka Cola Power Armor
Quantum X-01 Power Armor
An upgraded version of the Nuka Cola armor based on the super charged Quantum drink, this sleek blue armor is also easy to see inside the glass display case at Starport Nuka.
To unlock the case and access the armor, you have to complete the Star Control quest and plug all the star cores into the mainframe inside Starport Nuka.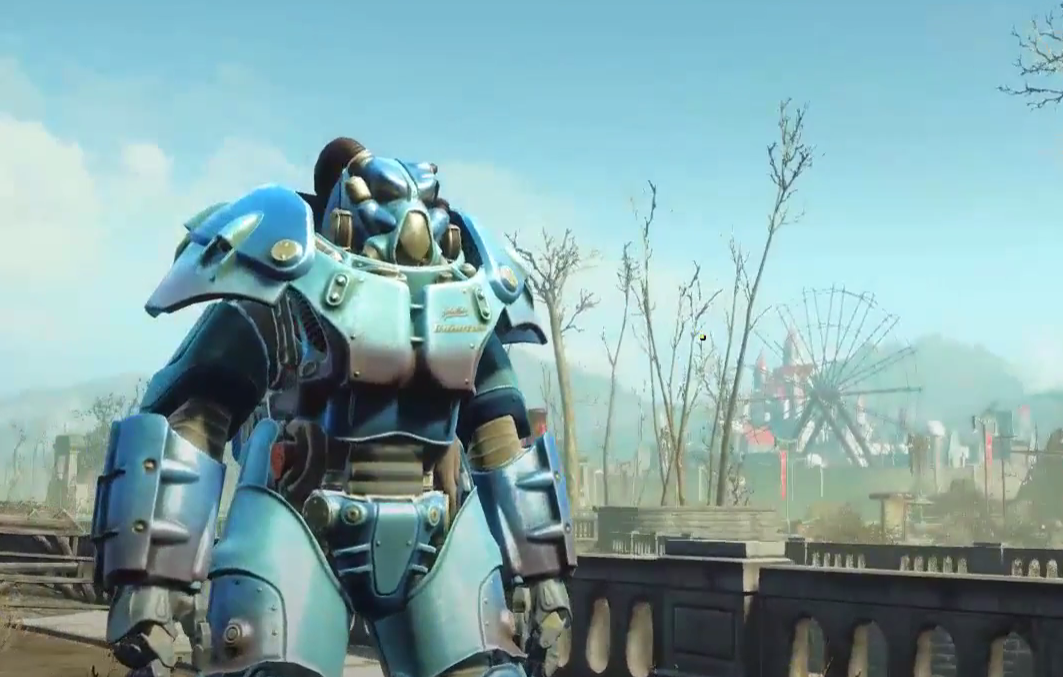 Nuka Quantum Power Armor
What's the weapon or armor found in the Nuka World amusement park that you are using most often?
About the author