Tomorrow is the big day; PAX East 2016 is FINALLY here! If this is your first PAX, you'll probably want to get into everything and be everywhere at once. But that isn't possible unless you have a Time Turner like Hermoine. (Anyone have one, because I need one too! No? Not yet huh? Well, that's ok.) Here's a guide on how to have successful, fulfilling, and fun PAX weekend.
What are the events happening at PAX?
A good first step is to download the PAX app, which has the entire schedule for three days. There is even a tab to make your own schedule. This allows you to add events you'll find interesting and be alerted before they start.
Which events should I go to?
What events you attend is totally up to you. But it helps to go through all three days of scheduling, then use the PAX app or website to see what stands out to you. If you aren't familiar with the panelists or game, Google it.
Here's a piece of advice: if you find a panel that's interesting, realize that you're not the only person who thinks so. As such, you should try to get there early to make sure you'll be able to get in. If you're not in line by the time they start counting (meaning they count the amount of people that can fit in the chairs in the room), chances are you won't get inside. Pick ONE thing that you must do and get in line as early as possible.
Here's what my schedule looks like: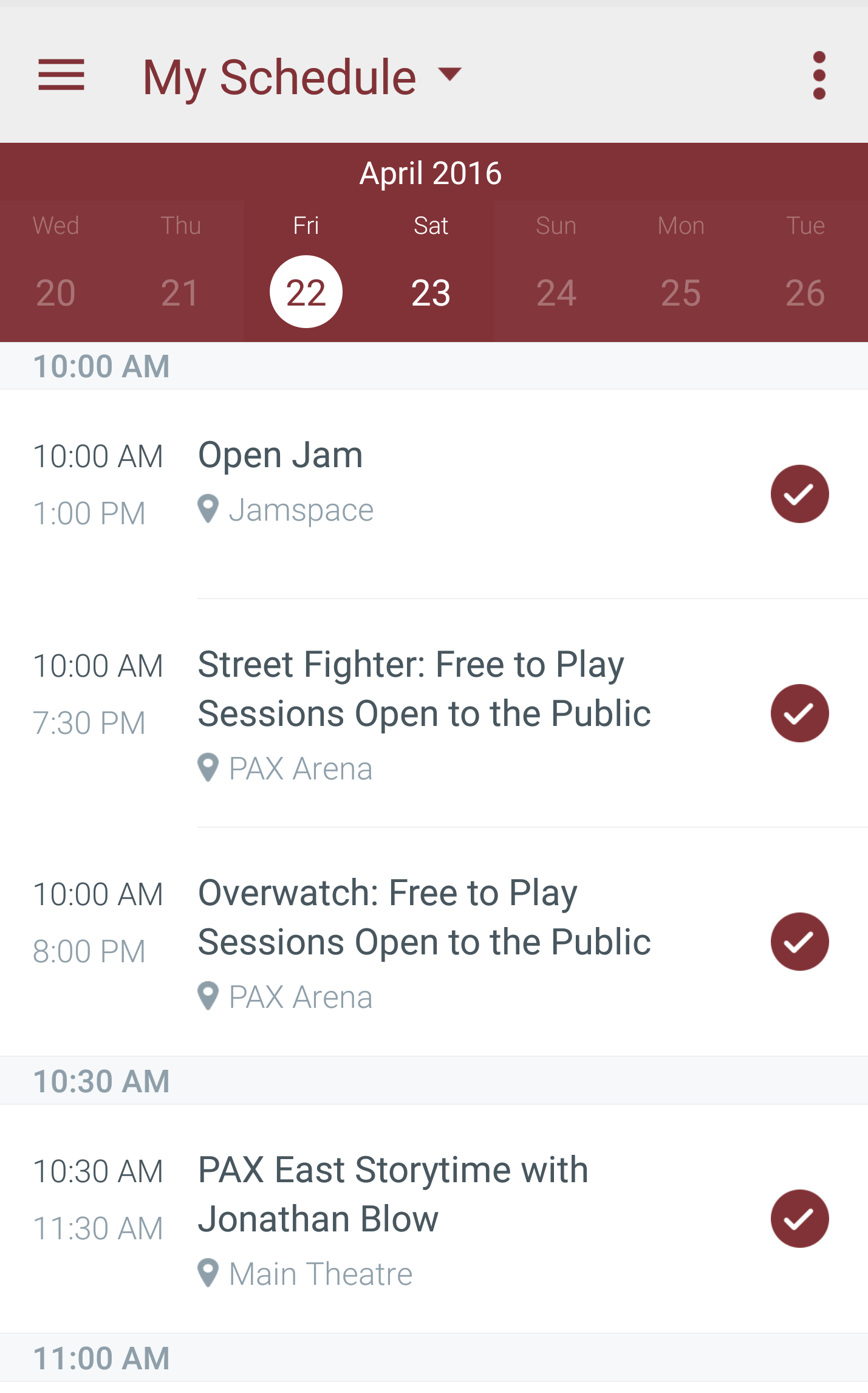 What about nom noms?
Bring snacks. I am the Queen of Snacks. White Cheddar Cheezits? Check. Blue Machine Naked? Check. Pockets full of off-brand granola bars? Check. Red Gatorade? Check and check!
Bring lots of snacks and stay hydrated. These are good for when walking around the convention and when you need that extra boost. Or maybe you're going from a Mortal Kombat tourney to a Smash tourney and you don't have time to search for food. You're on a mission, so stock up!!
There is food available there, but you'd think Chef Ramsey was the one cooking it judging by the prices, so bring tons of extra money for food.
Where am I going to put all my stuff?
This is a convention there will be tons of giveaways, including bags. Do bring a bag for your personal items but, there will be bags/totes available at PAX to put all your cool things in.
Don't forget to talk to the people on your left and right about prizes, giveaways, and etc. There are a few game shows happening, like The Price is Right and Family Feud. If you can, try to partake in them to win even more awesome prized.
It also helps to make a checklist of what to put in your bag, just to make sure you don't forget anything you might need. For example: chargers for all electronics, perhaps extra batteries, snacks, camera, fight stick and cash is always good.
Cute or Comfortable Shoes?
Wear comfortable shoes — or wear flip flops if you like blisters. Unless you are casually coming to PAX for a few hours, wear some shoes you can walk in for hours. Or you WILL punk out two hours into your PAX experience. Girls, you should feel free to wear heels if you can walk in those bad boys for eight hours or more. (And more props to you if you can.) It's your feet you're destroying.
How do I get around?
Lyft's code for a free ride is "PAX 16." Uber's codes are "Appstore" for $10 off the first ride and "b3800" for $30 credit for all rides. There are also cabs and bus options for transportation to and from the convention center. Check the route of your starting point to the Boston Convention and Exhibition Center. Here's the address:
415 Summer St. Boston, MA 02210
What are the rules?
On the back of your badge, it tells you a few simple guidelines. Try not to lose your things, because security may not be that helpful. Show consideration and awe for people cosplaying, of course.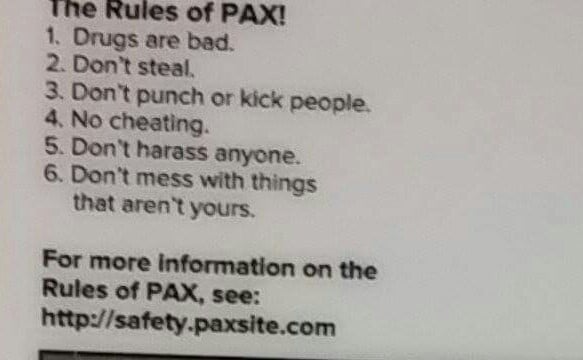 Mostly, just remember to have fun. Enjoy PAX; whether this is your first or fourty-first PAX, enjoy it. And let others enjoy it too.
About the author