PixARK has just left the Early Access stage, and it is now available on PC and consoles. This joint project of Snail Games and Wildcard Studios has proven to be immensely successful, as it allows players to explore the world dominated by dinosaurs in a fresh new way.
If you have just started playing PixARK, then you have probably noticed that it is really easy to level up in the early stages of the game, but it gets more difficult as the time goes by.
However, there is a neat strategy that can help you level up really fast from Level 1 to 80, if you follow the tips and tricks provided below.
Levels 1-5
In the very beginning, the best strategy would be to simply pick up Thatch and berries that grow almost everywhere.
This simple action will let you level up really quickly to Level 6, which is when you get your first engram.
Levels 5-15
Use your first engram to craft a Spear. As you first weapon it will allow you to hunt animals that will get you enough XP to reach Level 15.
The easiest animal to kill is Phiomia. It can be found almost anywhere since the only thing it does is eat all day long. It can't protect itself, so you will get a ton of XP by simply poking it with your spear.
Levels 15-25
At this stage, you can finally craft a bow, one of the most valuable weapons in PixARK. Also, craft some good arrows, such as Stone and Poison arrows to make your hunting even more effective.
The one creature that will give you the biggest amount of XP at this stage is Pteranodon. It's a very careful animal, so killing it with your bow is the only chance to get it. Try to aim at its head for the maximum damage.
Levels 25-40
At this point, you can start crafting Magic Sleepy arrows for your bow and tame a Pteranodon. You will need one to get to the Magic Forest area.
There look out for a Stone Gargoyle, which usually rests on the top of the hills. Put one to sleep using the magic arrows and tame it using pieces of meat.
A tamed Gargoyle is not only super efficient when it comes to quickly traversing the map, but it also has an incredibly strong punch, which will allow you to kill almost any other creature inhabiting the biomes.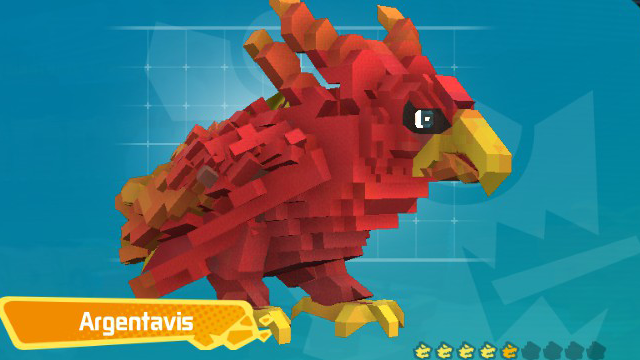 Levels 40-60
You can use Gargoyle for a rather long time and even stick with it up to Level 60, but if you get bored of it, then you can travel to Desert and tame Argentavis.
The taming method is similar to Gargoyle, using your Magic Sleepy arrows and meat. You will notice immediately that Argentavis is not as fast as Gargoyle, but it is more powerful.
Levels 60-70
As soon as you reach Level 60 you need to return to the Magic Forest and attempt to tame a Gryphon.
Once again, the method of taming is similar to that of Gargoyle and Argentavis.
Once you have a Gryphon tamed, take it to the Golden Realm area and use it to hunt and tame a T-Rex. The Gryphon has enough punch to knockout T-Rex, which is the only way to tame such a beast.
Levels 70-80
Finally, you can take your own personal T-Rex and travel to the most dangerous biome in PixARK: the Doom Lands.
You can literally kill any creature with T-Rex that is capable of dealing over 2,000 points of damage in one punch. So keep doing this as long as you need and your leveling plan will reach the maximum in almost no time.
For other PixARK guides, check out the links below:
About the author