Product provided by Nintendo.
Pokken Tournament DX releases this Friday, and after duking it out for over 20 hours on my early copy, I quickly noticed that a lot has changed for the Switch version of the game. On the surface, this is essentially the same game we saw on the Wii U, but — aside from the five new Battle Pokemon — there are a bunch of neat additions and quality-of-life improvements that veteran players are sure to appreciate.
Whether you're a new or returning player, there are plenty of options to utilize here that help tease out your true potential as a Ferrum League Trainer. If you diligently follow the tips outlined in this beginner's guide, you'll become the envy of the Ferrum Region in no time.
Become the Very Best in Pokken Tournament DX
There are a number of things to go over in this beginner's guide, including the Farrum Region Map and Main Menu, how to best utilize Practice Mode, the benefits to practicing against Players instead of CPUs, how to watch and study Replays, and all things Unlockables.
Ferrum Region Map: The Main Menu
There's a lot going on with the Farrum Region Map and Main Menu in Pokken Tournament DX. Let's go over everything you need to know so you're not overwhelmed.
My Town — Access and change all of your settings.

Battle Record — View your Offline, Online, and per-Pokemon battle records and check out your recent and saved replays.
Profile Settings – Change your Trainer Name and customize the look of your character, your title, and your comment.
Pokemon Settings — Change your Partner Pokemon and reallocate their skill points.

Returning players should note that you no longer have to select your three favorite Support Sets.

Advisor Settings — Change your Cheer Skill, Nia's Outfit, and how often Nia will shout advice at you during the heat of battle.
Options — Remap your controls and adjust the sound and language settings.

Practice — Brush up on your skills and try out new combos.

Tutorial — Run through everything you need to know about battling in Pokken Tournament DX.
Free Training — Freely practice combos and advanced techniques in a controlled environment with plenty of settings to fiddle with.

Note that connecting a second controller to your Switch now allows for a second player to take control of the 'test dummy'.

Action Dojo — Run through every move a Battle Pokemon has available to them.
Combo Dojo — Run through six combos on your chosen Battle Pokemon.

Ferrum League — Battle through the single-player story with your Partner Pokemon.
Daily Challenge — Take on CPU Trainers with preset Battle and Support Pokemon for the chance to earn extra levels for various fighters on your roster.
Single Battle — Fight custom matches against CPU opponents.

Basic Battle — A regular-styled Pokken battle.
Extra Battle — A sort of rogue-like battle where orbs spawn on the field that could either boost or hinder your abilities.
Team Battle — A battle with no rounds where each side picks three Pokemon and fights to see which team will be the last one standing. When a Pokemon faints, that team sends out another Pokemon without giving the other team a chance to heal theirs, kind of like a Singles Battle from the main series Pokemon games.

Local Battle — Fight a custom match against another player on the same Switch.

Battle modes are the same as the ones found in Single Battle.
You may either use Split-Screen mode to fight from both perspectives or duke it out on the same screen, forcing Player 2 to play from Player 1's perspective.

Wireless Battle — Fight a Basic, Extra, or Team Battle against nearby players through the Switch's local wireless connection.

Online Battle — Fight Basic Battles against other players online.

Rank Match — Fight for your online ranking against other players of a similar rank.

Players who disconnect repeatedly in this mode receive a warning symbol next to their name.

Friendly Match — Fight against other players online for fun. You may even set a password (a.k.a. VS Code) to play with friends.
Group Match — Create or Join a group to battle against other players in the group. Turn on Rankings to create and manage makeshift tournaments.
Ranking — Display individual online Point Rankings, Win Rankings, Trainer Rankings, and Pokemon Rankings.
Replay — Search for other players' replays, view your own, and toggle your automatic upload settings.

Regularly Brush up on Your Pokken Skills in Practice Mode
Trust me when I say that Practice Mode is not just an over-glorified tutorial. It's there for a good reason: to keep your skills sharp and to lab new techniques. Whether you're a beginner or a Pokken veteran, you should dip into Practice Mode regularly so that you're ready to give it your all when you battle for real.
If you're new to the game, be sure to complete all of the Tutorials. Not only will it go over the basics like the Rock-Paper-Scissors Attack Triangle, but you'll also learn about essential, advanced techniques like Counter-Attack-Dash-Canceling (CADC).
If you're looking for a new main Partner Pokemon or simply want a refresher on your moveset, head to the Action Dojo. The Action Dojo is a walkthrough of every move available on a Battle Pokemon, including follow-ups.
Once you've chosen your main Partner Pokemon, head into the Combo Dojo. There are six example combos per Pokemon to master here. Usually, two or three of them are simple and reliable enough to use frequently in battle, while the others require precise input timing or simply aren't optimal.
Hop on into Free Training to practice scenarios against a CPU or, preferably, hook in a second controller and face off against a friend of a similar skill level.
Practice Against Players, Not CPUs
Assuming you want to get good at fighting other players and not just clearing the Farrum League, you'll want to be practicing against players, too. If you have a friend nearby that plays Pokken, invite them over for some 2-player Free Training and maybe a few Wireless Battles.
If not, practice regularly with people of a similar skill level in an online Friendly Match. If that's not an option, try out Rank Match. Don't worry about losing your ranks, those come and go. The system is designed to place you with people near your skill level, so as you improve, so will your rank.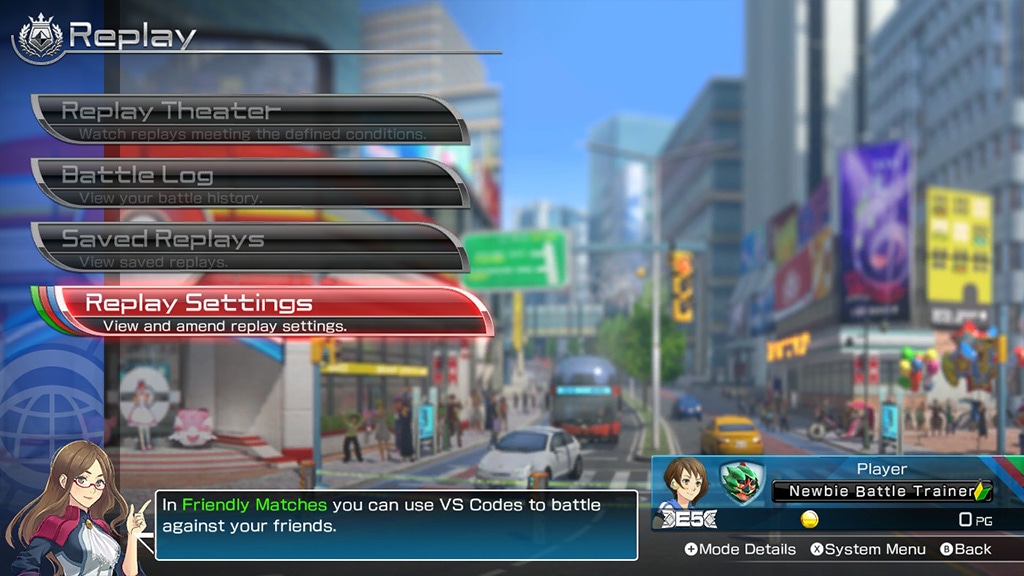 Watch and Study Battle Replays in Pokken Tournament DX
Replay is a new and desperately needed feature in Pokken Tournament DX. Now, not only can you view your most recent and saved Ranked, Friendly, Group, and Wireless Battles, you can also search online for replays from anyone who uploads them to the Replay Theater.
Replays let you view the battle from either perspective and see the inputs either player made as it unfolds. With these features, you really get the chance to learn from the best. After all, if you want to keep up with the fierce competition, you have to learn the tricks the pros have hidden up their sleeves.
Pokken Tournament DX Unlockables
Quite unlike the Wii U version, the Switch version actually has all Battle Pokemon, Support Sets, Cheer Skills, and Stages unlocked from the start. This leaves only Trainer Customization options and Titles to unlock. There are five ways to go about collecting these:
Lucky Bonus — Getting a Lucky Bonus after a battle nets you Titles and random Trainer Customization items that you haven't bought yet.
Achievement — Reaching certain milestones unlocks new Titles.
Ferrum League — Winning your Promotion Test in the Farrum League unlocks a slew of new Trainer Customization options.
Mission Panels — Complete the objectives on these panels in the Ferrum League to receive exclusive Titles and Trainer Customization options.
amiibo — Tap amiibo on the System Menu (press X on the Ferrum Region Map) up to 5 times a day for the chance at exclusive Trainer Customization options.
And that's everything you need to know before booting up your Switch on Friday and becoming the very best. Keep your eyes peeled for more Pokkén Tournament DX guides coming your way!
About the author