You'll need to know how to clean blood in Project Zomboid if you want to keep yourself from getting sick. Zombie killing on your home turf can lead to your base of operations getting incredibly messy and bloody fast.
This Project Zomboid guide will tell you everything you need to know about how to clean blood and keep yourself from getting sick, which puts you at a severe handicap against the zombie horde.
How to Clean Blood in Project Zomboid
Find Bleach and a Towel or Mop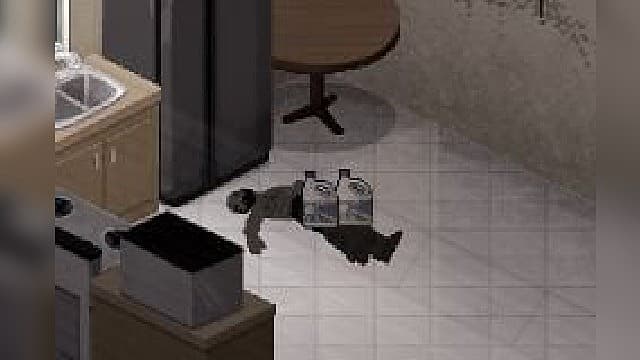 In order to clean blood, you're going to need to a few specific items. You'll need bleach and a towel or mop. You can use either a bath towel or a dishtowel, as both will work just as fine.
Bleach can be found in a number of places, and it's likely you'll encounter some when looking for a mop or towel. Bottles of bleach can be found inside medicine cabinets or inside kitchen or bathroom counters. You can identify a bottle's fullness by its weight. A full bottle will weigh 1.6, while an empty bottle of bleach will weigh 0.2.
For each use, between 0.11 and 0.12 of its weight is lost. As bleach has limited durability, you will need to regularly find more to clean blood in large batches. However, it is not a rare item, so finding more isn't difficult. It can even be occasionally dropped by zombies.
Towels are quite easy to find, and can often be located in bathroom or kitchen cabinets throughout the world. Mops can occasionally be found inside kitchen counters, though they are less likely to spawn. Either way, none of these items have durability; you can endlessly reuse them to clean blood.
How to Clean Blood
Now that you've got your items, you can clean blood. Approach any surface that has bloodstains on it and right-click to bring up some options. One of these options will read "Clean Blood".
Choose the Clean Blood option, and you will have to select the specific tile you would like to clean. After you have finished cleaning, right-click a second time to close the tile menu. Repeat this for each surface that is covered in blood.
That's all you need to know about cleaning up blood in the new build of Project Zomboid. If you are interested in learning more about this game, consider checking out some of our other guides in the guides hub!
About the author