Remnant 2 has numerous weapons that help you annihilate your foes. Some are well-hidden, while you'll get many others from the bosses you defeat. One of these, the Plasma Cutter, fires an extremely deadly laser beam. The only downside is that acquiring it might take you numerous Adventure Mode rerolls. Our guide details how to get the Remnant 2 Plasma Cutter from N'Erud and what its stats are.
How to Get the Plasma Cutter in Remnant 2
You must equip the Navigator's Helm to enter the secret room in the Titan's Reach ship to get the Plasma Cutter. Sounds simple enough, right? Unfortunately, a lot of this boils down to luck. Here's the gist:
You need to get the Navigator's Helm first. This is found in the second overworld area in N'Erud, in a section called the Extraction Hub. I discuss this in detail in our Navigator's Helm guide.
Dynamic campaign progression definitely comes into play. Moreover, I can assure you that you need to do at least one extra Adventure Mode run due to RNG.
How to Find the Titan's Reach Ship in N'Erud
If you've already found the Navigator's Helm, then the next step is to look for the Plasma Cutter. As mentioned earlier, we need to find the Titan's Reach ship:
This location can appear regardless of the N'Erud main quest (i.e., Seeker's Keys or Soul Sparks).
This is found in the second overworld area (i.e., either Timeless Horizon or Eon Vault).
However, the Titan's Reach and Extraction Hub are mutually exclusive. The two cannot exist in the same area at the same time.
Your guess is as good as mine as to why this restriction applies. I think it might be because both of these locations are considered as overworld fast travel points. As such, if one is already there, then the other won't appear. Your only recourse is to keep rerolling a N'Erud Adventure Mode, focusing on the main objective (i.e., Putrid Domain or Hatchery), so you can quickly reach the second overworld area. In my case, I had to retry Adventure Mode three times before the Titan's Reach appeared.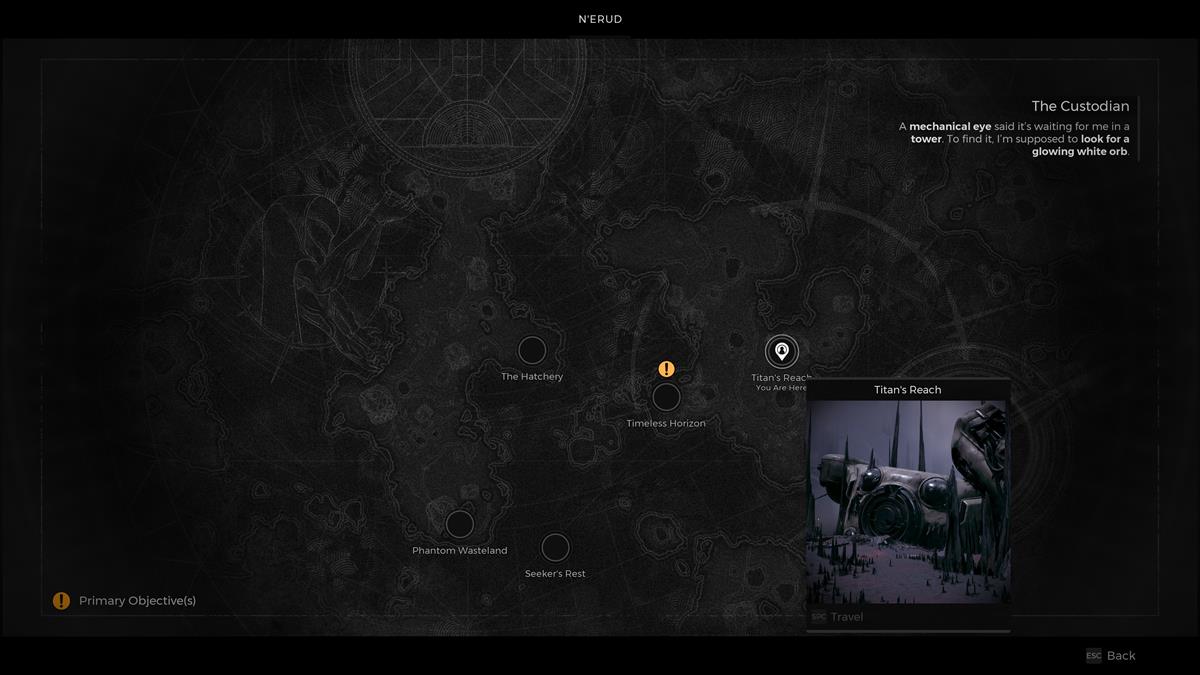 Where to Find the Plasma Cutter Location
If you see Titan's Reach, then consider yourself lucky. Check the ship's hull, which should have a damaged portion. Go through it and pick up the Hardcore Metal Band ring, which grants a Bulwark effect (defensive buff).
The goal is to bypass the security system. Make sure you equip the Navigator's Helm when you approach the sensor. If you do it right, the door will open, allowing you to obtain the Remnant 2 Plasma Cutter.
Plasma Cutter Stats
The Plasma Cutter has the following features:
Damage: 7
RPS: 13
Magazine: 100
Basic shot: Fires an energy beam that increases in damage when focusing on a target; can overheat.
Unique mod: Heat Sink – Generate 50% less heat while active; ramping damage cap is increased to three times the normal effect; overheats automatically when deactivated. The boost lasts 20 seconds.
In short, this weapon melts targets. When you focus fire on a single enemy, even a boss, you'll want to shoot it to ramp up the damage considerably continuously. And that's how to get the Plasma Cutter in Remnant 2. For other tips and strategies, you can visit our Remnant 2 guides hub.
About the author