You might have met a goddess while playing the base game, but you'll need to search for her once you're playing the DLC. Here's our guide on where to find Nimue in Remnant 2: The Awakened King.
Where to Find Nimue in Remnant 2's The Awakened King DLC
You can find Nimue in Remnant 2: The Awakened King by going to the lone tower that's adjacent to the Palace of the One True King. The journey itself is quite perilous, so here's a quick summary:
As mentioned in our DLC start guide, The Awakened King is a one-shot adventure. When you begin your first-ever run, you're going to see DLC-only locations, such as the Pathway of the Fallen, the Sunken Haunt, and more.
If you reroll, the adventure will be randomized, and your subsequent runs will include Losomn locations from the base game. A good example was how I started in the Forlorn Coast, but I eventually went to the Great Sewers (base game area) when I rerolled.
Regardless of these happenings, your journey will eventually take you to the Palace of the One True King.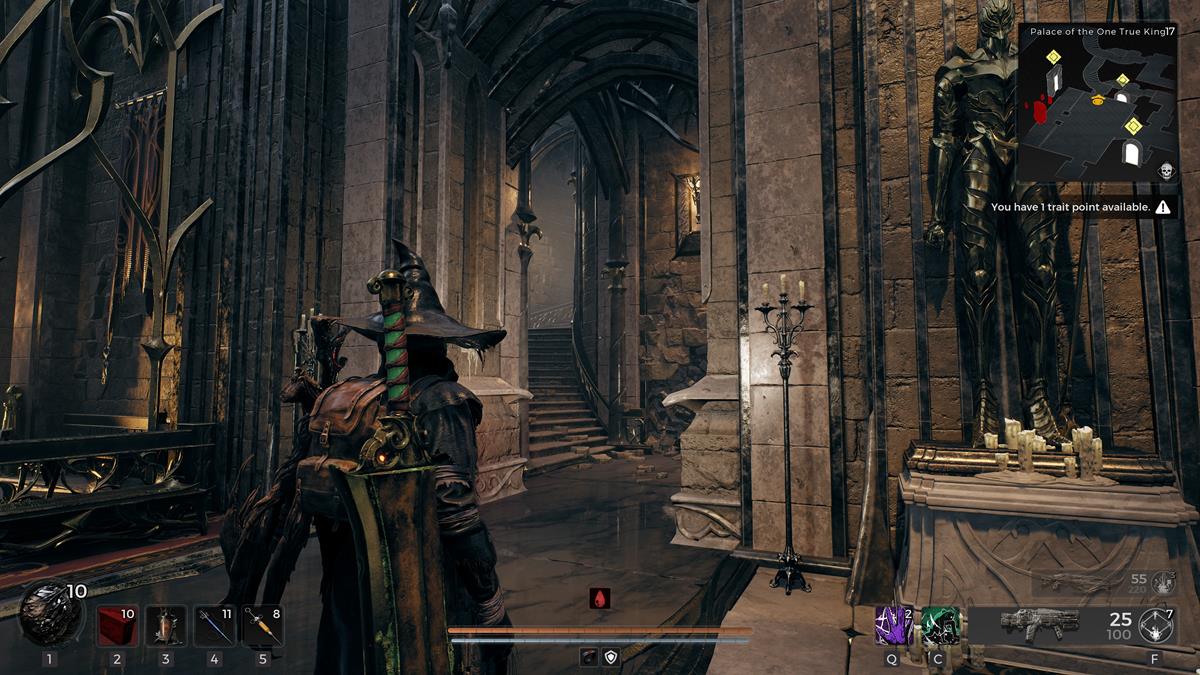 How to Reach the Lone Tower in Remnant 2
Inside the Palace of the One True King, you'll see an elevator that leads to the throne room where the boss awaits. However, you'll also notice a spiral staircase. There's a small room to the left that has Fae enemies. If you drop down the railing, you'll see yet another set of steps that lead back down.
The exit leads to the exterior, a yard off to the side of the palace. There's a bridge that connects this area with the lone tower, but it's also guarded by a miniboss. In my case, I had to fight the Mangled Atoner, a Fae Sorcerer elite that summons Fae Archer mobs. Thankfully, I was able to cheese this encounter by climbing up a ladder, which nullified my opponent's abilities.
From here, all you need to do is climb down the ladders, which lead to a scaffolding outside the tower. Down below, you'll see an opening to Nimue's location in The Awakened King.
Note that Nimue herself doesn't remember you, as your Adventure Mode run in the DLC is somewhat separate from what occurred in the main campaign. There are, however, certain choices that you need to make, which yield particular rewards. Lastly, don't forget to unlock the door which leads back outside the tower. This gives you a shortcut to the first fast travel point in the Forlorn Coast.
That's everything you need to know about where to find Nimue in Remnant 2: The Awakened King. While roaming around the new zones, you might want to look for items such as the Abyssal Hook and Elevated Ring. For more tips and strategies, you can visit our R2 guides hub.
About the author