While Sea of Thieves might have just released its big anniversary update, that doesn't mean the game is completely free of errors. Some of the errors are the same ones that have plagued the game since launch, specifically the LavenderBeard error and CinnamonBeard and BronzeBeard.
Some players are still having issues with opening the journal or getting messages such as "matchmaking has failed," "launch issues," "services unavailable," and "stuck on loading screen," sinking their hopes of a bug-free experience.
At least Rare uses more interesting error codes and bug names than your average game. Here's what we know and what you need to know.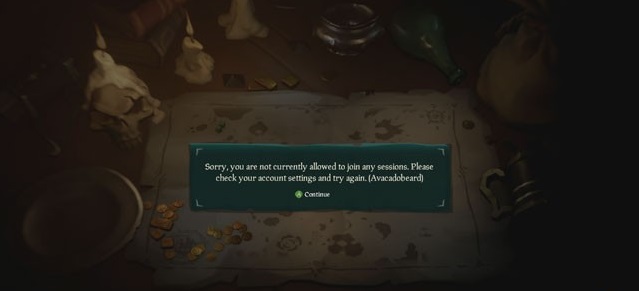 I definitely don't want avocado in my beard, so the error name checks out
Sea of Thieves Error Codes and Glitches
Having trouble with these Sea Of Thieves matchmaking errors? We've got a full rundown of how to resolve all known issues so far, along with a list of which ones will have to wait for a patch to be resolved.
Strawberrybeard
The Strawberrybeard error is not necessarily granted when you are banned. It most often means the game needs to update and hasn't yet, and is often paired with players getting stuck on reporting for duty.
If you are on PC, check the Windows Store first to see if it requires an update. If it does not yet say it needs an update, reboot your computer and check again. You should now see the game requires an update.
If you are on Xbox One, give the console a hard reset by holding the console's power button for five seconds and relaunch the game to initiate the update.
Fishbeard
This particular Sea Of Thieves bug seems to be a server problem that happens when large numbers of players log in just after launch.
Turns out, the game's servers still have issues handling players from time to time. A patch mostly eradicated the issue, but if it (for some reason) pops up, play solo or log out and wait a while before trying to connect again.
Checking Pirate Roster: (Trimmedbeard, Kiwibeard, Fluffybeard)
Similar to Fishbeard, this glitch occurs when you try to join a game, and it simply means the servers are full and there's no room for another player to join in. Kiwibeard, Trimmedbeard, and FluffyBeard all mean the same thing. We have a guide for exactly what to do.
Greybeard
This error code appears to involve getting stuck while trying to wait for matchmaking, and unfortunately, there isn't a clear resolution at the moment. According to the developers, a fix was in the works, but players seem to still run into it.
A few players have reported that a full system shutdown occasionally resolves the problem, but this seems to be luck and not anything that works consistently.
Lavenderbeard
This error is caused by your antivirus or firewall settings interfering with the game. You can typically solve this issue by typing "firewall" into the Windows search, selecting "Allow an app through Windows Firewall," and then choosing the Sea Of Thieves program.
Cinnamon Beard/Bronze Beard
These two errors typically include a "matchmaking has failed" message, and this is usually a problem with your Xbox being unable to connect to the server. Thankfully, there's an easy fix here. You just have to fully close the program and then restart it.
Simply exiting out doesn't cut it, though, as the Xbox One keeps games running in the background.
Highlight the Sea Of Thieves pin on the dashboard and hit the Menu button, then select Quit to fully close it down. From there just re-open the program, and you should be good to go.
Opening Journal Error
This insidious problem involves getting stuck on the loading screen or welcome title screen. Here's the thing — it's not fully stuck, just temporarily. If you wait six to seven minutes, whatever is causing the loop gets resolved, and it will eventually load.
But if waiting isn't your strong suit, there is an official resolution to this problem on the PC version of the game.
To fix the opening journal/stuck on loading screen bug, tap the "Windows" and "I" keys simultaneously to pull up the Settings menu.
Click the "Time And Language" option, and then navigate to the "Region & language" tab. Change the default language to English (United States) and the location to United States, then restart your computer.
It isn't clear why this particular time and language issue is causing the problem, but at least there's an easy fix!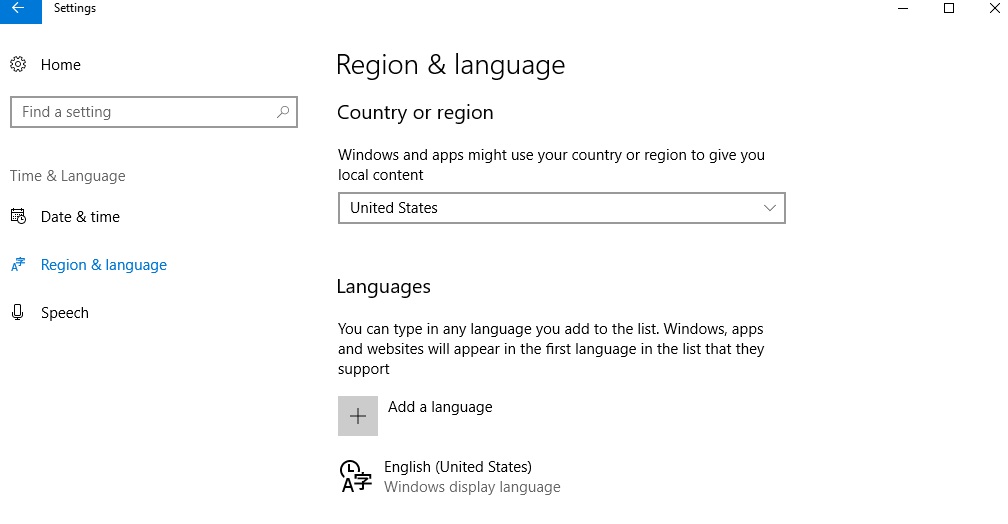 Changing Language And Region Options
Have you come across any other Sea Of Thieves errors or gotten hit with "matchmaking has failed" or "services unavailable" error messages? Let us know what loading screen issues you are experiencing, and we'll find a fix for you.
About the author