In celebration of Sonic the Hedgehog's 30th anniversary, Minecraft got the Sonic x Minecraft crossover pack. Though some Sonic fans may be inclined to ignore it, the pack comes with a whole lot more than just a tileset. Those who wish to relive the old days can find a Chao Garden hidden in the pack.
Most who like both Minecraft and Sonic will be drawn by the tileset, character skins, and even levels from Sonic the Hedgehog added to the game with Sonic x Minecraft. There's a lot to love in the pack overall, making the Chao Garden just the icing on the cake.
That said, we all want to know how to get there. Let's go into how to find the Chao Garden in Sonic x Minecraft.
How to Get to Chao Garden in Sonic x Minecraft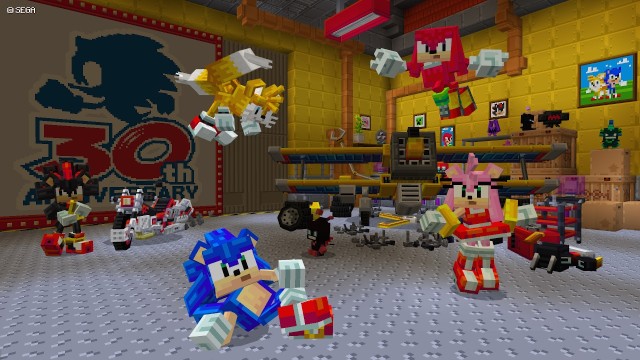 Head to the main room of the lab, where the Chaos Emeralds are kept. This is also the room where the achievements board can be found, as well as the high scores for each zone.
Look for the painting next to the door opposite the achievements board and jump through it like you do with stages, and ironically just as you'd do in Mario 64. This is the hidden path to the Chao Garden, which is a faithful recreation of the iconic neutral garden from Sonic Adventure 2, with the waterfall, pond, and small cliffs.
There should be some Chao in the garden already, but more will come to live in the garden as you complete Sonic x Mario stages.
This is not the first mashup that the Minecraft developers have created, with Bedrock Edition having released crossover packs for Fallout, Halo, Skyrim, and other gaming and cultural mashups as DLC in the past. This Sonic one, however, is far and away the best, being more than just a world to explore and see recreations built within. It includes fully playable levels with actual Sonic mechanics you would see in the original games, plus these sorts of Easter Eggs that fans love.
The Sonic x Minecraft pack is available for the Bedrock Edition of the game, and can be purchased from the Minecraft Marketplace for 1340 Minecoins. $10 can be used to buy 1720 Minecoins, which would be your best deal if you are just looking to explore these recreations of classic Sonic the Hedgehog stages.
If you're a bit of a Minecraft enthusiast, check out our other Minecraft guides here on GameSkinny.
About the author