Farming is great, sure, but the other big goal in Story of Seasons: Pioneers of Olive Town is marriage. Despite being a frontier town, Olive Town is packed with marriage candidates waiting to walk down the aisle with you.
Pioneers of Olive Town's marriage works a bit differently from other games in the series, though. Our Pioneers of Olive Town guide has everything you need to build your life with that special someone and even tear it apart if it turns into a nightmare (it's up to you).
Pioneers of Olive Town Marriage Candidates
Pioneers of Olive Town distinguishes between marriageable and non-marriageable characters. A red heart on the friendship screen stands for eligible and an orange one for not eligible.
The trouble is that until you've started filling up the first heart meter, it's a bit difficult to tell them apart. Here's every marriage candidate in Pioneers of Olive Town. Note that gender doesn't matter. You can woo any of them.
Bachelors
Iori
Emilio
Damon
Jack
Ralph
Bachelorettes
Linh
Blaire
Bridget
Reina
Laura
There's no Harvest Goddess, Witch, or Kappa in Olive Town, so these are all of your choices unless you purchase the game's DLC.
How to Get Married in Pioneers of Olive Town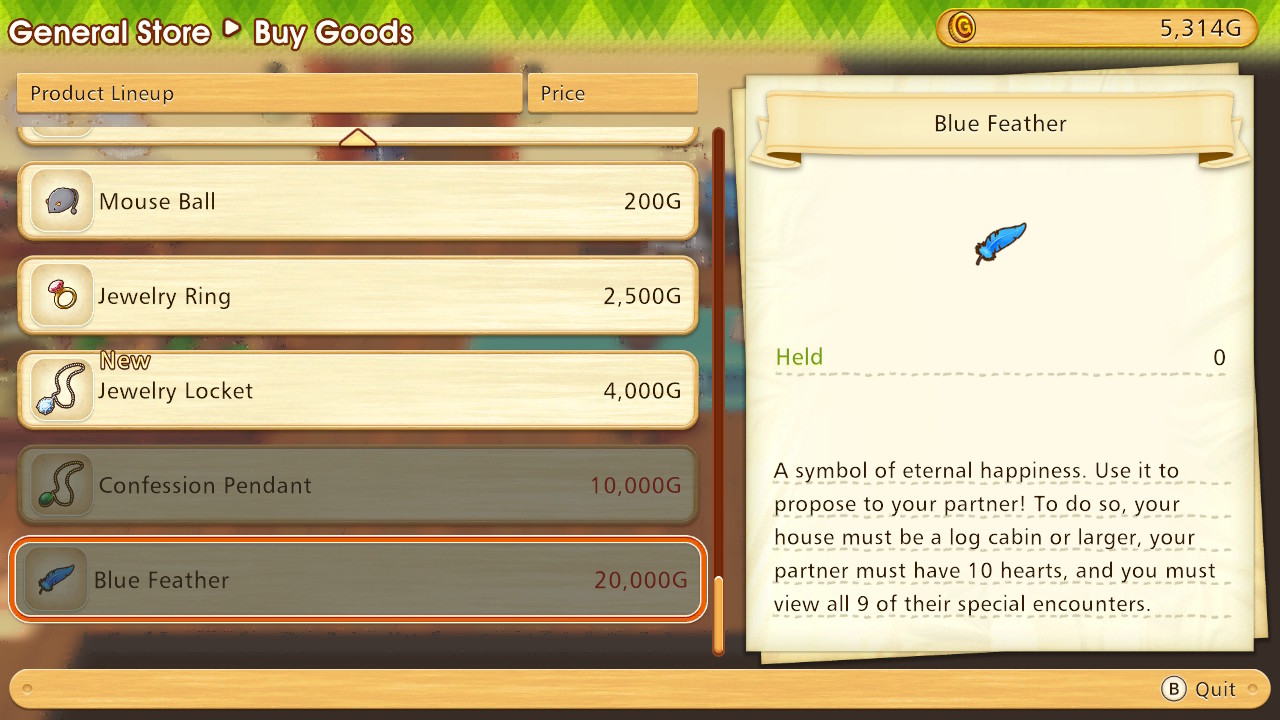 Like most other SoS/Harvest Moon games, you need to max out your beloved's affection meter before you have a chance of your proposal succeeding. You also need to see all nine of their character events, which start at the second heart and then trigger each time you rank up your friendship.
These events trigger automatically, so it's nothing you have to go out of the way to do. Answering questions the right way during the events boosts your friendship even more, and it's always plain which one is the "right" answer.
Outside of heart events, you chat with the character and give them presents to raise their affection. Pioneers of Olive Town handles gift giving differently, and there's not much indication what items characters don't like.
The dialogue only changes when you give them a favorite item, and while gifting favorites is obviously the fastest way to grow closer, giving items such as produce, crops, or flowers does the trick just fine. Keep it up daily, and you should have the first three or four hearts filled by the end of the initial spring.
What is the Pioneers of Olive Town Confession Pendant?
The Confession Pendant is a new step in the marriage process introduced by Pioneers of Olive Town. "Step" is a slight exaggeration, though. All you have to do is raise your partner-to-be's affection to level six, buy the Confession Pendant for 10,000 G at the General Store, and give it to them.
Blue Feather eligibility only requires upgrading to your first house, which costs 20 logs and 2,000 G. No double bed or extra rooms are necessary for marriage in Pioneers of Olive Town.
Once you've got your house and 10 hearts in order, buy the Blue Feather for 20,000 G at the General Store, and offer it as a gift.
Married Life in Pioneers of Olive Town
If accepted — which it will be by following the steps above — you'll be asked to choose a wedding date. The chosen date has no effect on the ceremony and is only important if you have plans for the rest of that day, since you can't do anything except get married.
Married life in Pioneers of Olive Town is much the same as single life, with a few new cutscenes thrown in and a child as a new character to befriend. Your spouse will have five new hearts added to their affection meter as well.
Pioneers of Olive Town Divorce
Should you want to annul your marriage, go to the shrine in the woods north of town and offer a special prayer. It asks if you want to "reset" your marriage and if you say yes, your spouse goes back to being single, and your child disappears.
There's no consequence and no recognition a marriage ever took place, so you're free to pursue another candidate. Your former spouse's affection remains at 10, so if you regret that you regretted getting married, you can still propose to them. Again.
That's everything you need to know about Pioneers of Olive Town's marriage, but be sure to check out our other Pioneers of Olive Town guides for more tips.
About the author