Tom Clancy's: The Division 2 lets you craft plenty of weapons, armor, and mods to help get specific pieces. At first, the quality of gear is pretty low and not worth your time. As you level up and advance into higher world tiers, you can also upgrade the crafting bench so you can craft high level gear.
In this guide, I'm going to explain how you can upgrade the crafting bench and the requirements to unlock those upgrades.
How to Upgrade the Crafting Station to Superior and High-End in The Division 2
These are the easiest unlocks.
When you first unlock the crafting station, you can make the Specialized (Blue) quality gear
Once you reach level 24, you unlock Superior (Purple)
At level 29, you unlock High-End (Yellow)
Unlocking these upgrades is not enough, you will need to actually craft the crafting bench upgrade before you can get higher quality gear.
You can see the required materials needed to craft it by going to the crafting station and looking to the left before trying to craft anything.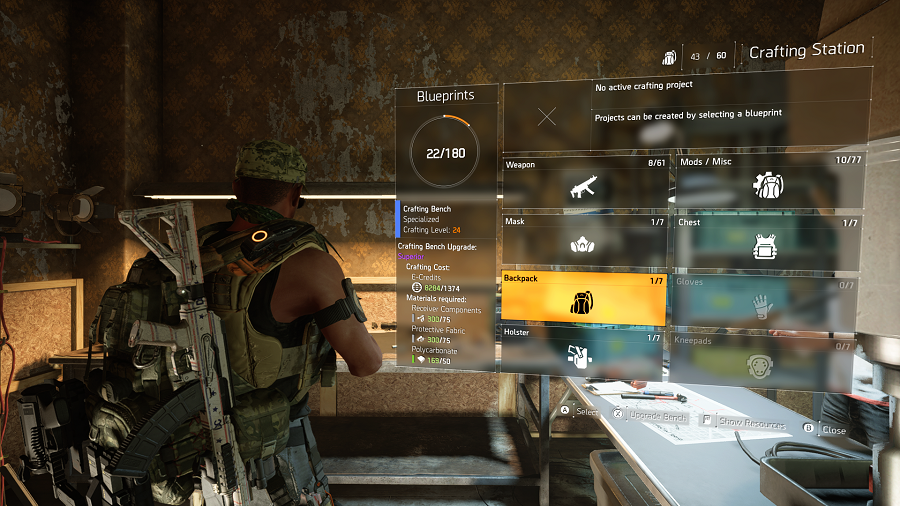 If you have the required materials, simply hold the upgrade button until it finishes and you'll reach the next tier.
As long as you have been deconstructing most things and looting as you level, you will have plenty of materials for both upgrades. You will need to upgrade the crafting bench to Superior, before you can upgrade it to High-End.
How to Upgrade the Crafting Station to Higher World Tiers
Once you reach level 30 and finish the Capitol Building Stronghold, you'll advance to World Tier 1.
Each World Tier drops higher level gear. That also means you can upgrade the crafting bench yet again, for each World Tier.
When you reach a new World Tier, you will get a project that gives you the blueprint to upgrade your crafting bench. This only requires you to complete an Invaded Stronghold.
The cost, however, for each upgrade is pretty steep.
Titanium and Electronics
The biggest concern will be getting enough Titanium and Electronics. The best way to go about getting these is to explore to world, particularly the underground areas, and kill enemies.
I noticed Black Tusk enemies dropped quite a bit while doing an invaded mission or stronghold.
—
That's all you need to know to upgrade the Crafting Bench in The Division 2. Leave a comment if you have any questions or need further explanation.
About the author