The new Story mode for The Long Dark contains many secrets that you can uncover by speaking to Grey Mother, or if you simply pay attention to all the details and check every hidden area for the clues. But if you want to quickly move through the chapters without wasting too much time, then follow the instructions below on how to find all the hidden items.
This guide will help you deal with Grey Mother and earn her trust, uncover all the secret caches in Milton, and locate all the keys to the deposit boxes scattered around the map.
How to Earn Grey Mother's Trust in The Long Dark
As soon as you reach the Town of Milton in the first episode you will need to go up the first hill to the left, where a big house accommodates an old blind lady called Grey Mother. She will give you many quests and reveal a ton of important information — if you can earn her trust, which is a new game mechanic.
The best way to make Grey Mother trust you is to supply her with rabbit skins. One rabbit skin will earn you 50 points of trust that can be exchanged for a piece of information. If you have no patience for chasing rabbits, then you can use bandages and cloth that each give 5 and 2 points of trust respectively.
In any case, below you will find the breakdown of information you can get from Grey Mother by using the trust mechanic:
25 Trust: Milton Township related information
50 Trust: Tips on how to maintain a blade tool
75 Trust: Crash-landing related information
125 Trust: Tips on how to unlock the hidden supplies
175 Trust: The Distress Pistol location
225 Trust: Unlock the rabbit skin gloves blueprint
375 Trust: A pair of good hiking shoes
All Hidden Supply Cache Locations in Milton
If you don't want to deal with Grey Mother and do quests for her, then just follow the tips listed below to find all the hidden supply caches.
Cache #1: At the Church
Before you arrive at Milton you will stumble upon a St. Christopher's church. There is a fallen tree behind the building, where you will see a box on the ground.
Inside the box you will find a small bottle of lantern fuel, an Emergency Stim (a steroid injection), a basic sewing kit that can be used for fixing clothes, a piece of cloth, and an MRE.
Cache #2: In the Cave
The cave with the next cache can be located on your way to the Tower. Instead of going forward, just turn left and go all the way down the path into the dark cave.
At the end of the cave you will see a pile of rocks — that's your cache. Open it up and loot a pack of MRE, water purification pills, wool ear wrap, and a flare.
Cache #3: In the Miller's House
The Miller's house is the last house in Milton that is also the most destroyed one. Behind the house you will find another one of those orange boxes.
Inside the cache you will get a bottle of antibiotics, an antiseptic, an energy bar, and some painkillers.
All Deposit Box Keys Locations in Milton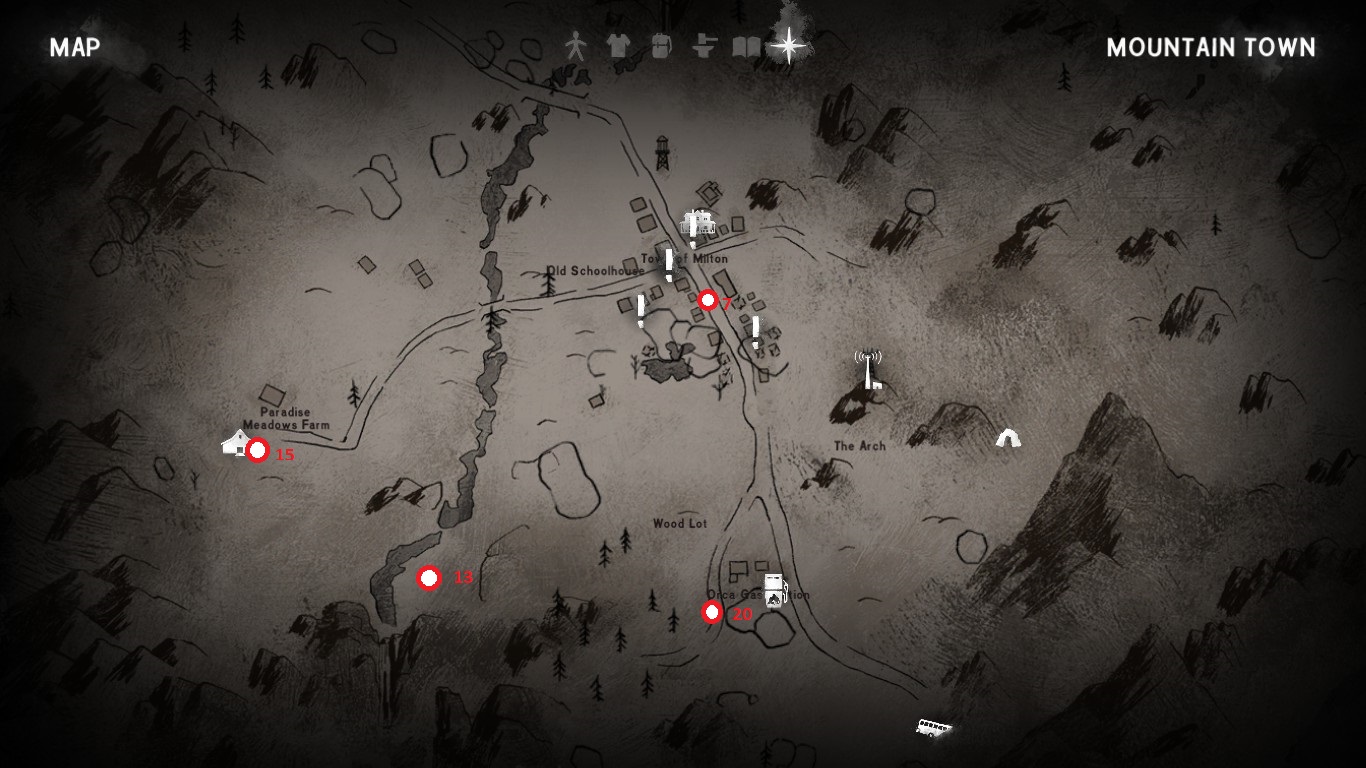 There are four keys to deposit boxes in total in Milton. Each box contains supplies that are of great value in The Long Dark, so take your time and find them all.
Bank Deposit Box Key #7
When walking around Milton you will notice a blue car standing near the banker's house. Now look across the road and you will see another smaller house. Walk inside and look under the bed for a plastic container. The key you're looking for is right there.
If you go to the Bank of Milton, you can now open deposit box #7. Inside the box you will find a bundle of cash, and a flare shell for your Distress pistol.
Bank Deposit Box Key #13
The next key is hidden inside a backpack that can be found on a corpse that got stranded on the bank of a frozen river that flows under the smaller wooden bridge at the farm.
When you search the body you will find a few more supplies that you can take. Then, go to the bank and open deposit box #13 that contains a ragged balaclava, a book, a pair of ragged ski gloves, and a stack of papers.
Bank Deposit Box Key #15
This key is hidden inside an urn that stands atop a fireplace on the Paradise Maedows Farm located in the western part of the town. But it can be obtained only by speaking to Grey Mother first, so there is no way around it.
This particular deposit box will have an item that has been stolen from Grey Mother, which is a part of a quest that you must do for her.
Bank Deposit Box Key #20
Go to the gas station and find a blue pickup truck at the back. Open the door and sit on the passenger's seat. You will find the key on the floor right there.
The deposit box #20 holds a magnifying lens, and a bundle of cash. Not much, but the lens can be used to make fire during day time, which can save you life if you suddenly find yourself out of fuel.
—
Looking for some more The Long Dark guides to help you through this game? Check them all out right here:
About the author