With the release of the absolutely gigantic Adventures update, Trove has been expanded with an entirely new biome where strange wonders can be found — from scuttling Jade Scarabs to shuffling Terracotta Warriors.
Of course, there are also new structures to craft and resources to find while delving into those ancient temples and exploring the bamboo forests. One such resource is the rarely-seen Fiery Feather, which is needed to craft a dragon mount.
Below, we cover how to farm those Fiery Feathers in Trove, along with what you can you do once you've amassed a sizable quantity of this rarely-seen resource.
The Feathers are just one part of the massive changes that recently arrived in Trove with the free Adventures update, so the game may be a bit different than you remember if you've been away for a while. Check out a full rundown of all the new Club Adventures, Fixtures, dragons, and more in our everything you should know guide.
There's a lot of fuss over this little guy!
Farming Fiery Feathers in Trove
Fiery Feathers aren't found in grass or ore veins like most resources, and they can't be traded with other players, so, unfortunately, you'll have to find your own — and that means some serious farming.
At the moment, Fiery Feathers only appear in the Forbidden Spires addition, which is a prime world biome that has a chance of appearing in any Adventure Worlds leveled Uber 6 or higher.
You can locate Forbidden Spires biomes on the map by noticing the yellow background with a gold coin on the ground. Fiery Feathers can be farmed in either variant of the new biome — the rainy and bamboo-filled Restless Range or the mountaintops and rivers of the Ancient Heights.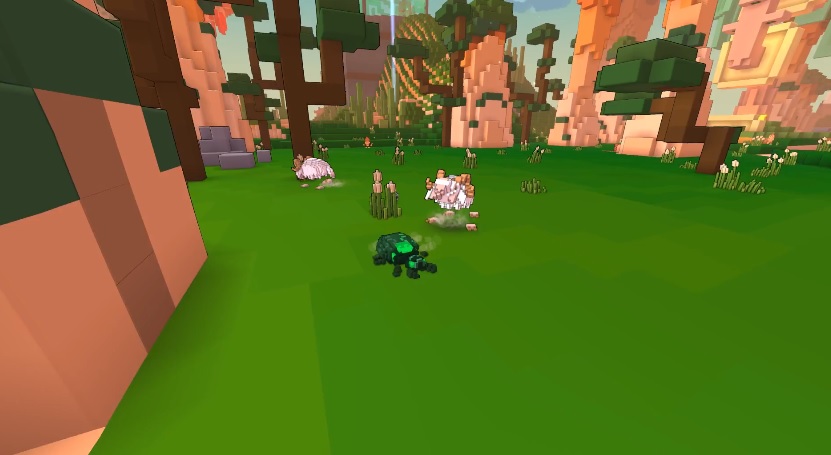 Finding new enemies in the Forbidden Spires
So where do you actually get the Fiery Feathers? The resource is a rare drop that can come from defeating any of these mobs in the Forbidden Spires biome:
Jade Scarabs (often found in lairs/dungeons)
Jadebound Phantom (often found in lairs/dungeons)
Smoky Fox Phantom
Spire Rams
Terracotta Warriors (often found in lairs/dungeons)
Terracotta Giants
Sapphire Dragon Ogre
Jade Dragon Ogre
Amethyst Dragon Ogre
Cinnabar Dragon Ogre
The Fiery Feathers drop rate is quite low, so you'll have to spend a good amount of time exploring the Forbidden Spires or delving into dungeons in that biome to gather any.
Keep hacking away at those Spire Rams!
Using Forbidden Spires Resources
What good are all those feathers anyway? You can use them to craft the new dragon mount named Onbari, Empress of the Southern Skies.
The mount can only be constructed at a Forbidden Workbench, which is another new component to the Adventures update, so keep an eye out for Forbidden Spires recipes!
Besides Onbari, the Adventures update also brings new dragon mounts Sarsaponia the Pristine (required items drop in water environments), Almakhestia Host of Starfire (required items drop in Shadow Towers), and Blocktron the Guardian Beyond the Sky (required items found at the club world market Fixture).
Fiery Feathers are also only one of several resources available in the Forbidden Spires. Sticky Ichor will drop from Jade Scarabs, for instance, while the brand new resource Cinnabar is found in ore veins throughout the biome. You will need this coveted resource for constructing many of the new items, buildings, and Fixtures that can be built with the Adventures update.
Take to the skies on your brand new flaming dragon!
Which mob have you managed to get the most Fiery Feathers from while exploring the new Trove biome? Let us know in the comments section below! If you need help with any other aspect of this crafting-focused MMO, check out our full list of Trove guides here.
About the author