The Legend of Zelda: Tears of the Kingdom Great Fairy Tera can open a lot of proverbial doors for you once you meet. However, before you can make use of her boons, you'll need to help out a traveling troupe of musicians. Here's our guide to help you unlock Great Fairy Tera in Zelda: Tears of the Kingdom.
How to Unlock Great Fairy Tera in TotK
The Lucky Clover Gazette
Before you can unlock Great Fairy Tera in Zelda: Tears of the Kingdom, you'll need to talk to Penn, a Rito reporter, in Lookout Landing. He'll pop up just after you take to the skies via the Lookout Landing Skyview Tower for the first time.
You'll then need to head to the Lucky Clover Gazette, which is further northwest of Hyrule. The coordinates are: -3231, 1770, 0119. This will kickstart the Potential Princess Sightings side quest, which takes you to all the other stables in the game. I know we're mostly focusing on Great Tera for now, but I suggest doing the other objectives for this side quest when you have the time. Some of them are absolute treats, and you also get to visit various regions. It's one of the best side quests in TotK.
Eldin: Woodland Stable
In any case, one place you'll want to go to, if you wish to unlock Great Fairy Tera in TotK, is Woodland Stable. It's just northwest of Lookout Landing if you follow the main road leading away from Hyrule Castle. The coordinates are: 1043, 1146, 0022.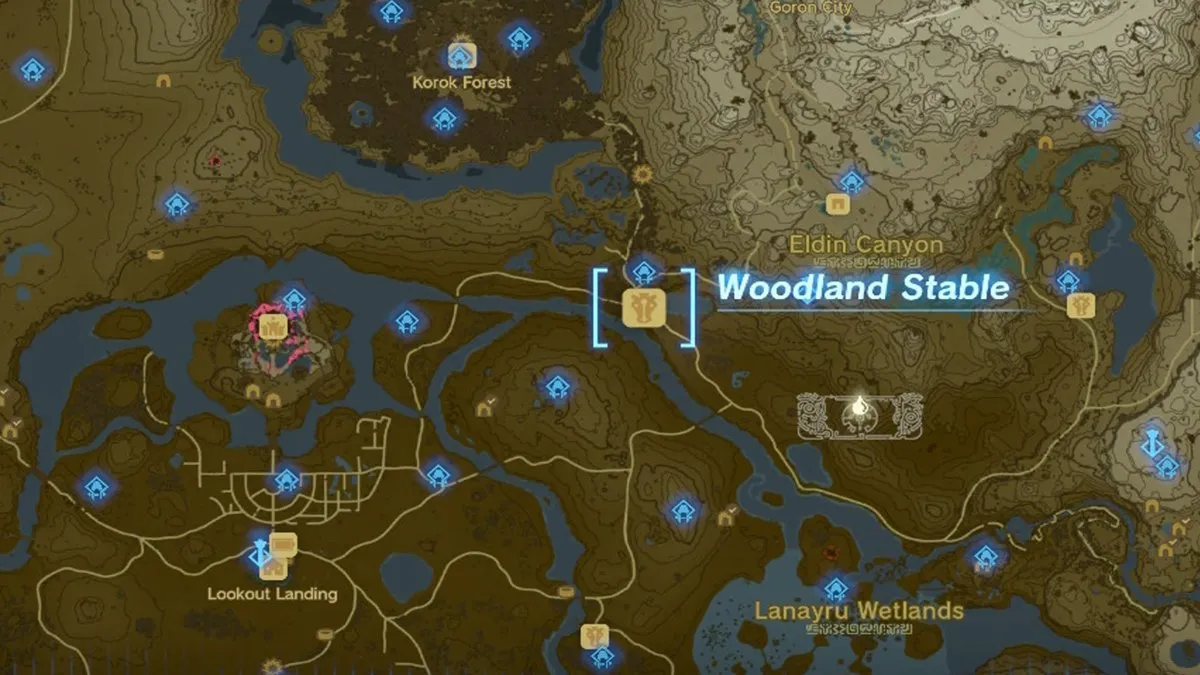 Serenade to a Great Fairy
At the back of the stable, you'll see Penn. Talk to him, as well as Mastro and Violynne, members of a traveling troupe of musicians. The two musicians will tell you about the Great Fairy nearby, but they need help with their cart, Breezer, that has broken down.
This will give you the Serenade to a Great Fairy quest. Here's what you need to do:
Make sure you've already acquired a horse mount, and that is has a decent Pull stat. A horse like Epona won't work for this, since she's got zero for her Pull stat (she simply won't haul anything).
Earn enough Pony Express Points from stables to obtain a Towing Harness.
Equip your horse with the Towing Harness by talking to the stable owner.
Check the vicinity so you can pick up two wheels. Use Ultrahand to attach these to the cart.
Attach the cart to the Towing Harness.
Once you've done the above, talk to Mastro once more. He and Violynne will ride the cart. Now, all that's left is to ride the horse all the way to Tera's flower bulb, which is up the sloping path. Mastro and Violynne will play music for her. This will unlock Great Fairy Tera in Zelda: Tears of the Kingdom.
Other Great Fairy Locations and Their Functions in TotK
Tera will be able to upgrade most armor pieces, with the exception of unique/legendary ones, by a single tier. However, you'll need to acquire specific materials, which are different for each kind of armor. For instance, the Soldier's Armor needs 5 Chuchu Jelly and 3 Bokoblin Guts. Meanwhile, the Fierce Deity Mask requires 5 Hinox Toenail and 1 Dinraal's Scale.
Moreover, Tera will reveal the locations of other Great Fairies on your world map. You can do these side quests in any order, and doing so grants access additional upgrade tiers. Basically, the more Great Fairies are unlocked, the higher the maximum upgrade tier. Lastly, Tera will provide you with Courser Bee Honey, which will be useful for a particular side quest in this entire adventure.
We discuss these objectives in our guides for Great Fairy Mija, Great Fairy Kaysa, and Great Fairy Cotera. Likewise, you can learn other mechanics about this massive game in our Zelda: TotK guides hub.
About the author