Injustice (Mobile) - Raven Challenge Flies in for Halloween
Summon some Dark Magic for Halloween as Injustice Brings Back Raven
Azarath Metrion Zinthos!
Just in time for the Season of the Witch, NetherRealm Studios brings back the Challenge Mode for Raven to Injustice: Gods Among Us.
Originally, a Regime version of Raven was the prize from an earlier Challenge Mode. This an original or 'good' version of Raven with a different look and her own unique moves. Her Demonic Rage ability, which swaps her health with an enemy's once it gets low, could be a game changer and her base health and power are fairly high.
To earn the supernatural member of the Teen Titans, you must complete 63 battles against harder and harder opposition. Each battle costs Challenge Currency, which are earned in regular play or purchased in the Item Shop.
Half-Human, Half-Demon
There are five series of challenges. If you complete them all, you can attempt a harder Expert version, maybe go for Nightmare level.
Each set of battles you win, you get a part of Raven's gear (Arm Guard, Raven's Eye, Hood, Spirit Totem, Boot Guards). Once you have won all five challenges, a Gold Level Raven is added to your collection.
But, you don't have to complete all of the battles to win a prize:
24 Fights Won - Free Bronze Booster Pack (worth 8,000 credits)
36 Fights Won - +15,000 Power Credits
48 Fights Won - Free Silver Booster Pack (worth 35,000 credits)
Here's My Little Treat, Not Any Tricks
Challenge 1: Bronze Characters Only - As always, I put Nightwing up front to deflect and drain, then Deathstroke to take'em out with Full Auto.
Challenge 2: Wonder Woman Must Be On Your Team - There are several gold level Woman Womans available. 600 Wonder Woman's Amazonian Fury however means having more than one adds 30% Power.
Challenge 3: Bronze or Silver Characters Only - Silver Cyborg's 2nd attack is also devastating. Knightfall Bane's Thundering Dropkick is a fave.
Challenge 4: Nightwing Must Be On Your Team - One could field a whole team of Nightwings. Silver and Bronze's passive and first attacks are good to keep enemies drained, while all Nightwing's have strong 2nd attacks.
Challenge 5: Flash Must Be On Your Team - Talk about a challenge, there's only 1 Gold Level in the whole game and he's a challenge character. So, best to have strong support for him.
Daddy's Little Girl
In DC lore, Rachel Roth is the daughter of Arella and the demon Trigon. She was raised on Azarath, but lives on Earth as part of the Teen Titans group. It was always a struggle for her to control the demon elements inside her, though she could unleash parts of it in the form of Telepathy, Teleportation, magical energy and even healing.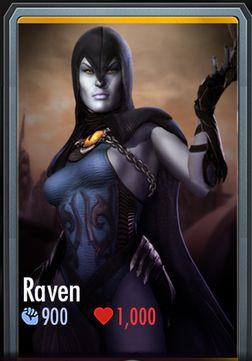 In the Injustice timeline, Regime Raven's anger over the destruction of Metropolis by the Joker has let more of the demon out in servitude to Superman's Regime.
She also foretells that if Superman succeeds it will only hasten her demonic father's efforts to come to Earth and take over our universe.
This version of Raven is not a member of Batman's Insurgency, which means likely she is the Raven from our universe and not from the alternate Regime world.
Raven was the third member of the Teen Titans to be added to the roster, if you count Nightwing as Robin. A version of Cyborg already serves the Regime as well.
Published Oct. 31st 2014