My Time In a 360 Degree Gaming Simulator
My dad and I take Microsoft Flight for a spin at the National Science Museum, London.
Last weekend I took my father to the Science Museum in London for a belated birthday trip. As a present, my sister and I bought him some time on Fly 360o: a 360 degree flight simulator. These are 360 degree simulators because the pod, fixed on the end of an arm with a central axis, can flip and roll at 360 degrees; that's right, it goes upside-down!
The simulator was also fully interactive, rather than the passive experience that most public simulators are. It was running a somewhat old version of Microsoft Flight, where you and a friend could control a plane in a dog flight over land and sea.
You Spin Me Right Round
Needless to say, my father and I spent less time hunting down enemy planes and more time trying to do barrel rolls and loop-de-loops. The experience, which lasted for a full five minutes, was a lot of fun; although, I was rather glad I had resisted the temptation of an ice-cream milkshake beforehand! With the pod rested at the end of the arm, you can easily ramp up a few Gs spinning around, and is possibly the closest experience you're going to a full training simulator or actually flying a plane yourself.
"...there's certainly scope to link up several simulators and have an all spinning and dancing multiplayer battle."
Having already ruminated about the future of gaming post eighth generation consoles, it got me thinking about whether there was a future in this type of fully immersive gaming experience. It's certainly not something that would become a household feature unless you happened to have won the lottery. But is this something that could become the staple, and even the resurrection, of arcades? Although the experience we had was single player, there's certainly scope to link up several simulators and have an all spinning and dancing multiplayer battle.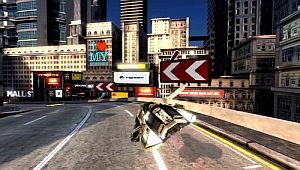 It does seem that flying games are perhaps the most obvious choice for such a platform, but it could also easily be used for racing games, especially ones with anti-gravity tracks such as the Wipeout series or upcoming Mario Kart 8, and possibly give gamers a chance to experience rollercoasters they've constructed in games like No Limits, Rollercoaster Tycoon 3, and upcoming Theme Park Studio. Otherwise, its uses are somewhat limited.
But there's real potential for such simulators to appear in arcades. Given the humble £12 per pod for a five-minute experience (working out at £6 per person) suggests that whilst the upfront cost might be steep, the running costs are a bit less dear and somewhat sustainable. And it certainly was popular with the punters at the Science Museum with lines up to an hour wait for a go.
A surge in popularity in such machines could be quite exciting for gaming, and I for one really hope to see these popping up in more arcades soon.
For more information about getting the Fly 360o experience, visit www.sciencemuseum.org.uk.
Published Feb. 26th 2014