Infinite Crisis - Closed Beta Impression
A review of the DC-inspired MOBA game- Infinite Crisis. Just in time for open beta!
For most gamers, hearing MOBA instantly invokes thoughts of League of Legends and Dota 2. However, there's a new MOBA being introduced to the scene, and it's ready to play with the big dogs.
Inspired by DC comic book characters, Infinite Crisis is a great mix of strategy, skill, and excitement. Rapidly approaching open beta on March 14th, IC is taking a rightful place in the esports community with emerging teams under Curse, compLexity, and more.
This is my impression of the game as of March 10th, 2014 which is the February 12th, 2014 patch.
Client Layout
After logging in, you are brought the to client's homepage (pictured above). Navigation is incredibly easy and Warner Bros. seems to have used most of the space wisely.
Players can use the "shop" button to buy champions, skins, and other player-specific goodies. There is a collapsable friends and notification list, featured purchasable deals, and a general chat for players to ask questions, join groups, or make friends.
Since most games are better with friends, the general chat poses as a great feature to the game. IC also keeps track of your personal profile where it logs your stats, acheivements, champions, and other personal goals you may have.
Gameplay
Infinite Crisis operates with 3D graphics and an overhead camera display. It currently features 3 playable game modes: Gotham Divided, Coast City Marina, and Gotham Heights.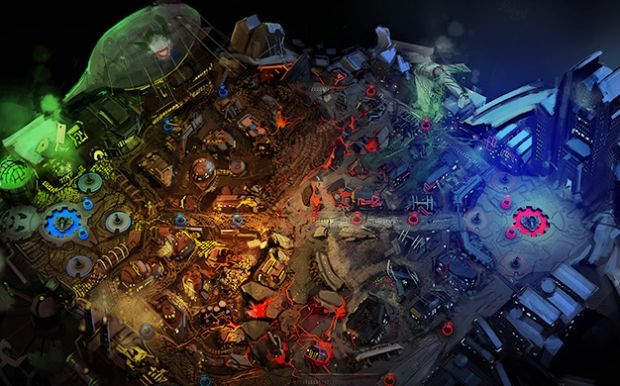 Gotham Divided is a map with a jungle. top, mid and bottom lanes, very similar to Summoner's Rift in League of Legends. The object of this map is to push lanes, capture enemy turrets, and eventually to push to defeat the enemy's base.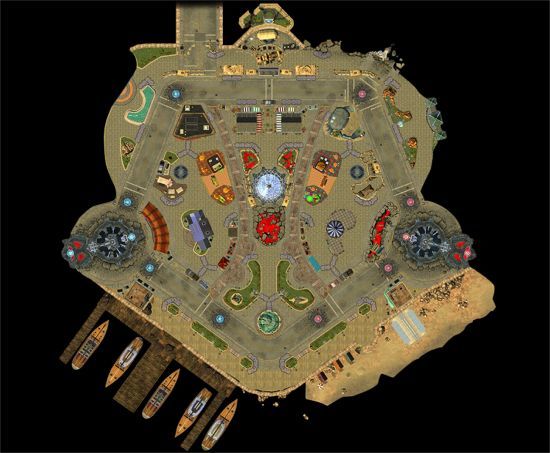 Coast City Marina is very similar to Gotham Divided, except there is only a top and bottom lane with a lot of jungle to play around with in the middle.
Gotham Heights is equivalent to League of Legends' The Crystal Scar, or "Dominion." This map is essentially a game of king of the hill.
The question on my mind going into the game was this: "If this game is so much like League, and every other MOBA, why should I play it?" Well, there are actually really cool aspects of the game that are different from MOBA giant, League of Legends.
For example: if you miss a last hit on a minion, the gold has a chance to drop, which gives you a chance to pick up part of the lost gold you missed out on. You can also level up your champion's passive ability, and get buffs that freeze the entire enemy team in place.
Once I got the hang of the game, I loved the versatility of the 24 available champions. Being able to pick up and throw cars at your childhood hero is also pretty cool.
Performance
Playing the game about 5 months ago, I can honestly say the improvements to the overall performance are pretty significant.
Everything is much smoother, skill shots are much more accurate, and unit collision makes much more sense. The aesthetic details are also incredible. There's no doubt that Infinite Crisis' graphics are one of the best out right now, even in closed beta.
The maps are set in a grungy, urban, abandoned city-like atmosphere, which sounds very unappealing, but in actuality is pretty awesome. It appeals to the rebellious, comic-loving side in all of us.
Community
If there's one thing League of Legends is infamous for, it's being a rage fest for worst tempers in gaming history. However, I found this community to be very helpful and compassionate. I asked a lot of questions. Normally I would expect be met with opposition, but my teammates answered generously from champ select through to the end screen.
Conclusion
Infinite Crisis gets a thumbs up from me. I got very addicted very quickly, and it's easy to see why. The game is beautifully designed, has a decent amount of champion depth, and has just enough differences to seperate it from the current MOBAs that are circulating today.
The only improvement I could see in IC's future is making the in-game store easier to use. All the icons are very busy and look exactly the same, and reading the descriptions is an eye-sore with such tiny text. If the shop was improved, however, the game would be close to perfect.
Plus, how cool is it beat up on Batman as The Joker?
Published Sep. 8th 2017