On Being the Only Woman In the Room
It's not always a feeling of anger.
It's a conversation about numbers. It really has to be in order to make sense.
Today, I'm attending an indie game night hosted by a local game development group. In my hometown, game development is a great thing -- a supportive atmosphere with plenty of peers, all working towards a common goal. I have no complaints.
Except for one.
There are seven people here, and I'm the only female. I attended PAX Dev, where women made up what felt like only 10% of the conference. I went to another local game development meeting late last month. There were twenty-five people in the room; I was the only female.
There is a growing situation in gaming, one that has recently gained a lot more attention. You can credit Anita Sarkeesian if you'd like, but honestly it's not about her. It's a situation about the way that women (and minorities) feel they are being treated, portrayed and ignored. But much like the deadreckon blog post that inspired this post, I don't feel angry about this situation. I feel lonely.
I'm always counting. It's a subconscious thing, but you know when you're the minority in the room. When someone starts talking about the portrayal of women in games and looks at you because you are currently representing all womankind.
One of the first times I met my game development group, I spent an hour getting ready. I don't even know how to do my own makeup and since I work from home, spend most of my time in sweatpants and t-shirts. I knew, even primped, that they would not care. Why would they? But I also knew that I was going to be the only woman there. I was representative, whether I wanted to be or not.
There's a joke, a sad joke, about how easy it is to go to the bathroom at game development and tech conferences.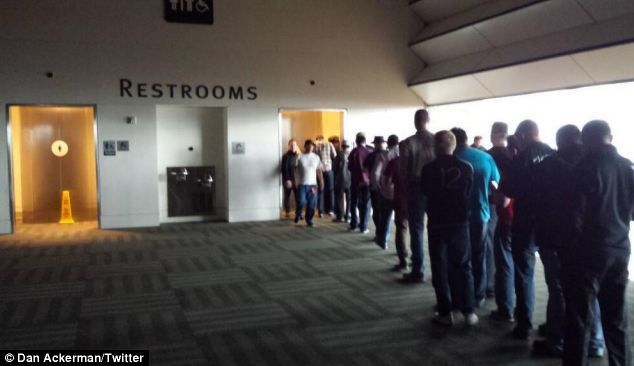 There isn't even a line in that picture. There is no one there. That doesn't make me angry, it makes me feel alone.
People want to talk about why there are fewer women in tech and game development jobs. Sometimes they make it sound like it's all about the big things -- like when the president of Harvard says that the reason that there are less female scientists at elite institutions was because of the "innate" differences between men and women.
They ignore the smaller moments. The ones where you are in a room full of people and know that you're a novelty. The moments where you can feel the weight of your gender like a heavy coat. Deadreckon talks about it like this:
Over the years, other people's words and actions pile onto your shoulders. You feel enormous pressure to pretend that nothing bothers you, because you don't want to give others more power to hurt you, or upset people you care about or make them feel uncomfortable.

So you don't say anything, you try and ignore it, and the result is an ever-present sense of isolation that chills your enthusiasm and makes you defensive.
I'm a feminist, but I don't want to make a big deal about it. I don't want to make a big deal out of the fact that I don't think having a vagina makes me less capable. Because it doesn't.
Anger isn't going to solve anything. It isn't going to make more women developers, it isn't going to make the industry a safer place for women in general. I'm not sure what will.
Published Sep. 9th 2013