Games With Gold Coming To The Xbox One
Microsoft has recently announced that their popular Games With Gold program will be coming to the Xbox One.
Some good news was announced for the Xbox One today as the popular Games With Gold program will be continuing into the next-gen era. Games With Gold allows Xbox Live subscribers to download a copy of one to two games each month free of charge; which should be greatly appreciated after someone spends $499 for the Xbox One!
The Games With Gold program is Microsoft's counter to Sony's popular Instant Games Collection. The Instant Games Collection allows Playstation Plus members free access to a wide selection of video games. So, bringing this program to the Xbox One should help gamers play some new titles without having to spend more money!
Games With Gold offers titles from either the Xbox Live Arcade or through Games on Demand, so the titles that are released can vary greatly. For example, the first game to be offered this month was A World of Keflings and the game before that was Halo 3.
So gamers can get their hands on great titles ranging from great arcade titles to critically-acclaimed blockbuster titles.

Microsoft had recently announced that they would be continuing the Games With Gold program for Xbox 360 users, but there had been no word about the Xbox One being included until today.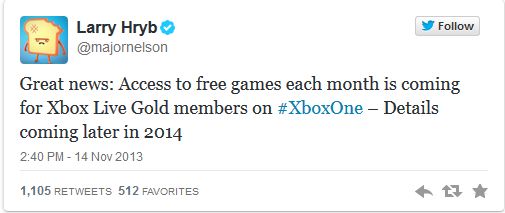 No word yet on which games will be available to Xbox Live subscribers for the Xbox One, but more information is set to release in 2014. What do you think of Microsoft bringing the Games With Gold program to the Xbox One? If you were a potential Xbox One buyer, would this news help to influence your decision?
Published Nov. 19th 2013