The best educational apps for your 1-3 year-olds
Some of the best educational apps available for kids 1-3 years old.
We recently looked at some great educational mobile games for the kids in the range of 3-6 years old. This time, we will be focusing on games aimed at the 1-3 or so crowd. As always, these are just general parameters since every child learns at a different pace. While most of these are on Android and iOS, some are iOS exclusive. Until they see the light of day on Android, maybe look into stealing borrowing grandma's iPad!
ABC Alphabet Phonics
Teaching a child to read can be one of the most taxing, but rewarding experience a parent can enjoy. Thankfully, this app seems poised to help, especially when on the go. This app features several great ideas others of the same kind lack.
The app actually allows parents to record words with their voice so their child will hear their parents instead of some stranger in the iPad.
You can also take pictures of objects to associate with letters to lend a personal and more grounded association with the letter in question. The app also has plenty of photographs for learning letters as opposed to cartoons. The app has plenty of ways to keep the young one entertained while teaching them too. Did I mention it supports multiple languages too?!
iOS version here.
ABCmouse.com
The website has a plethora of activities in a wide range of subjects that kids can access to learn about numerous topics. The app allows the user to access activities and more found on the main website at the user's leisure.
A word of caution. This app requires an ABCmouse.com subscription to use. Some users have complained about billing within this app, so you may want to look into memberships via the website instead of this app.
Android version here.
iOS version here.
Phone for Kids
This one is a bit of a doozy. This app has over 30 games packed into one package. This app can be used to teach colors, learn numbers and counting, shapes, and plenty more in one place. Some of the activities seem overly simplified, and there are in-app purchases. However, for the amount of content in one place, it certainly can't hurt to give it a once-over.
Android version here.
iOS version here.
PBS KIDS Video
If your child is a fan of programming on PBS Kids, this app should be a no-brainer. This app collects videos from a wide range of the programs that air on the PBS KIDS channel. Aside from videos from various shows, the app also includes "Weekly Picks" which consist of an educational set of videos about topics such as math, history, science, etc.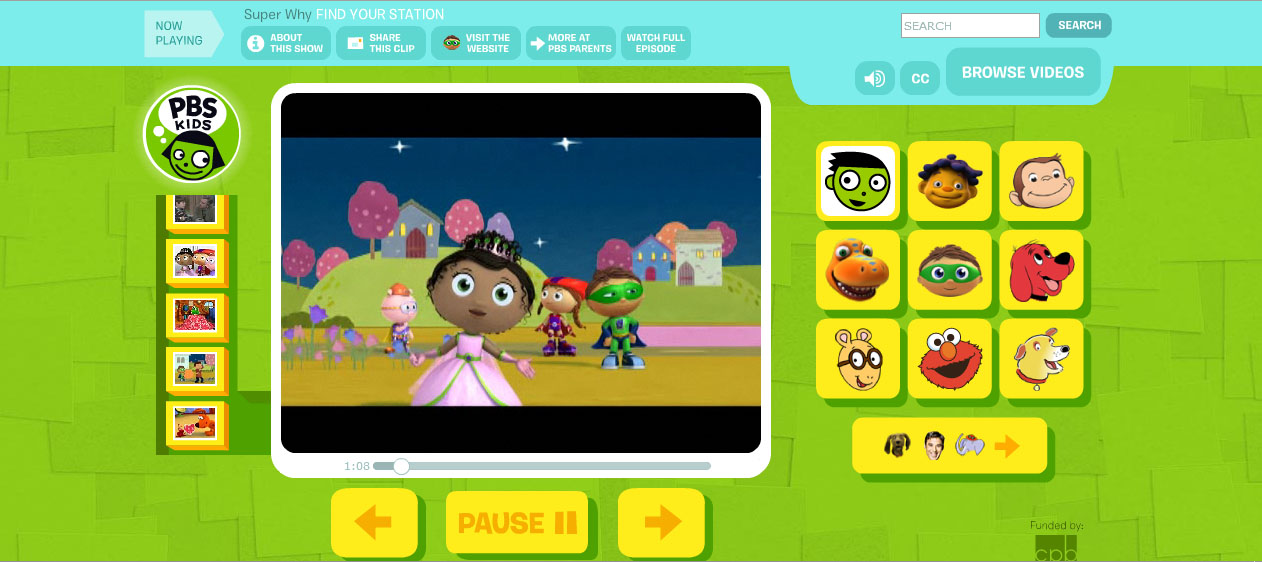 For parents, the app contains information about each show the videos are derived from. You can also flag shows as your child's favorites to get more plays of a particular show. You can access your local PBS schedule and download other apps from PBS Kids. Not a bad resource if your kid is a fan.
Android version here.
iOS version here.
ABC Letter Tracing
I'm not sure how it was for you growing up, but I remember learning to write by forming letters by tracing the letters with dots as a guide. Many pieces of paper were used for this task, which my handwriting teachers would probably have a stroke if they saw my handwriting now. Now you can use this useful skill without the need for all of that paper!
This app is essentially of tracing sheets for the alphabet, complete with upper and lowercase letters. The sheets also include a small illustration to give a visual of the letter too. Honestly, this is by far one of the greatest ideas and educational apps I have seen. These sheets did wonders for me as a child, and I imagine they can do wonders for yours as well.
iOS version here.
Toddler Counting 123 Free
As someone who is currently teaching his daughter to count, you can never have enough things on hand to assist with the teaching. This handy app helps with teaching the numbers 1-20. Your child can count the numbers in order or learn in a random fashion. The app also allows you to choose from categories of objects used to group and learn numbers by.
The app features narration as well as support for 14 different languages. Very cool! The app is about as simple and effective as it gets!
I have read there is a paid version of this app that allows you to learn words along with numbers, but I cannot confirm this.
Android version here.
iOS version here.
Read Me Stories
This app delivers a story every day for your child' enjoyment and reading pleasure; the app compiles a great many stories into one place, cutting down on the need to search for other apps and stories. The app is a great way to discover new books you and your child will enjoy. The app will read to your children and will repeat words if they are touched on the screen.
It's another reading app, but this one is worth checking out for the amount of content packed into once place.
Android version here.
iOS version here.
PlayKids
PlayKids allows your child to access videos, games, books, and more starring many stars of favorite children shows such as Caillou, The Wiggles, Lalaloopsy, and many more. The app is packed with plenty of educational games teaching about numbers, the alphabet, colors, and more. Aside from the games, there are stories to read and some videos to watch. The app does have one downside, though.
PlayKids is a subscription-based service that will give you access to the aforementioned content for a fee. The prices are $7 for a month, $40 for six months, and $70 for a year, but the app does come with a free one week trial to allow you to see what it has to offer. Just something you should be aware of when checking this one out.
Android version here.
iOS version here.
Shapes Toddler Preschool
Who doesn't love learning shapes? Kids need to learn their octagons to recognize those "Stop" signs after all (a skill many drivers today seem to lack.) This app is designed to teach kids all sorts of shapes. While the app includes the staples of circles, rectangles, and such, it also includes shapes in categories such as food, numbers, letters, seasons, and many, many more. The app allows children to play four different games/modes to learn their shapes how they please.
The app is free to download with some basic shapes included. However, each "pack" or category of shape costs $.99. Since there so many categories to choose from, I suggest unlocking all categories for $3.99.
Android version here.
iOS version here.
As with any list, there are many apps I was not able to mention. There are such a sheer number, it can be hard to focus on the standout apps, but this is a good problem to have since we now have so many choices! If you know of any stellar apps I missed, please let me know in the comments! Stay tuned to Gameskinny for more educational app roundups as well as some other parenting articles such as this one about promoting reading and this one about game ratings!
Published Jan. 5th 2016