EVE Online's Lead Designer Heading to League of Legends
Kristoffer Touborg, a.k.a. CCP Soundwave, closes the curtain on 5 years of internet spaceships.
Earlier today, EVE Online's lead designer, Kristoffer "CCP Soundwave" Touborg, announced his intent to leave his role at CCP Games for a position at Riot Games' Dublin office, where he will work on League of Legends.
Touborg broke the news on Facebook and The Mittani subsequently published his statement, which was as follows:
"More than half a decade ago, I packed my bags and moved to Iceland to work for CCP. It's been an incredible five years, working for a company I love, on a game I love. Not a lot of people get that opportunity, but I did and I'll always be grateful that CCP let me work at a place where I'd get up every morning and be happy to go to work.

"You can't do the same thing forever though and I feel like after more than five years, it's time to try something new. So I'm packing my bags again and moving to Dublin, where I'll be joining Riot games to work on League of Legends.

"I feel a bit lucky that I get to work on not just one of my favorite games, but two of them. I don't think I could have asked for anything more and it's pretty humbling to go from one love to another. A few years ago, my overwhelming interest was the EVE universe; now it's League of Legends and the competitive scene there. To everyone at CCP, it's been wonderful and I would happily do it all over again. To everyone at Riot, I'll see you soon."
A Soundwave-Shaped Hole in the Icelandic Snow
Touborg's tenure at CCP has been a colourful one, which saw him become one of the recognisable characters amongst a pantheon of rock star developers.
From his partnership on EVE TV with CCP StevieSG to his humorously dry delivery of many a presentation at Fanfest and other player meets, Touborg had a knack of delivering killer lines which cut through the corporate haze and connected with players. My personal favourite was his description of the overwhelming new player experience which was;
"Hi! Welcome to EVE, here's a Rubik's cube, now go fuck yourself!"
Touborg's implicit understanding of EVE's varied gameplay cultures gave him great insight. In an interview for EON magazine last year, he showed his understanding of the requirement for varying the pace of game features.
"It's nice to have these low commitment 'not-rocket-science' features in the game. We have a lot of features in EVE that are not played at that pace and just having the entire spectrum of features available is kind of important."
He knows as much as anybody that for every beer-fuelled spaceship roam, there needs to be some aspect of EVE Online's gameplay which allows recovery time for the resultant sore heads from the night before.
In the same interview, he went on to describe his vision for EVE's future with some really exciting and occasionally off-the-wall ideas, especially around the industry and mining aspects. His departure leaves players to wonder if any of those ideas will ever see the light of day.
Hero and Villain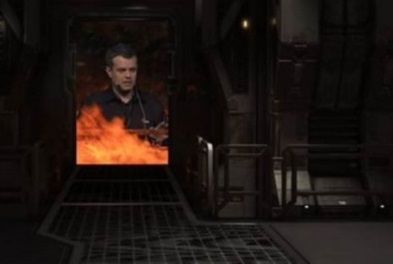 In 2011, the leaking of an internal "Fearless" newsletter containing a piece by Touborg on monetising EVE saw him vilified by a portion of the community at a time of great unrest following the poorly received Incarna expansion. He showed great character and weathered the storm despite the community vitriol, undoubtedly playing a key role in the face-saving, spaceship-centric Crucible expansion and even finding his scapegoating a source of humour in his EVE Vegas 2.0 keynote presentation later that year.
Touborg's design ideas were often as controversial as they were creative. In his EVE Vegas presentation, he laid out his "theoretical" design principles for delivering deliberately unbalanced, but frequently changing, gameplay mechanics, just to keep players on their toes.
"How would you create an imbalance which is healthy for the game, but didn't ruin everything? Give all players access to the same imbalance."
Undoubtedly, he has a playful, wicked side, which fitted perfectly with the player culture of EVE Online.
Wicked Wordsmith
Touborg has shown he is a man unafraid to speak his mind. His forum presence would see him comfortably and incisively deal with players of all demeanour. He would not shy away from addressing and laughing about CCP's - and his own - failures as well as celebrating the successes.
He shared fantastic phrases like "push button, get bacon". He taught us about "TTP" - Time To Penis; the amount of time game designers have identified which elapses between the release of a new feature and players' ability to make something phallic out of it.
On being able to bomb DUST 514 players from EVE Online, he hilariously explained to the audience at Washington D.C. Nordic Cool Festival that;
"When you sit in a spaceship and someone in another game calls in an airstrike and you bomb that from a totally different game, you will get the biggest nerd boner you've ever had."
He was the reliable anchor for the Alliance Tournament and other EVE eSports events. He wrote the most amusing devblogs and patch notes.
As a long-time EVE player and observer of EVE culture, I am sorry to see Kristoffer Touborg's departure. There have been many occasions at EVE events where he and I had exchanged courteous nods or brief words, but I never took the opportunity to say 'thank you' for his efforts. He was an asset to CCP Games and EVE Online, both as a designer and an entertainer. He will be missed.
Thanks Stoffer and good luck in the future.
Published Sep. 6th 2013