Conan Exiles is the latest survival sandbox game from Funcom that has been just released on Steam Early Access. It is set in the Conan the Barbarian universe and it is the second attempt by Funcom to revive this adventurous IP.
Funcom released Age of Conan, a pay-to-play MMORPG, in 2008 to many positive reviews. However, the subscription numbers were underwhelming at best. Afterward, another attempt to draw players to the game was made in 2009 with its first expansion, titled Rise of the Godslayer, which didn't really improve the situation too much.
So, almost ten years later, Funcom returns with the new Conan game, and you can now find out what's inside this very early Alpha build — as well as if you should play it — by reading on.
The Setting and the Gameplay of Conan Exiles
The world of Conan Exiles is a deserted plane called Exiled Lands, which has occasional oasis and towns scattered about. As is the case with many games of this sort, you start with almost nothing in your hands, so you need to make sure that you gather water, stones, sticks and some food to stay alive under the hot sun.
Gathering resources is required for you to craft your very first basic tools, weapons and clothes. The better tools you have, the more resources you can gather and the more advanced items you can craft and build. Building, by the way, is a huge part of Conan Exiles.
Conan Exiles offers both multiplayer and single player experiences, with the main focus on public and private servers.
You can build almost anything and everywhere, even under the water. The interior of your home can be decorated with furniture and other cool stuff. This shelter not only serves as storage for your items, but it also can protect you from enemies. But for protection, you need to upgrade your abode to at least Tier 2 or 3.
One can say that all this is a standard survival sandbox package. However, there are a few other things in Conan Exiles that makes it stand out from the rest of those genre-specific titles.
Playable Modes in Conan Exiles
Conan Exiles offers both multiplayer and single player experiences, with the main focus on public and private servers. Server hosts will have access to lots of modifiable features, and every player who wants to join a particular server can choose from five different modes of difficulty: Purist, Relaxed, Hardcore, Roleplaying, and Experimental.
If you can't decide which one you want to play, then you can allow the system to randomly choose the difficulty for you. However, if you want to experience the game as it was intended by the developers, then Purist would be the best choice here.
The rest of the modes offer various types of gameplay, where server admins can create their own rules of the game, and you can join others in some truly wild adventures. This shows how versatile Conan Exiles is, which makes it way more exciting than your typical survival sandbox game.
Taming Humans is a Lot of Fun in Conan Exiles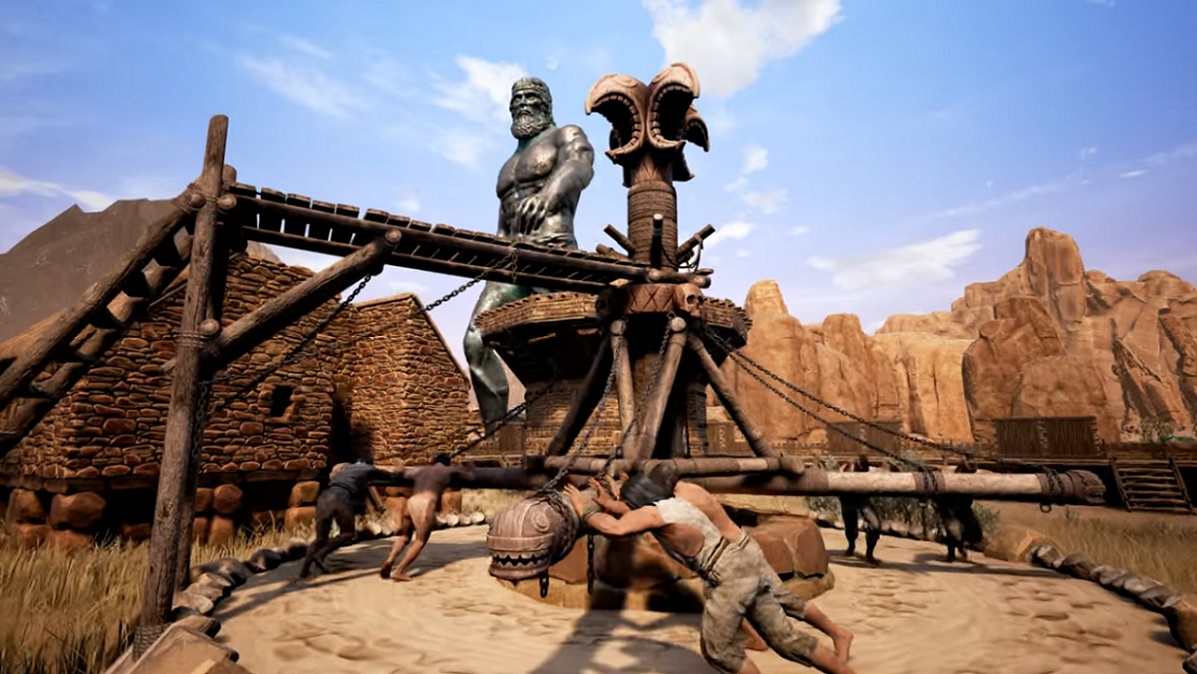 In a game like ARK: Survival Evolved, you can tame various beasts and ride them. In Conan Exiles, you can tame NPC humans, called "thralls." It's a damn strange, but at the same time, very fun experience, especially when you're doing it with another group of players in online mode.
Taming thralls involves torture and enslavement on a special machine — the Wheel of Pain. It sounds awful at first, but then you realize that you're in the game about Barbarians, so it actually makes sense. When you capture one of the NPCs and break their will, you can force them to do what you want.
They can work on your piece of land and build more structures for you, or you can make them carry your items while you're on the road. But what you really need is to tame a Blacksmith — these NPCs are probably some of the most important ones, as they can craft you some awesome weapons.
Conan Exiles' Religious Aspect Brings New Possibilities to its Gameplay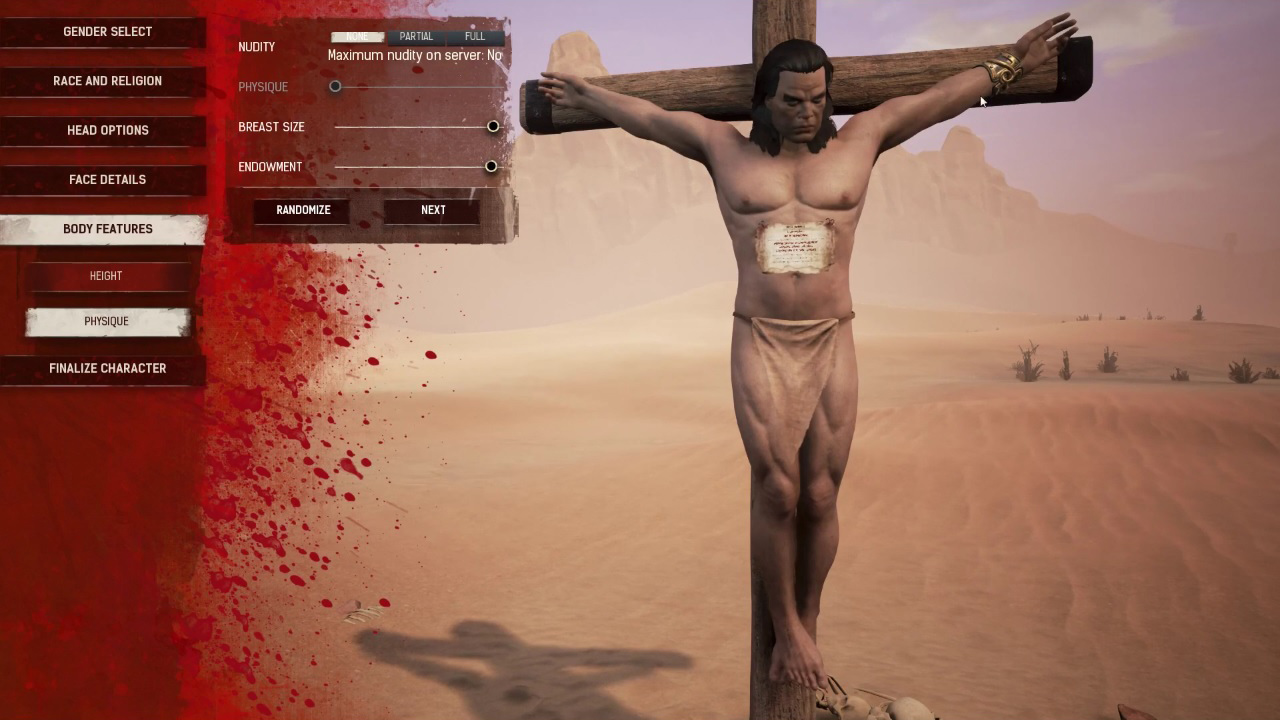 During character creation, you will be given a choice of typical physical characteristics. However, there is one other additional feature that is quite interesting– you can choose one of the four available gods to worship.
If you are not particularly interested in the religious aspect of the game, then you can choose Crom, as he has no influence on your gameplay, unlike other three gods: Set, Yog, and Mitra. Apparently, there will be more gods after the game leaves Early Eaccess, but for now, these four are your options.
Worshipping gods allows you to call out the so-called Avatars — these are beings, such as giant snake or a squid, that can be summoned after you've upgraded both your altar and religious thrall to the highest possible tiers. The Avatars can make you a truly powerful player, if you go all the way into the worshipping system.
However, There Are Problems with Conan Exiles in Its Current Build
No Early Access game is bug-free, and Conan Exiles is not an exception. The first thing you can have trouble with is just simply starting the game – at times it just refuses to do so. Another one is joining a public server that again may take too long to connect. It is unknown if this is the game issue or a server issue.
But after a few tries you will be given the chance to play the game, and this is where all kinds of unexpected things can happen – everything from optimization problems to simple things like inability to interact with objects or NPCs. But all that should be fixed in the near future… hopefully.
The last thing that many players are not too happy about is the combat system. There is nothing technically wrong about it, but it's just stale and boring. It definitely needs improvements in terms of movements and skills, since nobody wants to look at the same type of animation over and over again.


Rest assured that Conan Exiles will have a lot to offer when it is finished – the developers are saying that it won't stay longer than a year in Early Access. But the way there is still pretty long, so it's up to you if you want to invest your time and money into this definitely interesting, yet unfinished product right now.
Funcom promises a lot of really cool features in the future, such as tamable animals, siege weapons, more character customization, new biomes, sorcery system, etc. Right now the game offers modding that can change the game drastically even before the official updates, so some of these things may come earlier than expected.
Note: An Early Access code for this game was provided for review.
About the author