Analogue Interactive Confirms NES Remake--And It's $500
New Nintendo Entertainment System remake expected to release in the summer but will be a bit pricey.
Whether you're a video game collector, retro gamer, or both, you'll probably get excited when you hear that a remake of the original NES(Nintendo Entertainment System) gaming console is officially being made.
An independent retro game console company, Analogue Interactive, confirmed an updated NES system that will be the most powerful NES console ever made. Not only that, but the new Analogue NT NES system will also be encased in a block of aircraft-grade aluminum alloy, while still replicating '80s and early '90s look.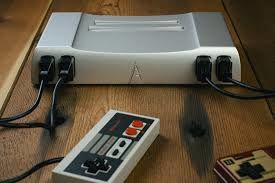 The Analogue NT will be the only NES console using original parts from the Japanese version of the NES--the Ricoh 20A3 CPU and Ricoh 2C02 PPU. It will also output the video in RGB with the S-Video components and composit signals.
However, the NT console will have a HDMI adaptor port for upscaling RGB to 720p or 1080p resolution for gaming on high-definition televisions. The adaptor will be sold separately.
The Analogue NT will be region-free and support all NES and Famicom cartridges, as well as Famicom Disk System games and a Famicom expansion port. It also has shielded audio hardware that pulls directly from the source, with dual-port stereo and mono options.
The console will have up to four controller slots and contain the original Gamicom expansion port that can be used for expansions like the Duck Hunt NES Zapper and Famicom 3D System goggles.
Now here's the problem: this 30-year-old remake will cost you roughly $499.99, and the HDMI adaptor will be around an additional $49.99. Another thing that might irritate long-time gamers who are interested in this project is that the Analogue NT console won't come with any controllers--only a AC and AV adaptor. You will have to buy a brand new NES controller for $49.99, or a refurbished NES and Famicom controller for $29.99.
The Analogue NT console will be sold in five different colors along with a custom paint job for an additional $49.99.
No information has been given on the prices for the games yet. Analogue Interactive has already opened pre-orders for the system, but none for the NES/Famicom controllers yet. The Analogue NT console is expected to ship sometime during the summer, details on the exact date has yet been made public.
Published May. 6th 2014