Watch_Dogs: The Arrival Of An Expert Hacker
Stepping inside the world of an expert hacker never seemed so exciting until now.
It seems that any of you excited for Watch_Dogs may be even more excited by this news.
Ubisoft, the development team behind the highly anticipated video game has confirmed that the official release date is set for May 27th. Watch_Dogs was originally supposed to release back in November of last year, but was delayed for the reason that Ubisoft wanted to ensure that the game was held with the highest quality. The title even had its trademark abandoned.
Ubisoft explained it was all fraud and they restored the balance to the force. Many retailers such as the Sony Store and GameStop put in motion a place holder for the title for June 30th of this year just in case.
Watch_Dogs is set in Chicago, Illinois as you assume the role of hacking expert Aiden Pearce. With the power of being able to hack anything, even any citizen's cell phone or bank account, you are unstoppable.
You can even hack into any and all the city's mainframes, called "CtOS," which is the central eye to Chicago. You will have every camera, every hackable item in the city at your disposal.
What you choose to do is up to you, but be cautious because you may never know whether it could backfire. Watch_Dogs will be released for Xbox One, PC, PlayStation 4, Xbox 360 and PlayStation 3 and Wii U.
Limited Edition pre-orders include:
(1) copy of the game
(1) Map of Chicago
Exclusive packaging
The original soundtrack for the game
Aiden Pearce's mask
(1) Exclusive steelbook case
(1) 23cm (9 inch) Aiden Pearce figure
Exclusive Art Book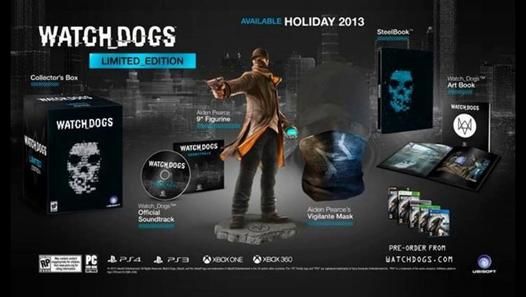 Uplay Exclusive Edition will contain:
(1) Watch_Dogs game disc
Single-Player mission DLC packs: Breakthrough pack, Palace pack, and Signature Shot
Exclusive Steelbook
The Vigilante Edition will hold:
(1) Game disc
Single-Player DLC mission pack: Palace pack
Exclusive packaging
Original game soundtrack
Both Aiden's Mask & Cap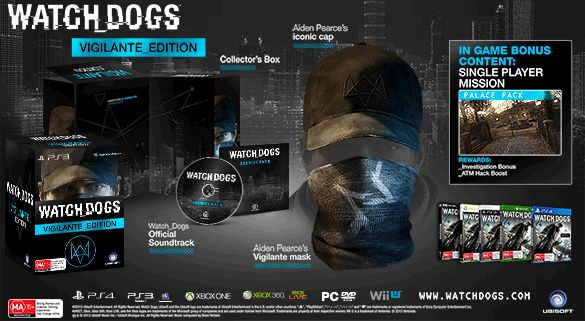 Last, but not least, the Special Edition comes packaged with a copy of Watch_Dogs and the single-player mission: Breakthrough pack. Enjoy the trailer and please stay tuned, we will have more information for you as it surfaces. Don't forget to check out the various gameplay videos posted on YouTube, including a 100 minute gameplay video of Watch_Dogs.

Published Mar. 6th 2014