Pokemon Shuffle Adds Rayquaza Event
A new Rayquaza event has been added for all you Pokemon Shuffle players out there.
Pokemon Shuffle, the popular puzzle game for the 3DS, is adding a new Rayquza event, which operates similarly to the recently added Kyogre battle.
To access this event, you must complete a match to get a Jewel, which will unlock a chance to catch the legendary Pokémon Rayquaza. Unlike the Mega Lucario event which limited the Lucarionite reward to the top 20,000 players, this event is available for any Pokemon Shuffle players who fancies catching a new legendary Pokemon in-game.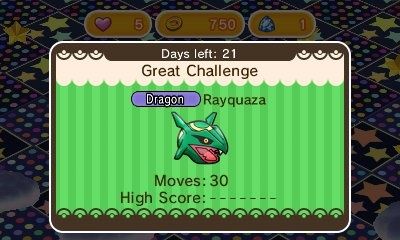 Like previous events such as "Launch Into Play with Mew" and "Kyogre Makes a Splash" the Rayquaza event will only last for a limited time. You have from now to April 13 to access the new event, after which it will return to the Nintendo vault for an unspecified period of time.
A friendly reminder for those wanting to take advantage of this event: remember your passcodes! From now until April 30 you can input the code 20150007 to earn two Mega Start power-ups.
Published Mar. 30th 2015