Excamedia Academy Presents on Greenlight: NANOS, Brick Breaking Multiplayer-Madness
Excamedia Academy's trial towards Greenlight with Nanos: The multi-player indie hit of Firstlook 2014 and the Dutch Comic Con 2015.
[Note: The author of this article is directly affiliated with the Nanos project]
What is Excamedia Academy?
Excamedia Academy gives students the chance to see how a game is developed, from beginning to end. This way, they are far better prepared when they end their study and start their own company. To make sure most projects can be finished, we are aiming for mid-sized games like Bomberman, Geometry Wars, Zen Pinball and other arcade-like games. So with a group of five students which consists of two 3D artists, one concept artist, one programmer and one 2D artist we head out to work on an old concept which I had laying around.
The Nanos project is one of five projects which we at Excamedia work on. Having multiple projects would normally make projects tougher to finish, but since the interns can choose which they want to work on, they are far more motivated and more likely to give it their all. So even though we sometimes have to pause a game's production, it still gives us a higher production rate and more satisfied interns.
What's Nanos?
After more than two years, I finally had the chance to start this project. To me Nanos is the new revolution in the brick-breaking genre. You've probably played these hundreds of times: you break tons of bricks by shooting balls with a pad. Nanos is meant to be much more. It has the basis of classics Arkanoid and Breakout, with a touch of Pong. The biggest but most obvious twist is that Nanos can be played with up to four players.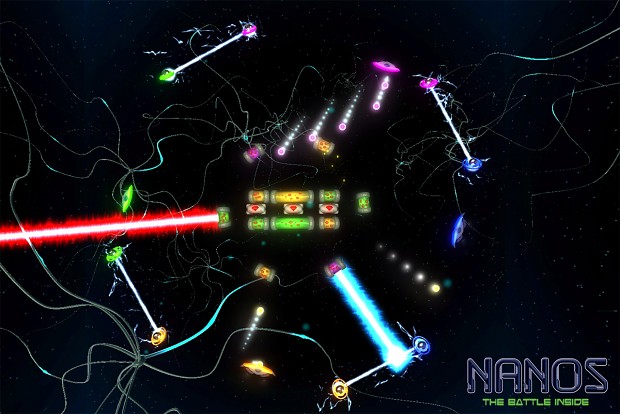 In short what Nanos has to offer?
- Hectic old school gameplay;
- A story mode that gets under your skin;
- Even the bricks fight back in intense boss battles;
- Up to four player madness in the party mode;
- Offline and online gameplay.
How did we get here?
After surprisingly becoming a hit on First Look 2014 with our rough 2D version of Nanos, which was only 2.5 weeks in development. We knew we had to do more with the 800 people who enthusiastically played our game.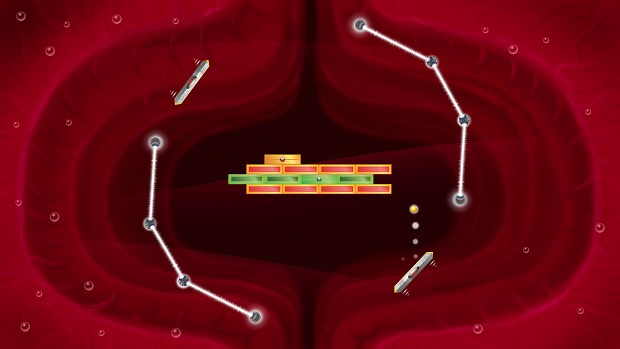 The old version of Nanos in 2D
As soon as we were back in the studio, we decided to go deeper into the graphics and gameplay. We went for a 3D look and polished more of the other parts of the game, including things like story and variation in gameplay.
This also meant some challenges, since we are a very young studio and still have a lot to learn. Especially knowing your limitations, was one of our biggest challenges. And since, we just wanted to make a decent 2D game in the beginning, of which the graphics were already 60% done and only needed one programmer, we were not aware of how much more development this would entail. And this wasn't even the only project we were working on.
So after we hardly started to level up our game, we already had to put it on the back burner.
Luckily, after some help from others and getting a firmer grasp on our projects, we could finally start working again on Nanos. We were even able to show it on the Dutch Comic Con 2015, where hundreds of players played our game.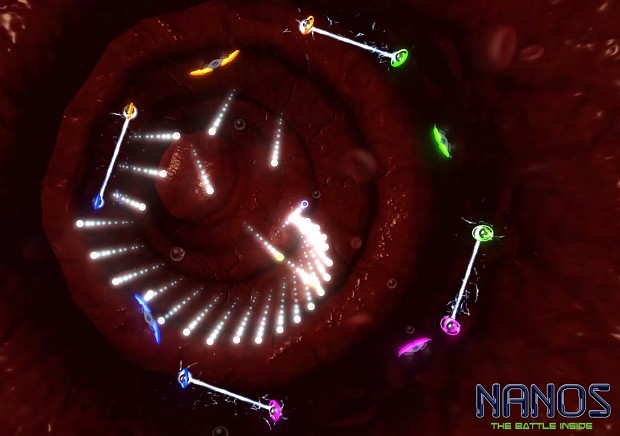 Nanos in 3D
Now after a lot of hard work by the Nanos team, the game has now found its way to Steam Greenlight. So have you always wanted to play a brick-breaker with four players? Then support us on Steam Greenlight!
What's next?
After being accepted on Greenlight (keeping our fingers crossed), we are aiming for Early Access. In this first version, we are only aiming for offline multiplayer, but in the end we want a 4-player competitive co-op online. Content should be king and as long as people are willing to buy it, we are willing to keep on updating.
Our motto is "by gamers, for gamers, and with gamers." So we will keep on asking to test the game, listen to any feedback we might get, and try to please as many people as possible.
And depending on the people interested, we may also aim for consoles, handhelds and perhaps even mobile.
Published Apr. 30th 2015