Minecraft Book? More like Encyclopedia!
A Minecraft book has been released, and it's hard to call it a book. It's more of an encyclopedia of Minecraft knowledge packed into bounded glory. Are you too proud to rely on a book to help you play Minecraft, or are you going to pick up a copy to aid in those numerous crafting recipes?
The day has finally come, my fellow gamers. There is now a Minecraft book that's available for purchase from a UK shop. I'm not sure at the moment if the book was published by Mojang or an outside source, but it's definitely going on my Christmas list! The reason I refer to this book as an encyclopedia is because it's looking like one, and a damn good one if I do say so myself.
Why people should get the book
Even though I've been playing Minecraft for 2-3 years now, even I don't know all the tricks of the trade. For instance, I've never delved into the art of Redstone. This book will cover all details possible, for anyone who isn't very Minecraft savvy. Some major winning parts within the book is explaining how to survive your first 24 hours within the game. I find this can be the most difficult part for any new Minecraft player. You're put into a whole different world, and you must learn how to manage farming, crafting, and building while also surviving. Gee isn't that a handful.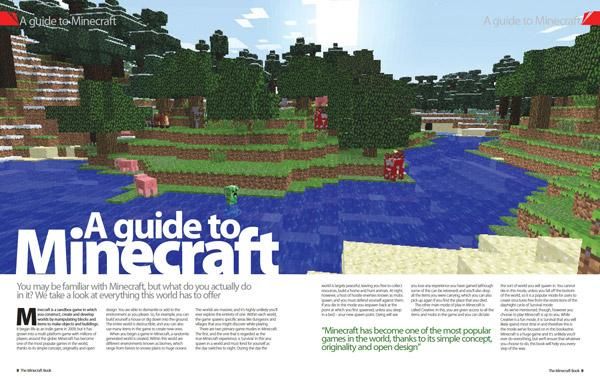 The image above is taken directly from the Minecraft book's website.
Some of the more technical aspects of Minecraft are also available, including how to Mod your game, change texture packs, upload skins, and defeat the Ender Dragon. A great part also in the book is explaining how to use Redstone, and develop intricate circuits. You might think Redstone is easy, but I know many people in Minecraft that can barely wire a piston door. This book will become an aid to anyone learning Redstone.
This is an image directly taken from the Minecraft book website.
What about knowing all those pesky Minecraft crafting recipes?
The book also has a section with over 130 different item recipes for all your crafting needs. As a person who's always using the Minecraft Crafting Wiki, this book will become my ultimate source. There are many other topics covered within the book, and I'll quote them from the description.
Surviving your first 24 hours
Understanding the different game worlds
A guide to mining
Setting up a farm
An in-depth guide to mobs
Building and decorating a home
Making it to The Nether
Creating your own portal
Defeating the Ender Dragon
Mastering Redstone
Constructing basic circuits
Building elaborate constructions
Downloading texture packs
Changing the skin
Unlocking achievements
Crafting essential items
As you can see, whoever wrote the book understands the full fundamentals of the game, and is projecting them to all you gamers. Do you think the Minecraft Book will cover all details needed to play the game? But what about when more updates happen in the future? Share with a comment below!
Published Sep. 26th 2013