Every year Minecraft community produces thousands of exciting skins that reference either their favorite characters from other media or are simply brand new original skins that just look awesome. This list of Minecraft skins focuses on the most popular character skins created throughout the year.
If you're a Minecraft player who is looking to tackle some of the best skins of the year, or just a casual player who wants to know how popular characters would look like in Minecraft, then check out our selection of the best Minecraft skins of 2018.
---
Baldi Skin
Baldi has quickly become the most famous character in the Minecraft community after the release of Baldi's Basics in Education and Learning, an indie horror game based on educational video games from the 80s and 90s.
Baldi is the game's antagonist that hits your hands with his ruler. This Minecraft skin does not have the infamous ruler, but everything else, including the original character shading, is fully present.
---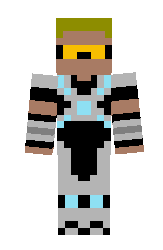 Mobile Legends Skin
This Minecraft skin showcases one of the best characters from Mobile Legends -- Bruno. Even if you don't pay Mobile Legends and not familiar with the character, it still looks extremely cool.
Bruno is half cyborg and half human. His legs are synthetic, which make him extremely fast. In the original game he also uses an energy ball as his main weapon, so sometimes he is also referred to as Street Football hero.
---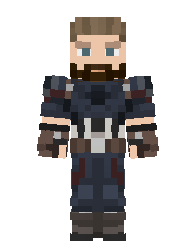 Captain America Skin
Captain America, one of the main protagonists of Marvel's cinematic universe, has changed a lot since the very first film. This Minecraft skin focuses specifically on his latest official look from The Avengers: Infinity War movie.
Here Captain America also grows a beard, which accords to his look in the latest Marvel film. As for his suite, it has become darker and more militaristic-looking, which is not a bad thing at all.
---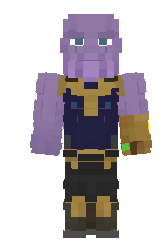 Thanos Skin
Here is another famous character from Infinity War, but this time it's the movie's main antagonist -- Thanos. He's wearing his trademark gauntlet with six gems that give him the power to do anything he wants.
This skin is very well made and it has everything: the spectacular chin, the characteristic golden-blue uniform, and of course the gauntlet itself. Too bad the gauntlet isn't functional, otherwise you could erase half of your friends from the server.
---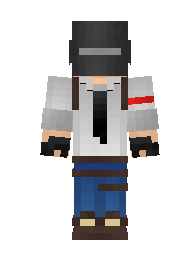 PUBG Skin
At this point PlayerUnknown's Battleground is already a cult game, which attracted hundreds of millions of players from all over the world. So it's not surprising that most Minecraft players wanted to see the iconic PUBG skin on their characters this year.
Now you can play on various Minecraft servers that are totally dedicated to battle royale mini-games and at the same time wear your favorite PUBG skin.
---
Stardust Crusaders Skin
Video game and movie characters are not the only fictional personalities that Minecraft community likes to render into the cute pixelated skins. Manga and anime characters like Jotaro Kujo from the Japanese animated series Stardust Crusaders is just as popular.
He is among the most well-known characters of the JoJo's Bizarre Adventure series, who wields the incredibly powerful Star Platinum.
---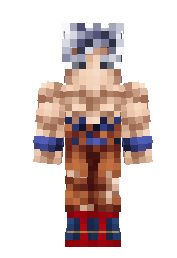 Dragon Ball Skin
Here is another famous anime character Son Goku from the Dragon Ball manga and anime series. Those who are only remotely familiar with the character may not recognize him in this skin, but that's alright, since this is one of his transformations.
This Minecraft skin was inspired by Son Goku's Ultra Instinct form, which was a part of the final arc of Dragon Ball Super.
---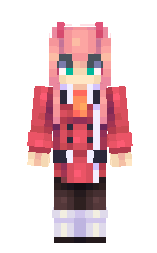 Darling in the Franxx Skin
This is probably the cutest skin in the entire list, which shows the Zero Two character from the Darling in the Franxx anime series. Zero Two is also known as Nine Iota, and she is considered to be the most prominent character in the entire series.
Zero Two is an artificially created being that most of all desires to become fully human.
---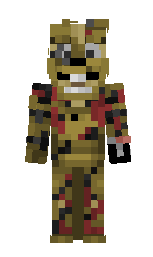 Five Nights at Freddy's Skin
This skin from the FNaF series of video games specifically refers to Springtrap, an old animatronic rabbit doll that haunts the staff at Fazbear's Fright. The skin is exceptionally well-detailed showing all the little tears and scrapes which cover the entire body of Springtrap.
The FNaF fans will instantly recognize the Springtrap, so now you can haunt everyone using this cool skin on your server.
---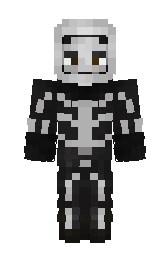 Skull Trooper Skin
This isn't your typical Halloween-themed Minecraft skin, but the rendition of the Skull Trooper skin from Fortnite. This year marked a lot of excellent Fortnite skins for Minecraft in general, which you can see in our selection here.
Skull Trooper is definitely one of the coolest Fortnite skins, but you can try all of them out, as the creators have done an excellent job at making them look great in Minecraft.
---
Which Minecraft skin was your favorite in 2018? Let us know in the comments section below.