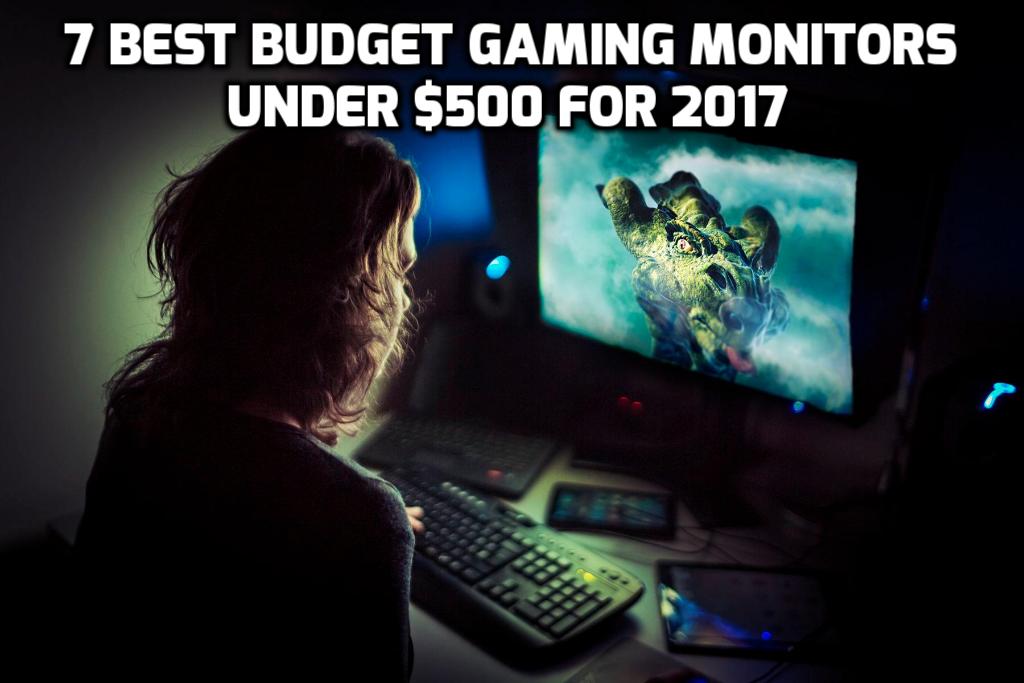 Whether you've just built a brand-new PC or you're looking to upgrade your current screen, shopping for a new gaming monitor is no small task -- especially if you're on a budget. Scouring the interwebs for the best gaming monitor can take a long time, time you could better spend gaming.
That's why we're here to help. From high-definition screens to 1440 panels and 4K monitors, we've compiled a list of the best gaming monitors of 2017. You'll find manufacturers such as ASUS, Dell, Alienware, and LG here as well as what makes each monitor worthy of consideration.
---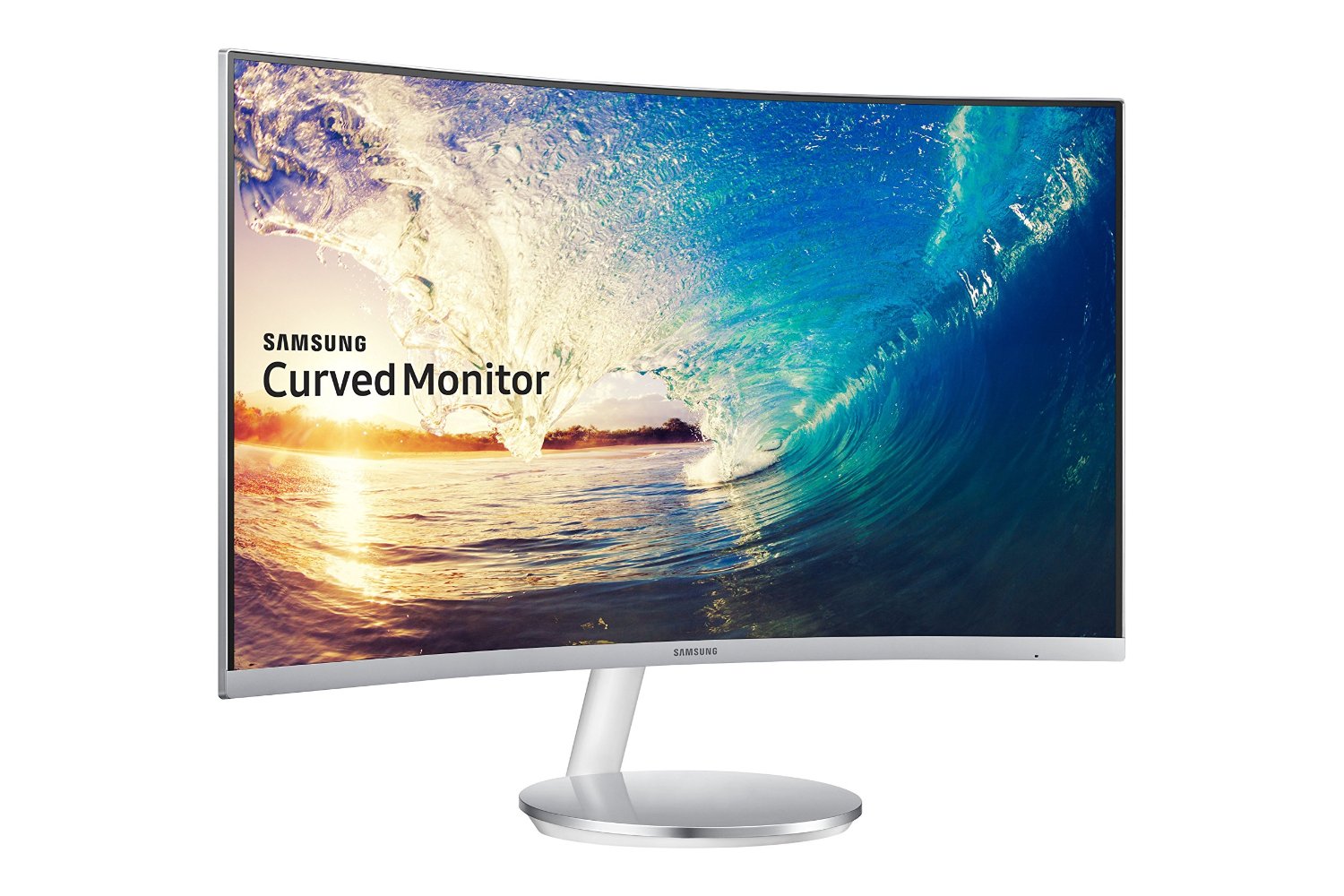 Samsung C27F591 Curved Monitor
Price: $199.99
Buy it on: Amazon
Curved gaming monitors are some of the coolest peripherals on the market. Most of the time, they'll cost you an arm and a leg -- especially if you're buying name brand. However, the Samsung C27F591 kicks off our list with a bang, sporting a high-end curved screen at a crazy-low price point.
Coming in at 27 inches, the C27F591's screen is the belle of the ball for this monitor. Using a Vertical Alignment Display, this panel isn't perfect for gaming since its response times are on the higher end of things (4ms, to be exact), but at $200, you'll get great 1920x1080 definition. On top of that, this budget monitor sports a 60Hz refresh rate, which can be overclocked to 72Hz, providing you great fidelity for more intensive games.
You'll find that the Samsung C27F591 has an HDMI port, a DisplayPort, and a VGA port, although the monitor only comes with an HDMI cable. However, seeing as any good DP cable costs between $15 and $30, grabbing one at checkout isn't unreasonable for a monitor in this price range.
When it comes to performance, the C27F591 performs well but not exemplary. Its black and white levels are easily distinguishable and provide great fidelity when watching or playing media that exhibit deep contrasts. However, the screen's low response time can produce a few artifacts for more intensive games, and ghosting can be an issue.
It's worthy to note that this budget monitor employs AMDs Freesync technology, which helps better safeguard against screen tearing and in-game blurring. If you've got an AMD GPU, this is one of the cheapest monitors that offers the technology. If you're an NVIDIA user, Freesync won't do you any good, so you may want to look to some of the other gaming monitors on this list.
Samsung C27F591 Specs:
Display Panel Size: 27"
Panel Backlight: WLED
Aspect Ratio: 16:9
True Resolution: 1920x1080
Response Time: 4ms
Signal Frequency: 50-65Hz
Contrast Ratio: 3,000:1
---
ASUS VG248QE 24" Full HD 1920x1080 Gaming Monitor
Price: $279.00
Buy it on: Amazon
A well-known name in the gaming industry, ASUS has been manufacturing reliable monitors at budget prices for a long time now. I've had the company's VS228 model for more than eight years, and it still serves more than well as my second monitor option on my desktop. But if you're looking for a gaming monitor a step up from what the VS228 offers, the ASUS VG248QE is a logical next step.
Coming in at under $300, the VG248QE provides users decent functionality and good baseline specs. Having a max resolution of 1920x1080, this ASUS screen isn't breaking any new ground on the monitor front, but it will take you into the brave new world that is gaming beyond 60Hz. Sporting a single HDMI port, a DVI port, and a DisplayPort, you'll be able to hit 144Hz on this 24-inch screen like a pro. And that also means that you'll have a better chance of performing like a pro in online, twitch-style games, too.
The VG248QE also provides a crisp picture and produces little to no artifacts when put through rounds of blur tests and Langom tests. In other words, this ASUS gaming monitor renders images properly, produces impressive blacks and whites with its deep contrast ratio, and doesn't blur. And while the monitor does support 3D gaming, you won't get industry staples such as NVIDIA's G-Sync or AMD's Freesync technology here.
For the ergonomically minded, the ASUS VG248QE is easily adjustable and can be oriented in either landscape or portrait positions. The screen can also be tilted forward by 15 degrees, while the height can be adjusted to fit almost any seating scenario.
ASUS VG248QE Specs:
Display Panel Size: Widescreen 24"
Panel Backlight: WLED
Aspect Ratio: 16:9
True Resolution: 1920x1080
Response Time: 1ms (gray to gray)
Signal Frequency: 30-140Hz
Contrast Ratio: 80,000,000:1
---
Dell S2417DG 24-Inch Gaming Monitor
Price: $379.99
Buy it on: Amazon
If you're looking for a budget gaming monitor that slides between 1080p gaming and 4K resolutions, the Dell S2417DG is a fantastic mid-range option. This QHD monitor outputs stunning images at 2560x1440 resolutions from a 24-inch, 16:9 Twisted Numatic panel that doesn't look like it's meant for gaming in the slightest. Its adjustable stand allows for height adjustments, and it swivels for better viewing range and a portrait orientation for business work.
The S2417DG's bezel-free housing has quite a few ports. You'll find a single HDMI port and DisplayPort on the back of the monitor as well as five USB 3.0 ports and a 3.5mm headphone jack. For those of you hoping to go DVI, you'll need to look elsewhere, although the payoff for using the monitor's DisplayPort is well worth the switch.
Capable of hitting 165Hz through its overclocking feature, this Dell gaming monitor provides NVIDIA's G-Sync anti-tearing technology and ULMB support to combat blurring at the monitor's lower refresh rates. On top of that, the S2417DG has seven presets for various picture modes, a 1000:1 contrast ratio, and a peak brightness setting of 350 cd/m2.
The biggest caveats for this monitor stem from a few minor performance issues. For example, the S2417DG does have a few occlusion and tearing issues when G-Sync isn't activated, and a few areas of the monitor, specifically around its top edges, fall victim to a bit of bloom and blurring.
However, the color of this particular Dell monitor is on par with many others in its current price range, while any of the issues associated with chromaticity are par for the course with most TN monitors. All in all, this is a great monitor that mostly provides high-level functionality and ergonomically sound design in a budget package.
Dell S2417DG Specs:
Display Panel Size: 24" and 27"
Panel Backlight: LED
Aspect Ratio: 16:9
True Resolution: 2560x1440
Response Time: 1ms
Signal Frequency: 165Hz
Contrast Ratio: 1,000:1
---
AOC Agon AG271QX 27" Gaming Monitor
Price: $379.99
Buy it on: Amazon
AOC is a brand synonymous with hardcore gaming. In fact, many of the world's most popular eSports teams and players use AOC monitors to gain the edge over the competition. And the Aon AG271QX is another gaming monitor in the company's catalog that epitomizes that gaming-focused ethos.
With a 27-inch TN panel, the Agon AG271QX packs a wallop for the money. The monitor's casing comes in an understated, yet unique, red and black matte that connects to a sturdy silver stand that has no business being so elegant and resilient. Because of its ergonomic design and maneuverable capability, it's a stand you'd expect to see on a monitor twice the price.
But stands don't mean anything if the monitor isn't good. And this AOC gaming screen is no slouch in the features department. Outputting at 2560x1440 up to 144Hz, this budget gaming monitor has a 16:9 aspect ratio, 1,000:1 native contrast ratio, and a peak brightness of 350cd/m2. You'll also find that this monitor (like many other budget monitors on this list) supports AMD's FreeSync technology to combat screen tearing.
However, unlike other monitors here, the AG271QX has a ton of inputs, ports, and extras. You'll find two HDMI inputs, a DVI input, a DisplayPort input, and three USB 3.0 ports alongside an audio in-line port, a microphone line-out port, and a port for the included desktop keypad. The latter allows you to easily access the monitor's OSD menu, which can be somewhat of a pain to access otherwise.
On the performance front, the AG271QX doesn't knock it out of the park, but it does provide better-than-expected visuals, especially when considering the price point. Colors are accurate, sharp, and vibrant; blacks and whites are deep and luminous; and saturation is as you'd expect in a TN panel.
With little noticeable lag and FreeSync keeping tearing to a minimum, AOC's budget monitor ticks a lot of boxes for gamers not wanting to break the bank. Did we mention it also comes with an HDMI and DisplayPort cables?
AOC AG271QX Specs:
Display Panel Size: 24" and 27"
Panel Backlight: WLED
Aspect Ratio: 16:9
True Resolution: 2560x1440
Response Time: 1ms
Signal Frequency: 165Hz
Contrast Ratio: 1,000:1
---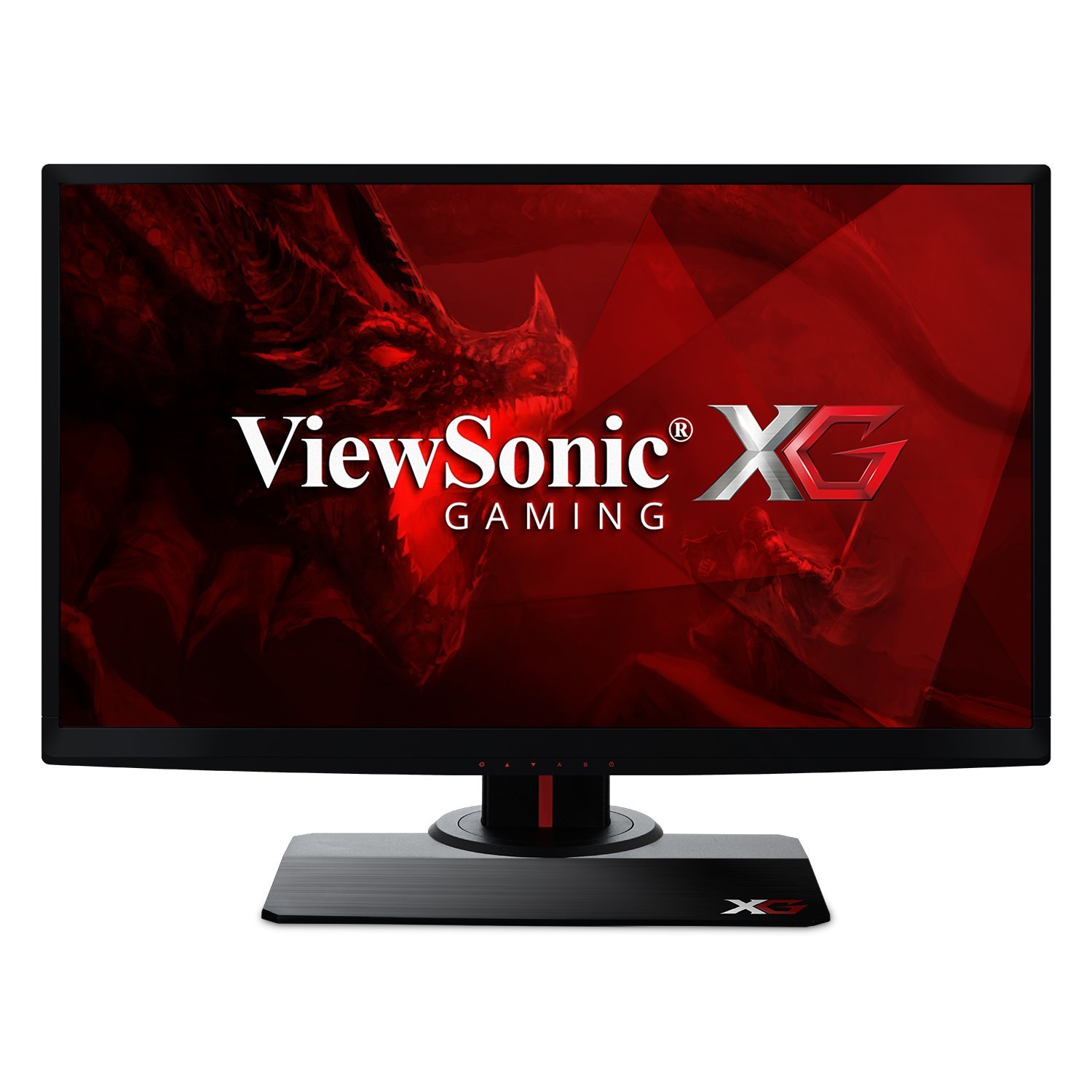 ViewSonic XG2530 25" FreeSync Gaming Monitor
Price: $386.99
Buy it on: Amazon
When compared to other gaming monitors on this list, the ViewSonic XG2530 stands out for several reasons, chief among them its relatively high refresh rate. Coming in at 240Hz, this monitor hits the current pinnacle for gaming monitors. If you're in the market for something above $350, this is a monitor you'll definitely want to consider -- especially after you've seen all of its other features.
Sporting a 25-inch screen, the XG2530 is a TN monitor that outputs at 1920x1080 with a 1ms response time -- even at higher hertz. If you're using an AMD graphics card, you'll have access to FreeSyncing and experience essentially zero screen tearing or frame dropping when playing competitive shooters or other twitch-style games.
On the connections front, you'll find this ViewSonic gaming monitor has a DisplayPort 1.2 connection, an HDMI 1.4 and HDMI 2.0 connection, three USB 3.0 connections, and a 3.5mm audio connection. And the best part? You won't have to buy any extra cables. The XG2530 comes with all the cables you need to get up and running -- something not a lot of other monitor packages provide.
As with other monitors here, colors on the XG2530 are decent and what you'd expect out of a TN screen, with some errors in parts of the spectrum when tuned to certain settings. These aren't entirely noticeable to the naked eye, however, and shouldn't impact gaming scenarios on the whole. It's also worthy of note that some of the out-of-the-box settings, such as gamma and brightness, might need to be adjusted, but they can easily be equalized via the monitor's OSD.
Something that does stand out about this ViewSonic screen is its Rampage Response feature, which is essentially an overclocking feature with a few additions. Unlike other monitors with overdrive features, the XG2530 is capable of scaling its power with personalized level control. Boasting five levels of functionality, Rampage Response gives you granular control of image smoothing and ghosting with relatively low input lag.
ViewSonic XG2530 Specs:
Display Panel Size: 25"
Panel Backlight: WLED
Aspect Ratio: 16:9
True Resolution: 1920x1080
Response Time: 1ms
Signal Frequency: 240Hz
Contrast Ratio: 1,000:1
---
Alienware AW2518H Gaming Monitor
Price: $429.99
Buy it on: Amazon
The Alienware AW2518H is definitely one of the pricier gaming monitors on this list. With a futuristic design that exudes the company's striking signature style, the AW2518H has a lot going for it, even if it is just a 1080p gaming monitor.
Aside from the out-of-the-box space-age flair of the monitor's bezels, sharp angles, and LED lines, you'll discover that the AW2518H has a DisplayPort, a line-out audio port, three USB 3.0 ports, a single USB port, an HDMI port, and a 3.5mm headphone jack. Compared to the ViewSonic XG2530, this Alienware monitor is missing an extra HDMI port, and when put alongside other monitors on this list, it also lacks a DVI port, if that's something that you need.
However, this 25-inch screen performs extremely well under pressure. Capable of outputting at 240Hz, blacks and whites are vibrant thanks to the screen's 1,000:1 contrast ratio; colors are accurate, with greens, blues, and reds showcasing in true form; and image quality remains steady even when pushed at higher rates. You'll also find that this monitor's 400 candela per square meter efficiency allows for increased brightness and more vivid contrasts between light and dark than other, cheaper monitors -- both on and off this list -- making its price point a bit more bearable.
Something that truly sets this gaming monitor apart from others on this list, however, is its framerate synchronization capabilities. Unlike some other gaming monitors, this Alienware offering is available with both AMD's FreeSync technology and NVIDIA's G-Sync capabilities. Both work exceedingly well for their complimentary GPUs, minimizing screen tearing and input lag, but you will pay a bit more if you're a GeFroce user due to NVIDIA's software licensing.
Alienware AW2518H Specs:
Display Panel Size: 25"
Panel Backlight: LED
Aspect Ratio: 16:9
True Resolution: 1920x1080
Response Time: 1ms
Signal Frequency: 240Hz
Contrast Ratio: 1,000:1
---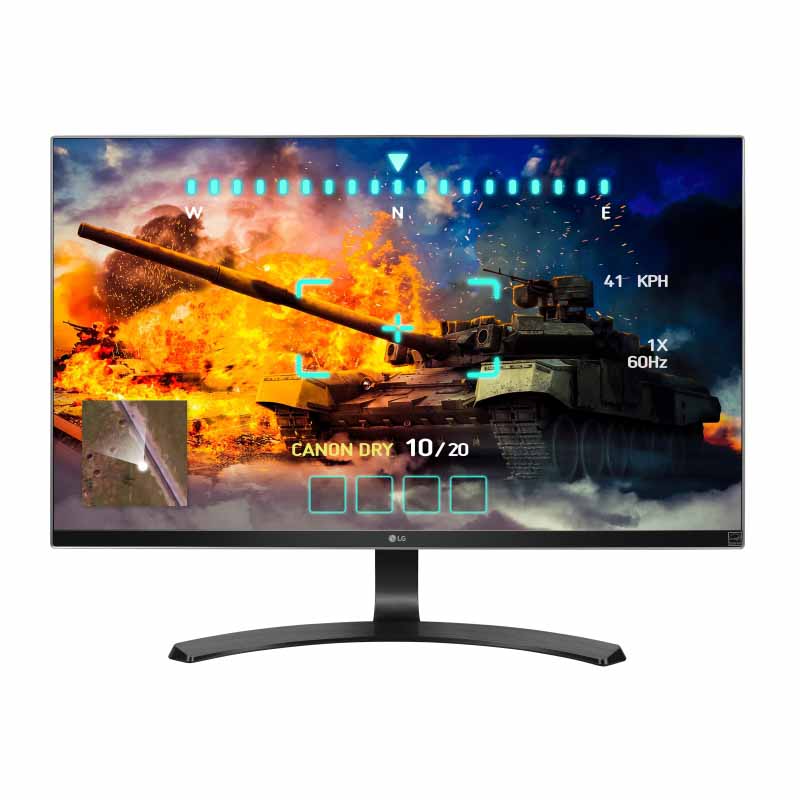 LG 27UD68-P 4K Gaming Monitor
Price: $437.00
Buy it on: Amazon
Coming in just under our $500 threshold at its MSRP, the LG 27UD68 is one of the best 4K monitors you can buy on a budget. Although it's not necessarily a dedicated gaming monitor, dividing its processing chops between media and work-related tasks, the 27UD68 isn't a slouch when it comes to rendering highly-detailed graphics with fidelity.
With a 27-inch screen at its disposal, the 27UD68 has a resolution of 3840x2160, which is can push at a refresh rate of 60Hz. Considering it's a UHD monitor, this LG model provides 4x more pixels than a typical HD monitor, smashing in upwards of 8.3 million pixels across a 16:9 aspect ratio. In addition to that, the 27UD68 features FreeSync technology to reduce screen tearing at higher refresh rates, as well as low frame rate compensation for eliminating inefficiencies when gaming at lower rates.
But what really sets this monitor apart are its extras. With anti-glare coating, the monitor's screen absorbs more ambient and direct light, meaning you can comfortably game in more environments. Using split-screen technology, the 27UD68 is able to provide you with 4 picture-in-picture modes across 14 different options, meaning you can better multitask on projects or enjoy multiple media pieces at a single time. And by implementing the monitor's reactive game mode, you'll have better visibility as well as light and dark contrast in darker games and smoother frame rates in competitive games.
The main caveats to consider when looking at this monitor, however, are that it doesn't have the capability of exceeding 60Hz, has a relatively high response time, and only has three output ports: a DisplayPort, an HDMI 2.0 port, and a headphone jack. You won't find any USB connections or DVI ports here, nor overclocking features in its easy-to-navigate OSD.
If the price point is still a tad too high, consider the 24UD58, a 24-inch equivalent that provides all of the same features.
LG 27UD68-P Specs:
Display Panel: 27" IPS
Panel Backlight: LED
Aspect Ratio: 16:9
True Resolution: 3840x2160
Response Time: 5ms
Signal Frequency: 60Hz
Contrast Ratio: 1,000:1
---
If you've picked out your favorite gaming monitor under $500 and need a few other peripherals, a gaming chair, or a gaming desk, be sure to check out our other guides and suggestions below: