Con season is only just starting to heat up and a whole slew of games are set to release in the coming months that will fuel the cosplay fire.
You're certainly going to see a ton of costumes inspired by new releases, but you're also going to see cosplay inspired by the events and characters of yesteryear -- particularly during the lull where new trends just haven't had time to pop up. See above, for example: never mind her superstar appearance in 2017's Injustice 2, the meteoric hit that was Wonder Woman's origin movie has guaranteed her a girl-power slot on cosplay planning Pinterest boards for years to come.
So in light of that, let's take a look at some of the costumes we think are going to dominate cosplay this con season. From Fury and Mercy to Sora and Kratos, here's what you can expect.
(image source: kilory @ deviantart)
---
Sora -- Kingdom Hearts III
While a release date is still pending (they swear it's coming out sometime this year!), the hype for Kingdom Hearts 3 has been holding fairly steady over the years. Following a number of teasers, trailers, gameplay videos, and just the natural progression that comes from too many HD remakes, there's no stopping the KH3 hype train.
And one of the most endearing characters from the franchise is Sora -- meaning he's definitely going to be appearing at a con near you this year.
He may have gained a few inches, but our spunky, spiky-haired hero in the over-sized shoes hasn't changed much in terms of character design -- even if his color palette has certainly gotten a shakeup.
With what looks like more than half a dozen costume changes in the upcoming game, Sora's baby face is sure to be a staple in any group cosplay, particularly since silver-haired pretty boy Riku is guaranteed a larger role in KH3 than he's had in previous iterations -- and is just as likely to make it to con floors.
(Hero image source: el mundo tech)
(Secondary image source: Pinterest)
---
Fury -- Darksiders III
Aside from my sheer -- and unashamed -- attraction to any pretty face with bright red hair, Fury, from the upcoming hack and slash Darksiders 3, easily makes an appearance on this list. Packing a serious punch in both character design and updated apocalyptic lore, there's little doubt other cosplayers will feel the same about D3's heroine.
Originally introduced in Darksiders as one of the Four Horsemen, Darksiders 3 will place the blade-mage center stage as a graceful, cartwheeling, blade whipping protagonist.
The main thing holding keeping early cosplayers from cosplaying as Fury is that her costume isn't an overly simple one craft -- and there just aren't enough resources yet to make it a late-stage endeavor for most cosplayers of any craftsmanship level.
However, this isn't to say that some haven't already gotten a head start: popular Euro cosplayer Germia, for example, has already taken steps to building up several parts of it already! (See above image)
(Hero image source: darksiders wiki)

---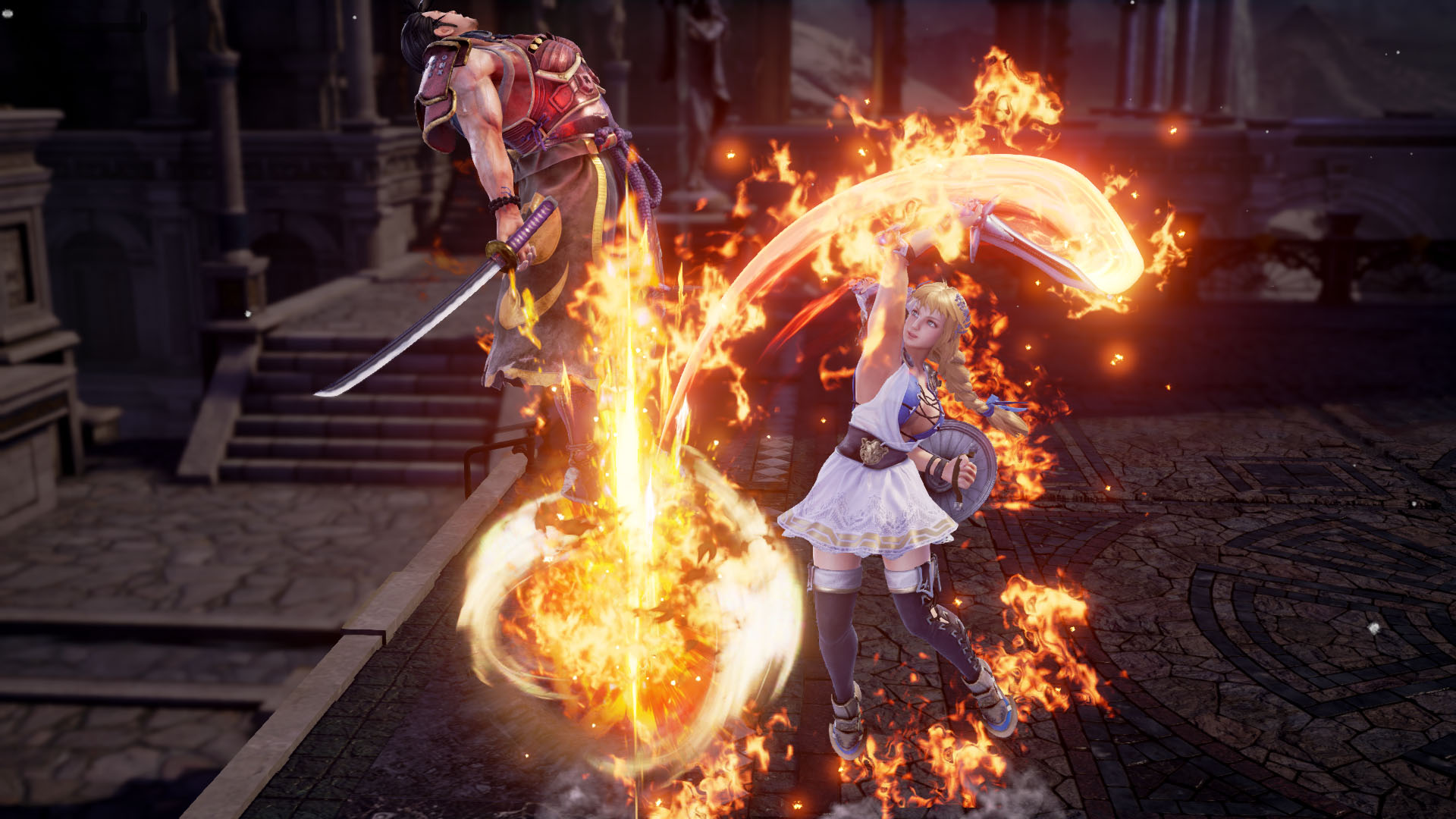 Sophitia -- Soulcalibur VI
A sword-wielding staple of the bounce, bounce jiggle, jiggle fest that is the Soulcalibur series, seraphic Sophitia has always more or less managed to walk a fine line between gracefulness and gratuitous boobage -- at least in comparison to, say, Ivy.
Gravity works in every lady's favor in this fighting game franchise, and Soul Calibur 6 aims to bring more story to the franchise, as well as additional mechanics that will help players through its more-than-button-mash learning curve, which should help bring it back to the forefront of the cosplaying community.


Although this iteration has her shirt slit down almost to her naval (no one is fooled by those laces), Sophitia still remains one of the easiest of the reoccurring SC characters to cosplay -- one that keeps all the goods in place, while still allowing for a little leeway when it comes to having the perfect body.
She's also cooler than Cassandra, but that might just be my bias showing.
(Hero image source: polygon)
(Secondary image source: DeviantArt)

---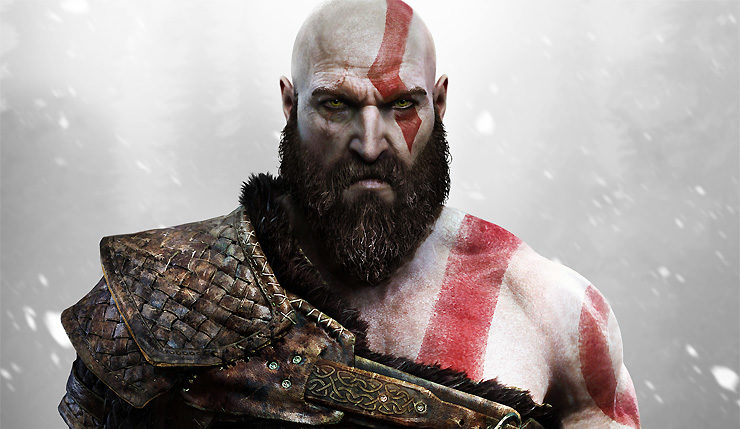 Kratos -- God of War
If you're starting to feel like most of the characters on here are from a Video Gaming's Greatest Hits disc, you're not the only one. It's an interesting year where the biggest upcoming games are either ones that don't exactly lend themselves to interesting costume design (Last of Us 2, Red Dead Redemption 2, Metro Exodos, A Way Out) or just don't have any real standout cosplayable characters (Monster Hunter World, Anthem).
However, God of War 4 brings Kratos back to the world of the living -- and gives him a son. It also flings him head-first into the world of Norse mythology, which is an interesting twist in a seven-game legacy based off of Greek mythology.
It helps that while Kratos' base design hasn't changed much, his outfit has been given a little more of an update to correspond with his new surroundings. And what's more, while the original unstoppable rage machine of the original games was what gave Kratos his initial appeal, this unchanging, static ball of hatred was beginning to wear.
A little redemption and a new kind of appeal (what's this, real humanity?) in Kratos sounds like it's in the cards for the God of War franchise, which is why you're much more likely to see a return to cons this year.
(Hero image source: wccftech)
(Secondary image source: locsalike @ deviantart)

---
Nova -- StarCraft II
All right, so StarCraft II isn't exactly "upcoming" in any sense of the word (it only recently went free-to-play last year), but Nova's constant reappearance in other areas of the Blizzard world means something. It also helps that she sports a fairly consistent character design across all of her appearances, making her a pretty easy character to cosplay.
She's a prime character in Heroes of the Storm, and her character design recently made the jump to Blizzard's big-name shooter Overwatch, as well as a skin for French sniper Widowmaker that should do wonders bringing back this blond bombshell.
For any cosplayer with a love of LEDs, Nova is a great choice for a simple, streamlined design... and yet she'll always manage to catch your eye on the con floor. And if you don't have Widowmaker-level booty, Heroes of the Storm has a ton of new source material for alternate Nova skins that should keep the inspiration machine churning for months.
(Hero image source: youtube)
(Secondary image source: DeviantArt)
---
Mercy -- Overwatch
While we're on the Blizzard bandwagon, we can't help but include a nod to the crazy construction efforts of every Mercy cosplayer (give or take the Dr. Ziegler casual fan iteration) who has ever stepped on the convention floor.
The latest event to hit Overwatch (Lunar Year of the Dog) has dumped a huge amount of new material on us. And while it's perhaps unlikely we'll see many of the Zhuque versions of Mercy at conventions (although, if you're considering it... oh, hell yes, please!) there are sure to be a ton of other iterations.
Case in point, Valkyrie (and alternatively, the recolored Sigrun skin), made especially poignant thanks to the recent re-balances (see: nerf) to the character's ultimate/resurrection ability.
Mercy mains will mourn overpowered Valkyrie 1.0 for months to come, and what better way to do it than to do it while wearing the namesake skin?
(Hero image source: collider)
(Secondary image source: cos album)

---
Did we miss anyone else you think will really blow up conventions? (And when I ask this, I consider Spider-Man, Deadpool, and Link convention staples at this point!) Who or what is it? And why?
And before we peace out for good, Geralt above is my wild card... and I suspect it will largely depend on whether or not the upcoming Netflix TV adaptation looks any good.
And while you're here, make sure to check some of our other cosplay articles: