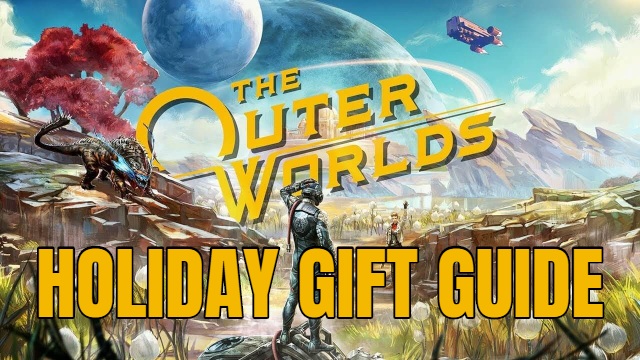 We're all still busy saving the Halcyon colony and becoming a major unplanned variable for those evil corporations in The Outer Worlds. But before we've even been able to finish our second playthrough, the swag and merch has already started to arrive!
It's good timing, too, with the holiday shopping season right around the corner. Unfortunately, the pickings are noticeably slimmer this year following the sad demise of Think Geek, but there are still some really nifty gifts and merchandise for The Outer Worlds if you know where to look.
I strongly suspect we'll get a board game, card game, or tabletop RPG ruleset at some time in the future, too, and one of the game's vending machines as a mini-fridge would also be ace. Sadly, no such luck yet.
While we wait on those must-haves to finally be produced, here's 10 of the current best The Outer Worlds gifts to buy for the gamer in your life!
---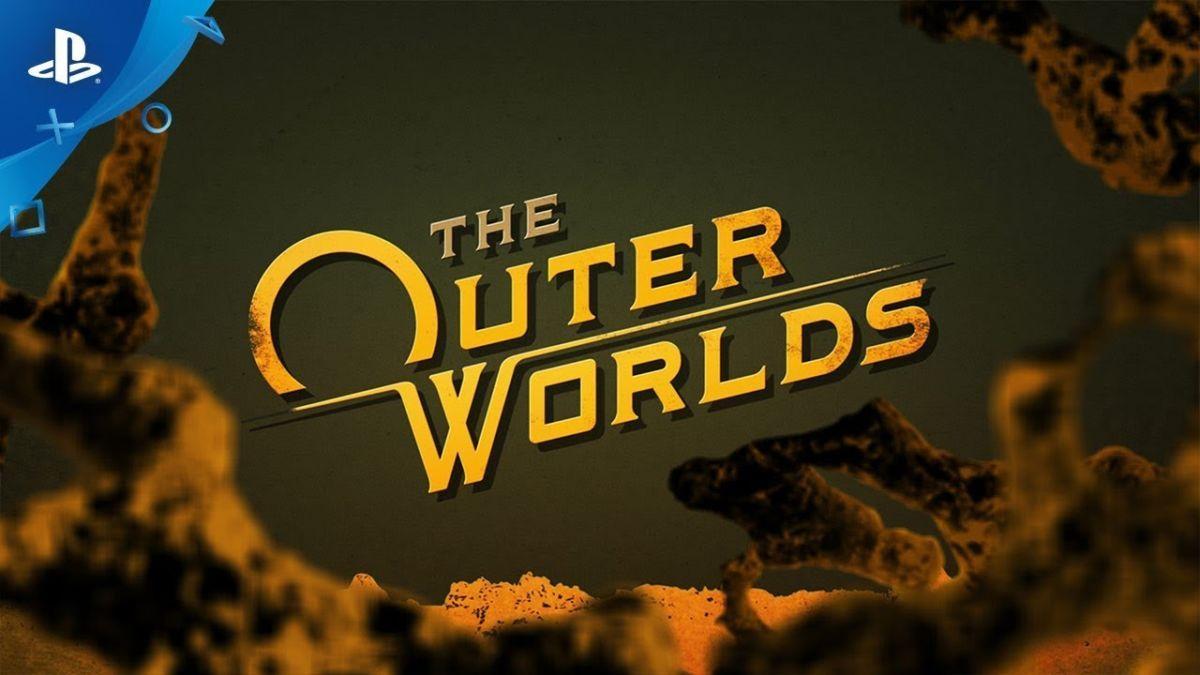 The Outer Worlds
Obviously, Number 1 on our list is the game itself! If you don't have it yet, you should get on that. Why? Because it provides the Fallout-style of gameplay fans have been missing since the launch of New Vegas nine years ago.
Dark humor of a future capitalist society gone wrong, a very tongue-in-cheek setting, a new take on the classic VATS system, and a cast of compelling companions all come together for an experience Obsidian fans will love.
Out now on PS4, Xbox One, and PC, The Outer Worlds will additionally land on the Nintendo Switch in 2020.
Keep in mind the game is currently included in the lineup of titles with the Xbox Game Pass Ultimate service, so if you buy someone a subscription to that, they can essentially play it for free on PC or Xbox One for the foreseeable future.
---
Spacer's Choice iPhone Case
Now that you've got the game itself, it's time to move onto the awesome third-party swag!
I know this bad guy will be gracing my phone soon, and it's available for the vast majority of iPhone iterations, from the iPhone 4 all the way up to the new iPhone 11 Pro Max.
Honestly, you need to be a bit brave to trust this case to protect your phone, though, considering the Spacer's Choice catchphrases: "You've tried the best, now try the rest" and "It's not the best choice, it's Spacer's Choice!"
Seriously, if this thing doesn't fall apart within a year, then what's even the point?
If you don't need a new phone case, there are some nifty Spacer's Choice posters featuring the company's dubious logo, with this one in particular sporting a cool design that I desperately wish would get made into a doormat.
---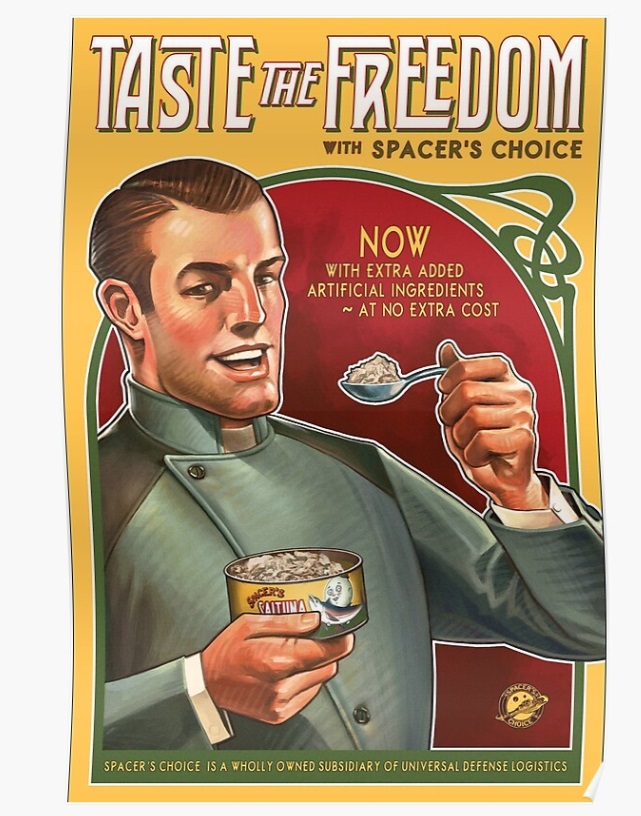 Taste The Freedom Poster
I'll be honest, a pungent can of saltuna tastes more like the crushing oppression of capitalism run amok in the stars, but I guess "freedom" is a bit more catchy.
Several other posters found throughout the game can also be bought online, like The Terror Of Monarch With Ruth Bellamy. Sadly, none of the wanted posters seem to be up yet. That's a shame since that Phineas Vernon Welles poster would look great on my wall.
---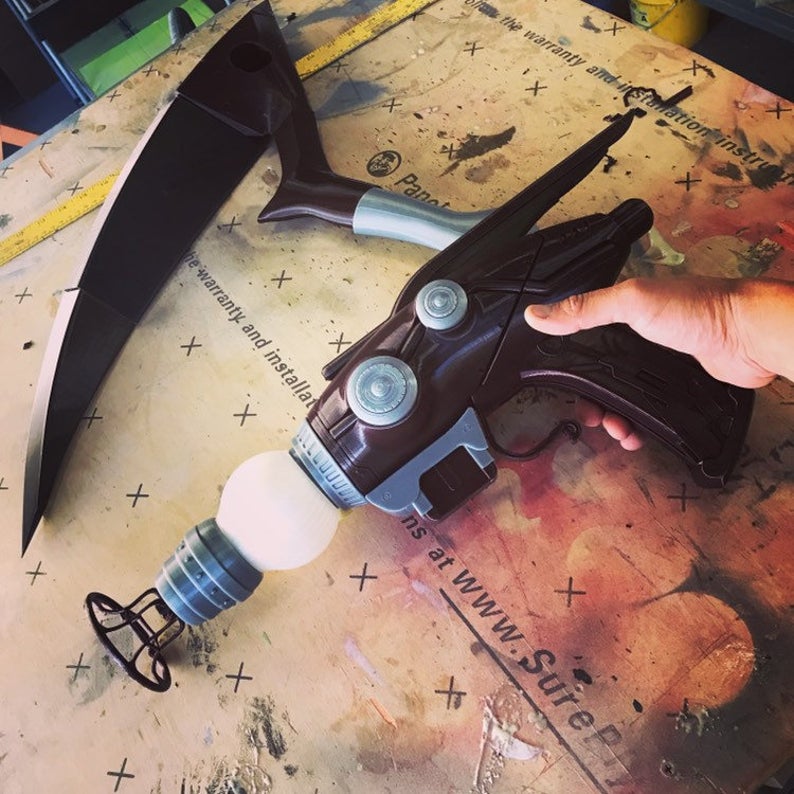 Shrink Ray Cosplay Gun
This may be intended for cosplay purposes, but honestly, the Shrink Ray science weapon would look killer just sitting on your entertainment center. You know it's the truth.
You're going to want to get on this one early, though, since the gun is custom 3D printed and painted by one person through an Etsy storefront. So expect these to go quickly and time to run out if you want to get it by Christmas!
If you've got a 3D printer and are feeling a little adventurous, there are a number of 3D files for various The Outer Worlds weapons also up for grabs at Etsy.
---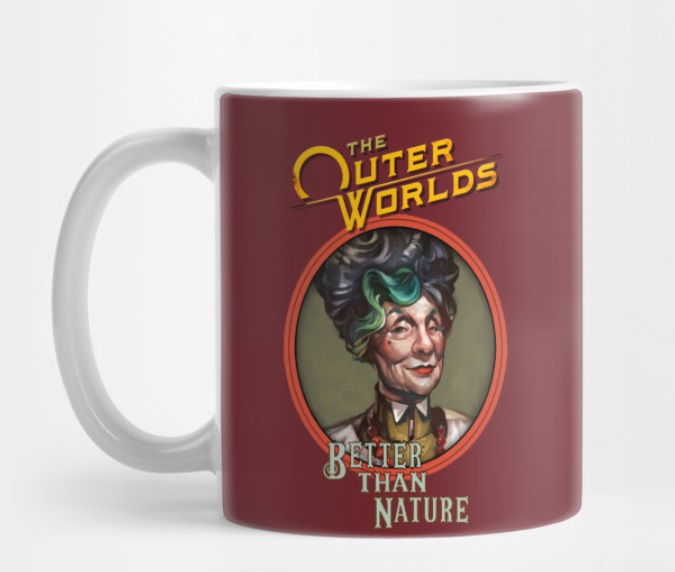 Auntie Cleo Mug
For those mornings when you need a steaming hot mug of something that's "better than nature," you can't go wrong with Auntie Cleo, the finest purveyor of designer pharmaceuticals and unethical experiments this side of the colony!
Of course, Auntie Cleo may not be your evil corporation of choice, so it's good that there are a bunch of different Outer Worlds mugs available online featuring Spacer's Choice, the Unreliable, the main game logo, and so on.
If you're a fan of the creatures in The Outer Worlds, some of the biology diagrams from the game's loading screens have also made their way onto mug designs, like the layout of the dreaded Mantisaur.
---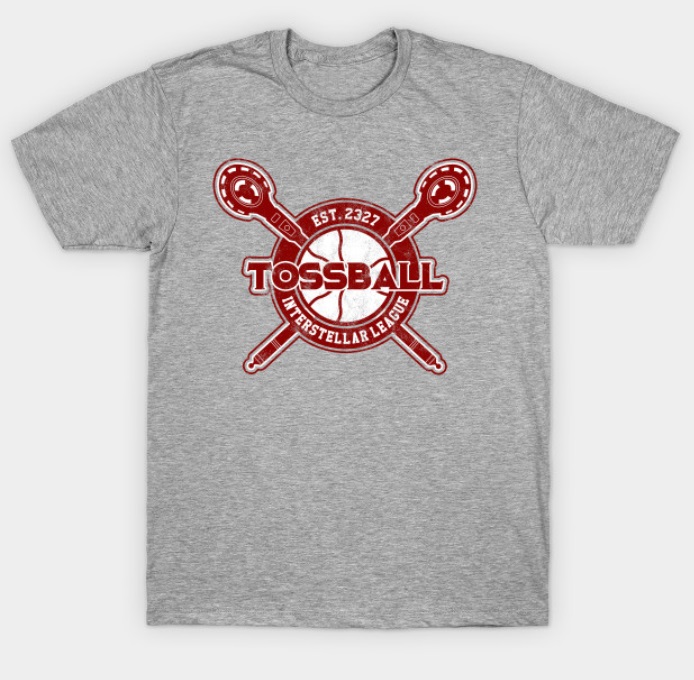 Tossball Interstellar League T-Shirt
This is a gift that separates the true fans from the casual players, and one of those great ways to find other fans out in the wild.
If someone knows what the tossball interstellar league is (or if they've beaten a marauder to death with a tossball stick), they'll let you know when you're in line at the store, that's for sure. Wear this one out to a real world sporting event and watch the confusion begin!
---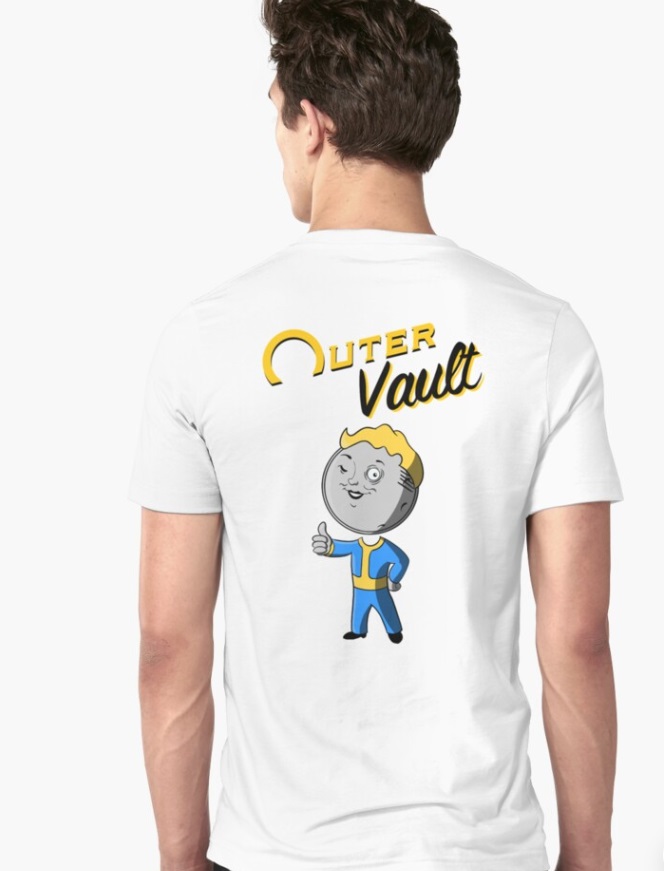 The Outer Vault T-Shirt
Woah, worlds have officially collided with this shirt! We all know what they were going for with The Outer Worlds — the mid-era Fallout influence is unmistakable — but this one really, REALLY spells it out!
When you just can't pick between Obsidian and Bethesda, this design lets you know you don't even need to worry about the distinction.
---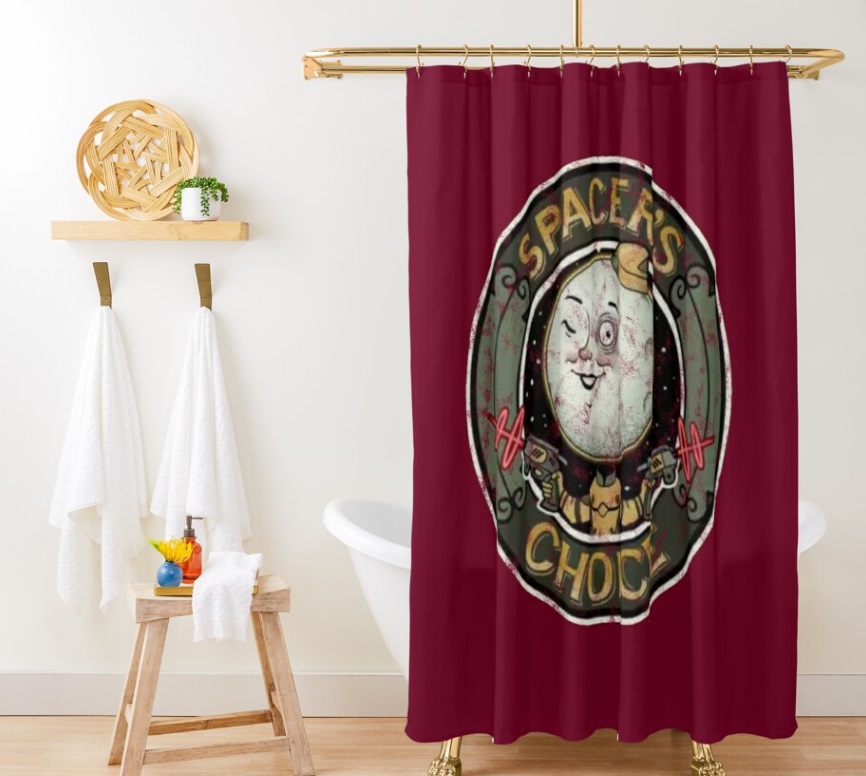 Spacer's Choice Shower Curtain
For the absolute The Outer Worlds fanatic who wants to live and breathe the game from the moment of waking up until finally going to bed, you can now get a dose of space shenanigans in the shower. You are guaranteed to get some comments when company comes over and asks where to find the bathroom, that's for sure.
---
Welcome Aboard The Unreliable Sticker
The Outer Worlds players don't just need the usual shirt and mugs to show off their fandoms. Don't forget about the stickers, too, so they can customize anything they want with a little Obsidian themed swag!
This one has The Unreliable — your ramshackle ship used to traverse this sad end of the galaxy — but plenty of others are also already gracing online shelves.
You can notably also pick up some Saltuna stickers if you like to advertise your love for all things nutritious, fishy, and produced through slave labor!
---
Groundbreaker Pin
Not a big fan of the corporations like Spacer's Choice, Auntie Cleo's, Vulcan, or C&P? Forget all that capitlist branded swag, and instead show the diabolical Board your independence with this pin declaring your love for the Groundbreaker!
---
Have you seen any other great The Outer Worlds merch or gifts that we missed? Sound off with your best finds in the comments below and we'll get them added!
While waiting on the next round of figurines and game tie-ins to arrive, make sure to check out this interesting thread over here from one of the game's environment artists discussing the various board and card games you can find exploring The Outer Worlds — and the possibility of full rules for those games eventually being released.
Don't forget to drop us a line if you pick up any of these gift from The Outer Worlds for Christmas gifts — and let us know how it was received! And of course, take a gander at some of our guides for The Outer Worlds if you're playing it right now.