The new year is approaching, and Mojang announced a ton of new upcoming content for Minecraft at the last MineCon Earth event. The most important announcement was about the title of the upcoming 1.13 update, The Update Aquatic, which will bring new mobs, plants, and structures to the ocean biome of the game.
There is still no exact release date set for the 1.13 update, and the new snapshots only add a few minor fixes here and there. This means that the 1.12.2 update is still the most relevant, so here is the next batch of the top Minecraft seeds for December 2017.
---
Seed: -751684065597629
Coordinates: 200 600
Biomes: Forest, Savanna, Cold Taiga
There is no better Minecraft seed to discover in wintertime than an entire frozen village. It's not exactly at spawn, but not too far either at coordinates 376 72.
You will find no blacksmith here, but don't worry: there is a zombie dungeon right nearby at coordinates 407 -18. Just dig down at that exact spot under the tree, and you will find yourself in a chamber with two treasure chests filled with the following items:
1 golden apple
1 redstone
1 gold horse armor
1 iron ingot
1 saddle
---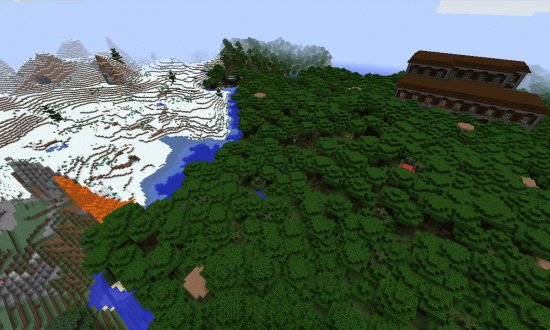 Seed: 742707930636741706
Coordinates: 208 256
Biomes: Roofed Forest, Ice Plains
How about a woodland mansion standing right near a snow biome and surrounded with lush forests? You will find this magnificent sight at coordinates 530 -700.
Inside the secret room on the ground floor at coordinates 500 -65 -711, you will find a treasure chest containing an enchanted iron axe with Efficiency I.
---
Seed: 392178489553775
Coordinates: -168 204
Biomes: Forest, Savanna, Desert
But let's move on to a warmer kind of climate, and spawn near the desert that accommodates not one but two villages at coordinates 104 152 and 104 -248.
On the very edge of this desert biome, you will also find a temple standing on the bank of the river at coordinates -728 40. The four chests on the bottom of a secret chamber hold the following items:
1 gold horse armor
3 saddles
1 iron ingot
---
Seed: 8095180230575501141
Coordinates: 184 252
Biomes: Plains, Extreme Hills
Village with blacksmith at spawn! It's surrounded by extreme hills on all sides. In terms of animals, there are only a few sheep hanging around, but the smithy's chest is what you really need to check out for:
3 diamonds
4 obsidian
2 iron ingots
1 iron helmet
---
Seed: 1483524782
Coordinates: 244 240
Biomes: Roofed Forest, Plains
How about a woodland mansion at spawn? There is no need to get busy looking for one; just enter this seed code into your Minecraft client, and you will appear right in front of this gorgeous structure.
While you're there, don't forget to check out a treasure chest at coordinates 317 66 379 for the following loot:
1 diamond hoe
3 gold ingots
melon seeds
---
Seed: 996642696551456
Coordinates: 24 176
Biomes: Ocean, Savanna, Desert
You will spawn on a mainland with lots of villages nearby and an ocean shore that opens up a way to several lush islands with another village on top of one of them. So in total, you will find five villages at the following coordinates:
-424 168
-664 8
8 -824
-440 -232
232 -440
Only the last two villages have blacksmiths with treasure chests containing:
3 gold ingots
2 iron boots
1 iron chestplate
1 iron helmet
---
Seed: 258828557
Coordinates: 140 256
Biomes: Mega Taiga
Here's another cool village right at spawn that is surrounded by the giant trees of the Mega Taiga biome. This time, however, there is no blacksmith around, but if you're eager to dig some soil, then check out the zombie dungeon located underneath the village at coordinates 133 43 121.
The two treasure chests inside the dungeon contain the following:
1 redstone
1 gold horse armor
Enchanted Book - Protection IV
---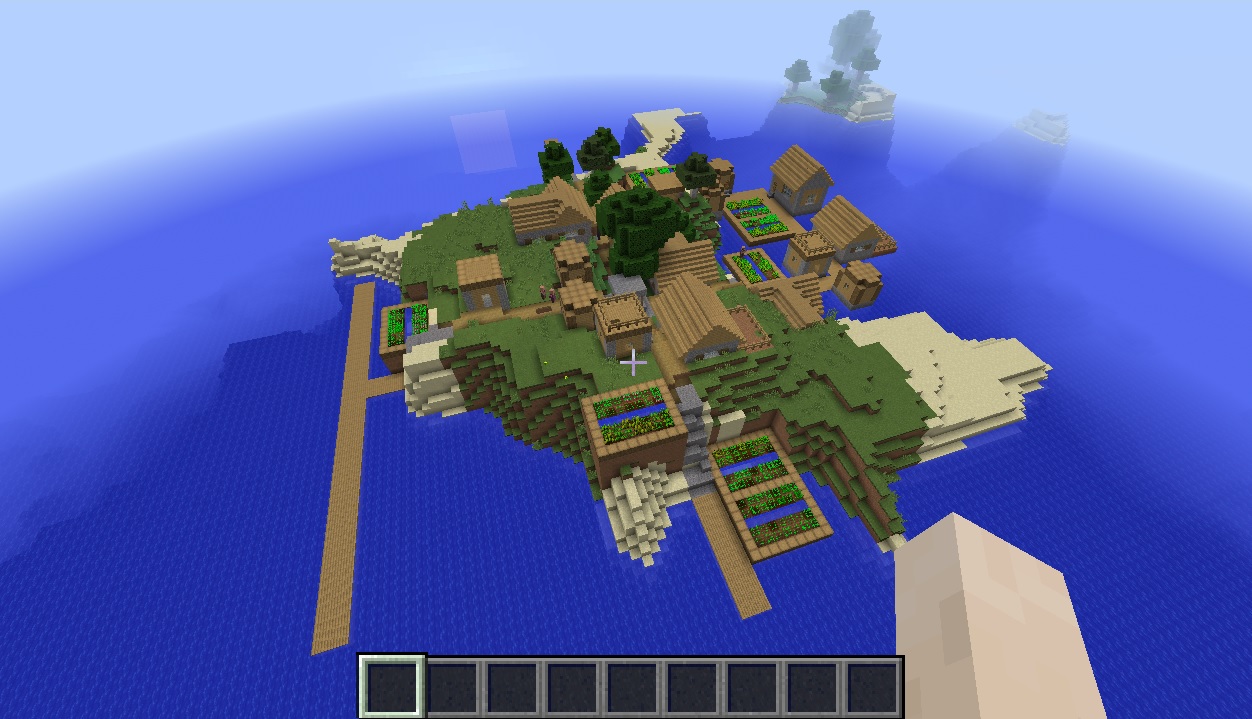 Seed: -5777550184523155176
Coordinates: -920 -168
Biomes: Ocean, Plains
Not all villages spawn on the mainland. Sometimes they can appear only on survival islands, like the one in this seed. You also don't need to travel anywhere to find it, as this island is your exact spawn location.
Again, there is no blacksmith in the village, but you will see a small ravine near one of the houses that will grant you access to many valuable resources, such as redstone and gold.
---
Seed: 4307809890682595853
Coordinates: 256 252
Biomes: Ocean, Forest
Spawn on the surface of a middle-sized survival island that is generously covered with trees. Although there are no naturally generated structures on top of the island, you will find a zombie dungeon underneath it at coordinates 238 235.
As usual, the dungeon holds two chests full of goodies:
1 golden apple
3 redstones
1 iron horse armor
2 saddles
Enchanted Book - Silk Touch
---
Seed: -451680416202001
Coordinates: 156 252
Biomes: Plains, Taiga, Forest
If you're looking for a cozy little village at spawn with lots of domestic animals and no blacksmith, then you will find this Minecraft seed to be especially wonderful.
There is also a ravine near the village with lots of resources to mine as well as an overhang that covers a part of the river running right next to a village.
---
Seed: 488869838439272782
Coordinates: 56 80
Biomes: Ocean, Roofed Forest
Spawn on a tiny survival island that stands right near an ocean monument. There are a few other islands in the close vicinity, but you may want to take a trip a bit farther and locate a woodland mansion at coordinates 1450 470.
There isn't much in terms of treasure in the mansion, but you will find two secret rooms with giant wool golems at coordinates 1471 74 516 and 1454 74 493.
---
Seed: -959715256791478
Coordinates: -50 -40
Biomes: Desert
Just a bit south from the spawn point you will find a desert temple and a village standing right next to each other at coordinates 8 136 and -184 168 respectively.
Unfortunately, the village has nothing to offer in terms of treasure items, but the desert temple will gladly share its items with you:
2 emeralds
7 gold ingots
1 iron horse armor
1 saddle
Enchanted Book - Power I
---
Seed: 601876065460275
Coordinates: 188 212
Biomes: Flower Forest, Desert, Mushroom Island
Spawn in the most beautiful place in the whole of Minecraft -- a flower forest biome with floating islands. Then, follow the straight line over the ocean, and you will first arrive at the ocean temple at coordinates 88 -152; continue on to the island village standing at coordinates -232 -824.
But that's not it! Farther from the island village to the north, you will stumble upon a mushroom island at coordinates -200 -1080.
---
Seed: -467529996914539720
Coordinates: -60 -72
Biomes: Roofed Forest, Savanna, Desert
Spawn near a savanna and desert location that accommodates two villages at coordinates -248 168 and -248 680, and another desert temple at coordinates 8 760. The temple near the second village is surprisingly modest in terms of treasure, but the second one is more than sufficient:
1 golden apple
1 iron horse armor
Enchanted Book - Looting II
Enchanted Book - Curse of Binding
While you're there, you can also check out coordinates 1750 590 for a woodland mansion.
---
Seed: 498808764557127
Coordinates: 28 248
Biomes: Jungle, Savanna, Desert
Spawn on the edge of the jungle biome that gives way to a part of the ocean, dominated by lots of small survival islands. Two of them even accommodate villages at coordinates 216 824 and 536 696.
Even though both villages are quite small, they have their own smithies. If you check their chests, here's what you will get:
2 gold ingots
4 iron pickaxes
1 saddle
1 iron leggings
---
Seed: -4331466505303087879
Coordinates: -72 252
Biomes: Plains, Extreme Hills
Spawn near a village surrounded by extreme hills with a nice little overhang nearby as well as a whole herd of black and white sheep. There is also a blacksmith hiding right behind the tree with a chest containing:
1 iron chestplate
5 oak saplings
---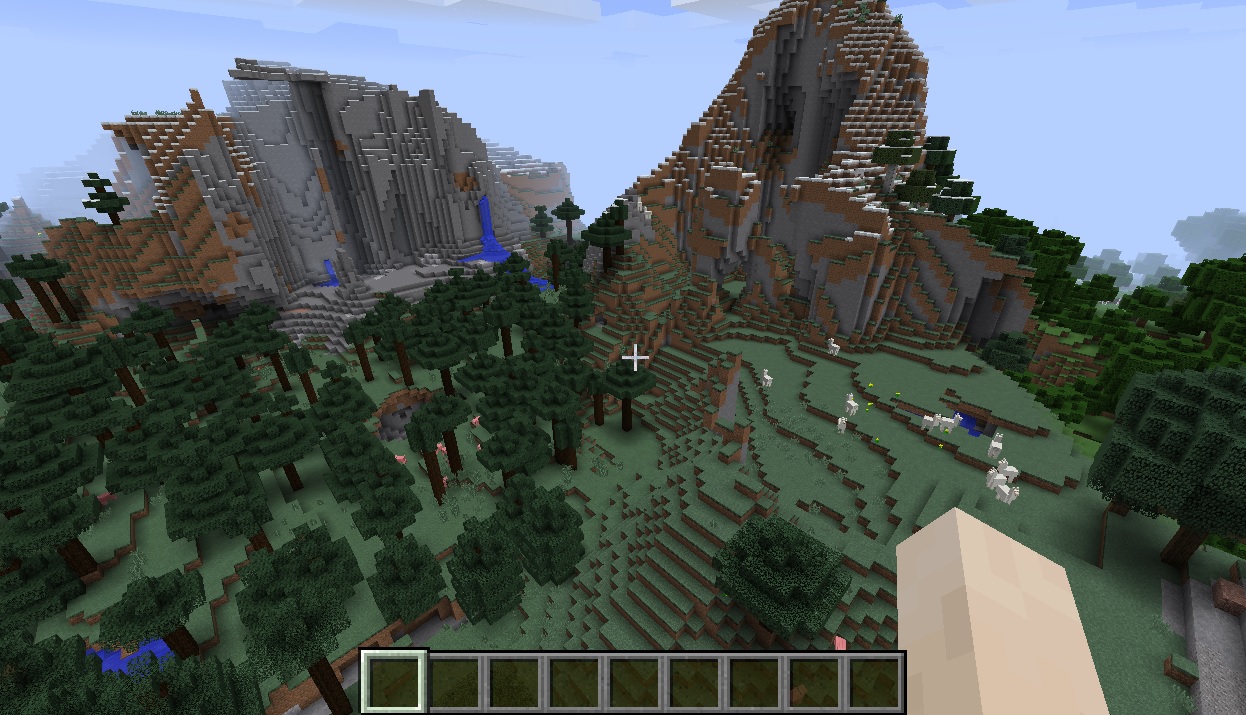 Seed: 8999852222994091974
Coordinates: 124 252
Biomes: Taiga, Extreme Hills
Spawn near some impressive-looking extreme hills and a naturally generated herd of white llamas. Underneath all this glory, you will find a zombie dungeon and an entrance into the mineshaft at coordinates -80 42 250.
There are several chests lying near the entrance with some nice lootage:
1 golden apple
1 iron horse armor
2 gold ingots
3 iron ingots
Enchanted Book - Curse of Vanishing
---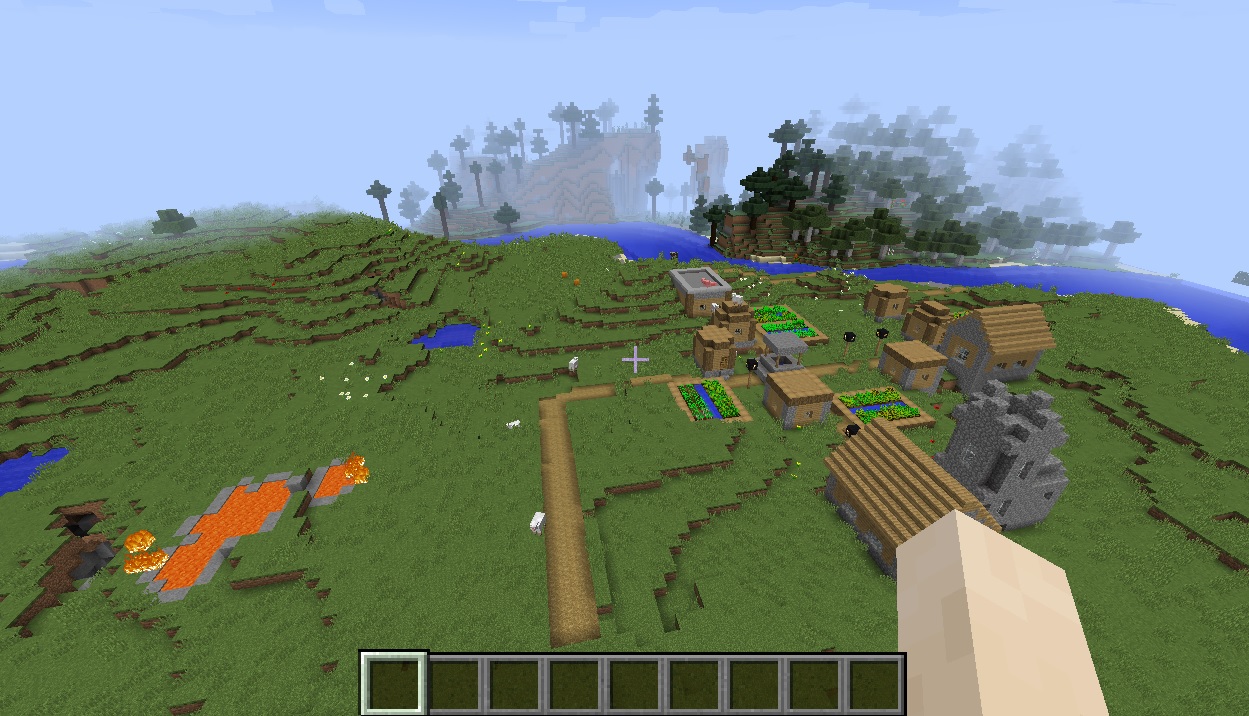 Seed: -8567668921814684072
Coordinates: 68 248
Biomes: Birch Forest, Taiga, Plains
Here is a neat village at spawn surrounded by three types of forest biomes: ordinary forest, birch forest, and taiga forest. There is also an ocean shore nearby and a blacksmith with loot:
1 gold horse armor
1 iron chestplate
1 iron boots
The access to the lava pool and a river flowing near the village also gives you an opportunity to create an obsidian farm.
---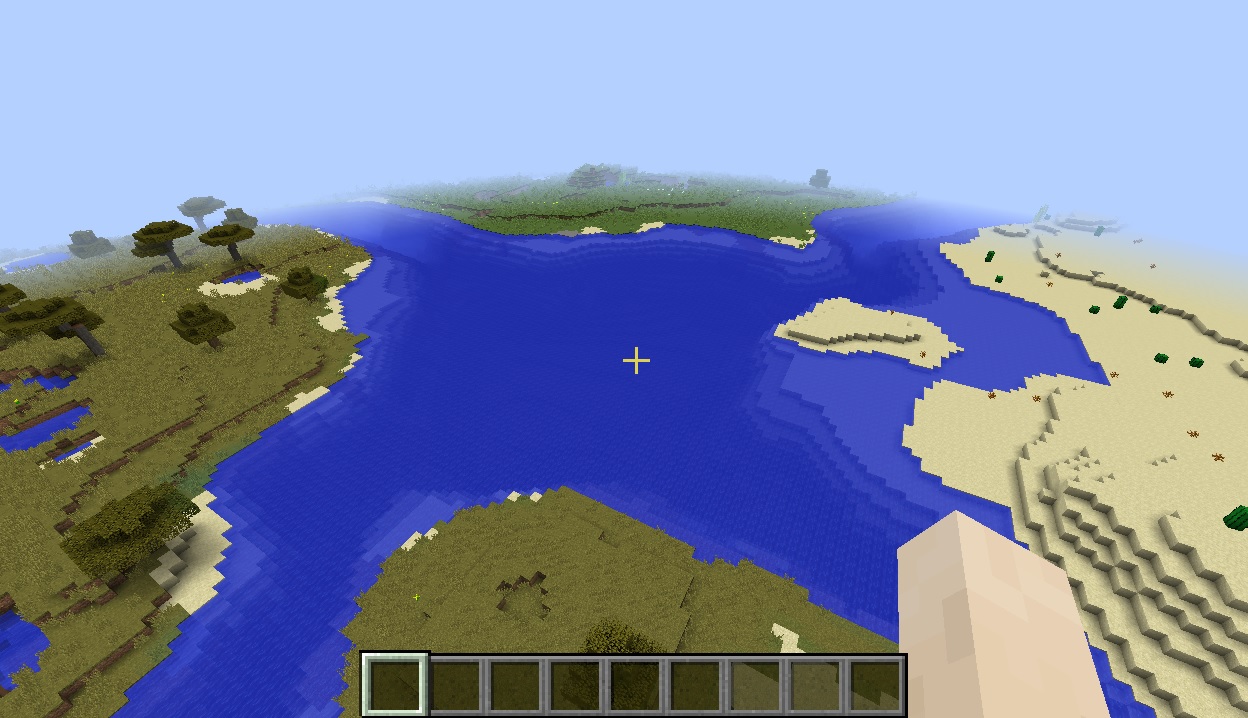 Seed: 529288545
Coordinates: 236 551
Biomes: Various
If you're looking for the Minecraft seed with an easy access to as many different biomes as possible, then you are at the right place. This seed will spawn you on the intersection of three biomes: savanna, plains, and desert.
Within the nearest 1,000 blocks you will find the following biomes:
extreme hills
forest hills
swampland
mesa
roofed forest
ocean
---
Seed: 488869838439272782
Coordinates: -232 236
Biomes: Birch Forest
Here is a seed with an abandoned mineshaft at spawn. The entrance is located at these exact coordinates: -241 265.
The mineshaft is huge, and it's easy to get lost, but you will find three excellent chests with diamonds and a golden apple at the following coordinates:
-241 28 265
-210 38 304
-204 36 292
---
Once you've had a chance to check out all the top 20 Minecraft seeds for December 2017, let us know in the comments below which one is your favorite.