A Thursday at New York Comic Con 2013
Hello, New York! Between a man in a tiger suit and pimp cane at the bus stop and the mass of people (and pets) thronging the show floor, one GameSkinny contributor chronicles her days at the second biggest pop culture event in the US.
It has been over a week since New York City's Javits Center opened its doors to accept a crushing mass of celebrities, industry professionals, and nerds from every fandom, major or obscure for New York Comic Con 2013.
With upwards of 120,000 attendees, and hundreds of guests, it is easily the second largest comic book and pop culture gathering in the country - as well as the second largest event in New York City. No wonder that it took a week for one poor little Canadian columnist to stagger home and recuperate from the experience.
And what an experience!
...I thought I was prepared.
Having already elbowed my way through hundreds of frenzied fans squealing over prized collectible gashapon in a dealer's room, braved the crush of the Great Unshowered at the close of a Sunday con sale, and participated in more than one flash dance for "Caramelldansen," I thought I was prepared.
Not quite.
For one thing, this was not the usual leisurely con experience of previous years where I stayed on the fringe of my cosplaying fanatic friends and watched them transform into magicians, katana-wielding psychopaths, and the odd ninja. Nor an instance in which I possessed my own vehicle and a hotel directly across the street from the convention center (shared with nearly 20 people of course - it's not an anime con if you're not causing an extreme fire hazard in the process).
No, this was a blare of static at 4 in the morning, a cabbie who sang along to something that sounded like Jay-Z set to sitar music, and the experience of being ping-ponged all over Toronto Pearson airport before the woman at US Customs realized that you were supposed to go through her door after all.
Dawn of The First Day
- 89 Hours Remain -
Two hours later, the sun was peeking out, and I was on a plane lifting off the tarmac into the pale lavender glow of sunrise over the water with just a hint of gold in the horizon, and the streetlights and car headlights painting an intricate grid of early morning activity beneath me. What is there to do at the sight of such dreamy wonderland beauty? The guy next to me started watching World War Z. I, on the other hand, did as any other self-respecting woman would do after about two hours of sleep. I passed out.
When I woke up, we were dropping in altitude through an iron-gray, overcast sky, with just enough rain to be unpleasant. Hello, New York!
I was quickly shuttled into the city, where I had been forewarned by previous New York inhabitants (albeit those from upstate) that I should not smile at, make conversation with, or even generally acknowledge the existence of other people that happened to come anywhere near me. They failed to mention the incessant honking and apparent plethora of burning buildings - which is what I concluded after watching the 17th (I counted) emergency vehicle careen past me in the span of five hours.
These five hours were spent waiting in a cafe and then a Starbucks, madly writing interview questions on a napkin, and eating lunch (read: a pumpkin spice latte) while waiting to check in at 3. This, the exciting, glamorous life of a video game journalist.
A poor one, I must hasten to add. No surprise that accommodations were a tiny, slightly seedy room in a hostel in Midtown rather than the Westin with a window that wouldn't close. But that didn't matter, because there was no time to waste! The boots had to be strapped on, the blue duster buttoned up, the gold streaks pinned up into my hair - Final Fantasy VIII's Rinoa was ready and on her way to Comic Con at last!
I might have been self-conscious about walking around a new city in shiny vinyl platform boots, but all that was eased away at the sight of a man dressed in a tiger-striped suit with a purple hat and a pimp cane every-day-shufflin' around the crosstown bus stop.
If you aren't familiar with a convention experience, I can sum it up into two distinct categories - long, interminable, gigantic lines and huge, interminable, gigantic masses of people mashed up as close as humanly possible against each other.
The line snaking out of the front doors of the Javits was no exception. Thankfully, this was one of those wonderful blessed moments where I could breeze past the line like Sephiroth through the Shinra building (give or take a trail of mangled corpses in my wake) and head straight for press sign-in. A few minutes later, I had a badge. 30 seconds later, I was in!
And lost. Terribly lost. Thursday was my know-nothing day, my explore-the-inner-sanctum day before the crush of real, press-ly duties.
Needless to say, I hunted up fellow GameSkinny contributor and GS Roundtable podcaster Lui Galletto. He was already hard at work, making friends while in line for the promotional showing of the upcoming Ubisoft title, South Park: The Stick of Truth. I ducked in with him. It would be the last time I would ever skip a line.
What was it like? A tiny, dark, claustrophobically hot room with about five other people crowded around a TV screen as we watched the staple South Park mix of juvenile humor and comedic satire. Available for preorder for next-gen consoles and PC, the short video of combination cutscene and gameplay had all of us snickering and heading straight for the preorder table - and not just because they were handing out preorder goodies for The Stick of Truth, Watchdogs, and Assassin's Creed: Black Flag among others.
Then a tour of the showroom floor... or at least part of the showroom floor. We never really made it through all the way because it was massive; an eclectic mix of exhibitor displays with giant robots, shiny cars, and dealers hawking overpriced comic books and classic action figures - all of it full of jabbering, flailing, costumed people. Mind you, this was Thursday - a day that was supposed to be exclusive to VIP and press. It was only a taste of what was to come.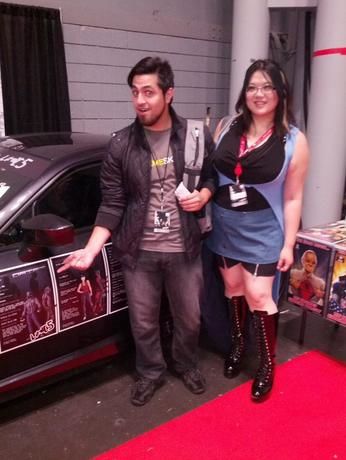 Lui was a ninja, traversing his way through the crowd while I found myself politely trapped behind bags, extremely tall wizard hats, and dogs dressed in spandex (you think I'm joking). Two hours passed in no time at all as I watched Lui inhale his weight in overpriced convention snack foods, and we deliberately tried to meet and hold onto fellow podcaster John Babilonia. Whom we met and kept losing. Repeatedly. In a span of about 10 minutes. If Lui was a ninja, John was a ghost. It was the only time we actually managed to see him all weekend.
Between that and a much-needed break in the enormous upstairs press lounge, Lui and I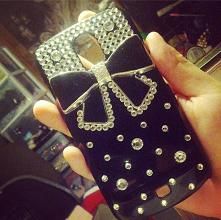 were as ready as we would ever be for our upcoming interviews over at the Dark Horse Comics booth. Nervous? Us? Never! There we were with our tiny little camcorder, my glitzy cell phone, and my tablet hanging around with the other press outlets and their thousands of dollars worth of equipment. Super professional. We'd be fine.
And I like to think that we were. At Dark Horse we met Aub Driver; public relations, social media strategist, and, according to one of the girls holding down the cash register, professional Viking. He was the man that had helped us organize our interviews, and he organized us then, showing us into the little corner of tables where Mac Walters, lead writer on the Mass Effect games as well as the comics, waited for us.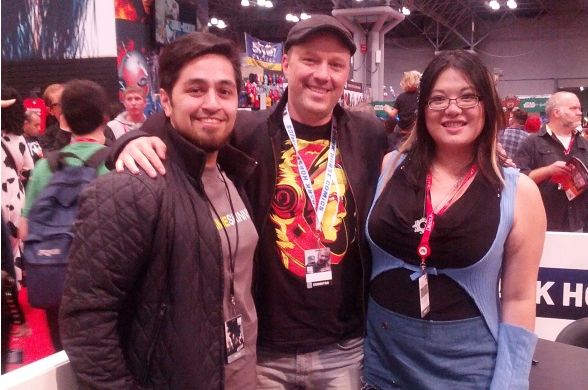 Lui's transcript of our interview with Mac can be found here.
Less than an hour later, I was back at that table (Lui had a train to catch) and I was seated with CCP's creative director Torfi Frans Ólafsson and lead artist B. Börkur Eiríksson, the makers of expansive space exploration game EVE Online. As I had only been expecting Eiríksson, and had thus geared my questions towards him and only him, the sight of three men in CCP shirts clustered around the table struck me with thoughts of "Oh god, oh god, now what?"

From the throes of minor panic, I rallied. The two of them were personable, cheerful, and very engaging. I look forward to actively transcribing my conversation with them for you soon!
After that, well... even with Dr. Scholl's soles, my boots were not made for walkin' - at least as far as I was concerned. While I had made plans to check out the New York Comic Con Cosplay Bash (free drinks and food!) celebrating the launch of new free-to-play mobile RPG, Hello Hero, along with fellow GameSkinny contributors Max Jay and Steve Lawton, it was not to be. I was dead on my feet and still running on two hours of sleep + flight snoozing. I was going back to home base.
The exciting, glamorous life of a video game journalist indeed.
Published Oct. 21st 2013