Xbox One FIFA 14 Bug
EA brings more bugs to the table, but owning up to their mistakes.
EA has had a rough couple of weeks. With Battlefield 4 having numerous bugs that have yet to be completely resolved, now FIFA 14 is having issues on the recently released Xbox One. EA posted an article about all the problems they are currently having with the game.
Since the game's release in late September, the publisher was experiencing numerous freezes and crashes. But they have made progress on that problem by dropping the crash rate by 71%, which is a sign that EA will be able to turn things around--and soon! With the release of the Xbox One there have been two major issues along with minor ones that can affect your gameplay.
"Already this year your feedback has helped us frame gameplay changes on Xbox 360, PS3, and PC, and allowed us to gain insight into instances of freezing and crashing which has resulted in the FIFA 14 crash rate dropping 71% since launch, and we will continue to grow that percentage on both console generations."
Controller Bug
The first is the Controller Bug. If you use a second controller to navigate the bootflow when the game is loading it will most likely result in a crash. You will not be able to use two controllers to start your FIFA game, instead EA suggests using only one controller until you get to the main menu, at which point you can turn on controller number two.
Online Features
If left alone for too long, your Xbox One will go into sleep mode. If you had left FIFA 14 on the title screen then upon 'waking up' your console would not allow you access to any online features of the game. EA acknowledges that this is not an Xbox One problem but is something that is happening on their end and suggests to simply restart the console if this happens to you.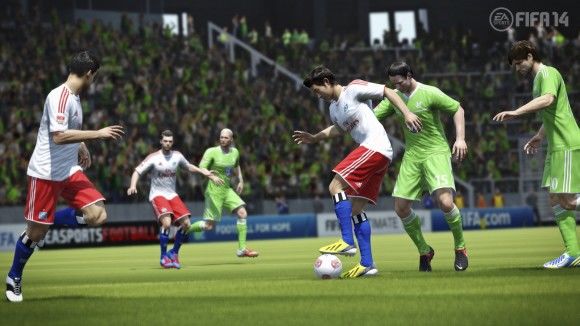 Other Miscellaneous Issues...
Other bugs plaguing FIFA 14 include a title crash if you use an uneven number of custom formations while working with a teammate, a lost gifted item called 'Seasons Win,' and unheard voice commands. EA recommends that you avoid these parts of the game for the time being.
It's good to see EA owning up to the issues that their game is facing and not playing the blame game, but I have being seeing a lot of bugs for games published by the company. As winner of the Golden Poo Award for the last two years in a row, I think many people have a problem with the company releasing incomplete and broken games.
What are your thoughts on so many bugs coming from the EA office? I think they could use some major improvements.
Published Nov. 22nd 2013