There is no denying that blockchain is an ingenious invention capable of revolutionizing the systems we nowadays use. By allowing free and non-copied digital information, blockchain technology became the backbone of a new type of internet, a better and more exciting version.
Since that happened, blockchain has continually evolved, finding new potential uses for the technology. One such example is the creation of blockchain-based gaming platforms.
Devised not only for entertainment purposes but also for generating a deeper understanding of cryptocurrencies and their power, games based on the technology should be of interest to you in 2018.
By following this growing trend of games, creators are hoping that they will eventually boost cryptocurrency adoption, giving people a reason to use such gaming platforms. If success follows, we can expect that enough monetary support will go into continuing its development and creating better and more innovative content. That's quite exciting!

1. CryptoPets
Despite the name being reminiscent of a 10-year-old's dream game, CryptoPets is an interesting project which uses white paper and smart contracts. Scheduled to be released in due time, there is much talk among community members, showing the great interest some people are taking in the project. Even before its release, you can subscribe to the different channels, getting early access to some enticing features and becoming one of the first to try out the content.
To give a better perspective of the game, CryptoPets will offer you adorable digital creatures that are 100% owned by you. In other words, nobody will be able to replicate them, destroy them, or take them away. These one-of-a-kind critters will be powered by blockchain, and you'll be able to raise them, play with them, and show your collection off to your friends and family. CryptoPets starts by giving you the option to buy pets using Ether. Afterwards, you will receive random egg species that you will eventually hatch, and you'll end up with your own set of cuddly digital pets! You'll be able to breed as much as you want, even exchanging one pet for another in the marketplace.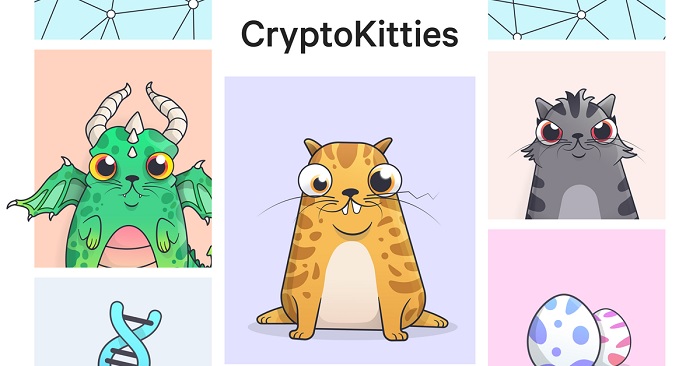 2. CryptoKitties
A game with a highly similar concept is CryptoKitties. Centered on collectible and aww-looking kitties, the game follows the same structure as CryptoPets. Each breedable creature will be 100% owned by you, and nobody can replicate it, destroy it, or even take it away from you. CryptoKitties is renowned within the blockchain community as being one of the world's first games to be built using the technology. This might explain why it has the most significant auditory and market turnover to this day. Despite there being some levels of interaction with the pets, CryptoKitties works similarly to a traditional collectible game and hasn't yet had any new functionality added by the developers. As a result, prices are seamlessly dropping each day, but there is still hope when it comes to it. Another potential problem is the fact that the game is challenging to enter for newbies, making the incentive to join that much lower.
Nonetheless, the breeding process is reasonably attractive, maybe even slightly scientific. If that is enough for the game to survive, only time will tell. Until then, there are other more alluring games to try out as well.
3. Etheremon
Now here is a game that you should keep your eyes peeled on. Etheremon is considered, at least for the moment, to have the highest potential of all blockchain games. Using battle mechanics and designs similar to Pokemon, this game is bound to remind you of lost youth and childhood memories.
Although the game started out like a Ponzi-like scheme, the developers of Etheremon had grand plans in store for this creation. In fact, for those who haven't yet seen any return on their investments (ROIs), the makers of the game will offer eggs which will turn into new gen0 mons. In contrast with other games, it seems that players are more valued, and there are individual incentives to pique their interest.
Another interesting fact is that the project leader, Nakasatoshi, seems deeply involved with the community, having even opened a thread about potential game developments and ways in which the game can improve. These steps have made many even more excited about Etheremon, and the project spend of $0 on marketing has attracted even more fans of decentralized systems.
4. Decentraland
Renowned for being the first virtual platform to be owned by its users, Decentraland has a one-of-a-kind concept which will immerse you in an interactive 3D world. The chances are that you'll create your individual piece of the universe, purchasing land using the Ethereum blockchain, and then build an ageless record of ownership.
In fact, the world will appear limitless. Due to you being in control of your land, Decentraland gives you the chance to create your unique set of experiences. Whether you want to attend a workshop, start a business, go on a holiday, visit a casino, or watch live music, the game will give you 360-degree options — all within a virtual world.
If you're enthused by betting, but this game doesn't quite do it for you, try a Blockchain or Bitcoin casino, and this section should serve as inspiration. Alternatively, Edgeless and FunFair are two excellent choices users rave about.

5. Pray 4 Prey
At the moment, little is known about Pray 4 Prey. Featuring an exciting name but no set of FAQs or rules, for the time being, users are left to dream about the potential concept. What we do know is that you buy fish and hope they survive the shark attacks. If they do, you'll gain one Ether per round.
—
What are your thoughts on blockchain and Bitcoin-based games? Let us know in the comments below.
About the author