Play Video Games for Charity on November 2!
Play games and raise money to help kids in need of treatment!
Just as athletes collect money for every mile they run in a charity run, gamers can now play video games for charity! The fund is sponsored by Extra Life, which is part of the nonprofit Children's Miracle Network Hospitals.
November 2nd is the annual game day to help raise money for sick children, but gamers can sign up to play for the charity at any point throughout the year. The gaming charity challenge will be a 25-hour marathon of gaming, since November 2 ends up falling an hour behind.
How it started
Back in 2007, Extra Life founder Jeromy Adams wondered whether or not people would support gamers to spend an entire day gaming and if gamers would even be up to be part of the charity. To test the idea, he reached out to a gaming community called Sarcastic Gamer to see if they would donate some games to a young girl going through cancer treatment.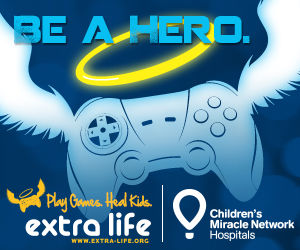 He received so many games that they ended up trying to find enough kids to take the games that were sent. That's when Adams realized that gamers are a group of individuals that "[love] trying to save the day and be the hero."
Tori, the young girl he asked gamers to donate to, died of cancer in 2008. Adams began Extra Life in her honor.
How to Participate
Adams is looking to expand the gaming audience this year, so Extra Life is encouraging gamers of all kinds (sports gamers, board game gamers, role-playing gamers, etc.) to play for charity.
Will you join and/or invite friends to join Extra Life on November 2nd?
Published Oct. 28th 2013