Dragonvale 3.0: Breeding Just Got Even Weirder
Dragonvale's newest update adds a whole new dimension to the breeding process. Now your dragons can hookup with your friends' dragons!
A couple years back, Dragonvale, a quirky iOS park-building game, opened my eyes, led me to reject any semblance of a social life, and embrace my true calling: Dragon Keeper.
There's a lot to do in the world of mythical reptile management: budgeting for expansions, decorating and organizing islands, naming your dragons after fictional characters, and a playing handful of mini-games, all to increase an ultimately arbitrary visitor count and lord your draconic empire over the piddly little zoos your friends are running. There is one task, however, that you'll find yourself devoting more time and thought to than any other aspect of the game. For many, myself included, it may consume them. You'll enter a complex web of gem-dealing, in which you'll shake down your friends to participate. You'll draw up convoluted reptilian pedigrees. You'll join forums, download apps, create charts, anything to perfect your role in Dragonvale's defining feature:
Breeding.
Your genderless, incestuous, and sexually insatiable dragons have, locked within them, the genetic potential to create virtually any other dragon. This includes breeds that are "limited" (whose creation is inexplicably tied to human, and sometimes specifically American holidays) and even "epic" (as if regular dragons weren't cool enough). Imagine your magical menagerie. Picture all of those sunlit strolls past adoring exotic dragons. You're a philanthropist. A conservationist. Some sort of dragon god. All of this can be yours . . . if you can figure out the correct combinations.
Sounds easy enough, right? Wrong. As of May 8, 2015, there are 222 dragons in-game. Minus the 1 legendary and 17 gemstone dragons, there are 204 dragon varieties available to engage in breeding. Minus the five incompatible opposite-element pairings, there are roughly 21,000 possible breeding combinations. Wowza. Don't get too excited yet, because we aren't done! Knowing a certain dragon's ideal breeding combination doesn't mean you're going to get that dragon. In fact, for rare types, there's only a slight chance your combination will result in the desired breed. Oh, and you won't really know for sure if you got what you wanted or not until they finish. If you don't have the gems to speed up the process, you could be waiting up to 60 hours for your dragons to stop getting it on.
Needless to say, this has been seen as more of needless frustration than an engaging challenge by many players. The 3.0 Update seeks to change some of that.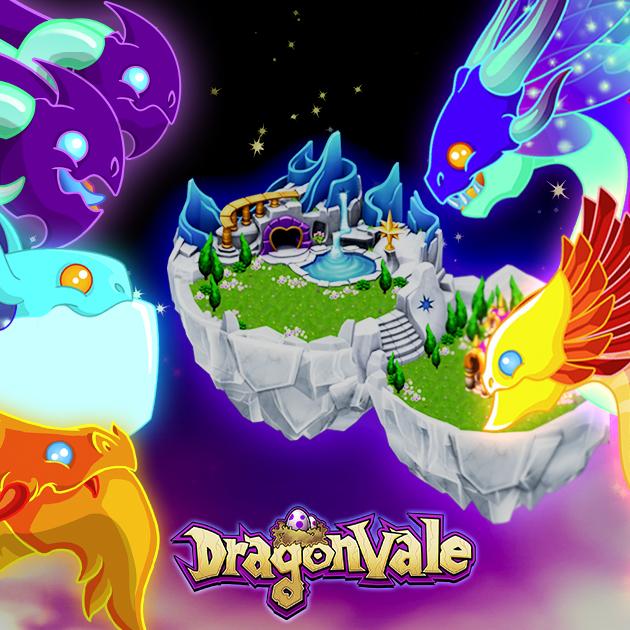 With the Cooperative Breeding Cave, players can breed their dragons with those of their friends. Unfortunately, it doesn't end up being that useful. Yes, it provides a much-needed third breeding space, but only "featured dragons" can breed in the new CBC (Cooperative Breeding Cave). Guess how many featured dragons a park can have at a time. Just. One. So, assuming you have friends who play Dragonvale, to really strategize your use of the CBC, you have to convince/bribe/blackmail them into setting the dragon you need into the coveted featured slot. You can't let this deter you too much, though. For one thing, you have to use to the CBC if you want the other four Galaxy Dragons. For another, you can breed any epic dragon there, even super limited ones like Leap Year or Olympus.
This is certainly a step in the right direction. Like many mobile games, Dragonvale tries to encourage interaction among its players, though prior to the update, this was limited to a lackluster gem-gifting system and park visits. Many users have expressed their frustration that you can't trade, sell, or share dragons with other users. It is admittedly heartbreaking to watch one of your friends hatch enough Sun Dragons to recreate every constellation in the Zodiac while you've been popping out so many Scorch Dragons that you might as well set them all free and recreate the volcanic land of Mordor. In a way, the update addresses this. With the CBC, your breeding combination has the chance of resulting in twins. One for you, one for the friend with the dragon that you hit up for your dragon to have a little draconic booty call. This feels like a safe alternative to the black market that would no doubt arise within the dark corners of the internet were dragons made tradable between users.
So the 3.0 update isn't quite paradise, but it's a start. Backflip has proven to be sensitive to the desires of its users, so I think you and your dragons can look towards the future with optimism. It's just as they say. "You never know what the wizards will come up with next!"
Published Jun. 18th 2020