It's no secret that HyperX makes great tech. Their extensive line of headsets offers top-notch quality and comfort at a number of price points, and their alloy keyboards are excellent as well. Now the company is expanding its lineup to the final limb in the holy trinity of gaming peripherals — the all-important mouse.
The Pulsefire FPS is the inaugural mouse in HyperX's new venture. And it's a strong start that proves the tech giant isn't kidding around. From a well-rounded design to top-quality performance across the board, the Pulsefire is a serious contender in the peripheral arena that's got me excited to see what comes next.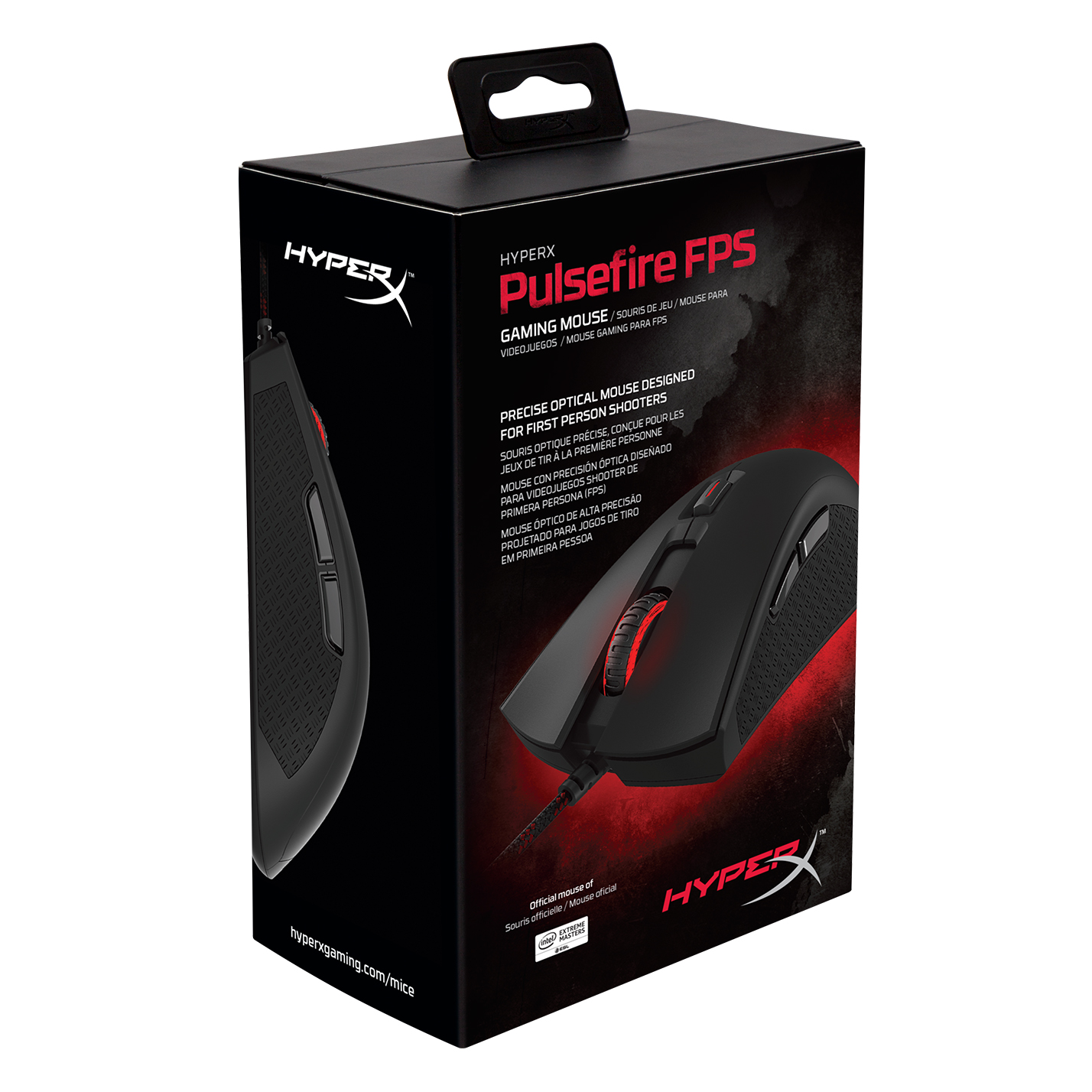 Simple Specs With No Fuss
Like most of HyperX's products, there aren't a lot of frills to the Pulsefire. It sports a simple black body, two shoulder buttons, a standard scroll wheel and center button, and a durable braided cable.
Under the hood, there's a PixArt 3310 sensor, Omron switches rated up to 20 million clicks, and a 400-3200 DPI range that's demarcated in four presets you can cycle through.
At just 95g, this mouse is a great thing in a lightweight package. It's a far cry from products like Logitech's G900 Chaos Spectrum or Corsair's Scimitar Pro, but that's alright. The more I used the Pulsefire, the less I found myself missing all the extra bits.
Design is Where This Thing Really Shines
There's a lot more to the Pulsefire than meets the eye. At first glance it's easy to dismiss it as a run-of-the-mill gaming mouse, when really it's anything but. Though its design is simple, the smaller details really put this mouse a few steps ahead of its competitors.
My personal favorite feature is the textured side grip. While the top of the Pulsefire is smooth unibody plastic from front to back, its sides sport slightly textured rubber for better grip. And when I say "slightly", I mean it — the diminutive notches in the grips are just enough to give your hand traction without feeling like you're trying to play Call of Duty with a truck tire.
Speaking of sides, the shoulder buttons on this thing are masterfully done. When I chatted with PR Manager Mark Tekunoff about the mouse at PAX East, he mentioned that it was designed according to feedback from a number of pro players who know what they're looking for in a mouse. And for a considerable portion of those players, one of the biggest issues with current mice on the market is the placement of shoulder buttons — they just never seem to be in quite the right spot. So HyperX took extra care to place them as best they could when designing the Pulsefire.

The careful consideration definitely pays off here. Though I've used a lot of mice in my gaming career, I can't recall a single one that's had shoulder buttons quite as perfectly placed as the Pulsefire's. Claw grippers might find the back shoulder button a little hard to reach, but palm grippers rejoice — this mouse is a dream come true for you. Without having to change your grip style or shift your thumb, you'll finally be able to hit that front shoulder with your fingertip and that back shoulder with your thumb joint. (Unless you have exceptionally large hands.)
Not only are these buttons well-placed, but they're incredibly satisfying to click. You need to put a bit of pressure on to get a response, but not so much that it'll slow you down in-game. There's a great balance between sensitivity and practicality here, which means you can click away in the heat of battle while keeping accidental double-taps or both-button clicks to a minimum.
The same can be said for the left and right mouse buttons as well. They feel about as sturdy as those on my go-to G900 Spectrum, but they'll still respond as rapidly as your fingers can depress them. Accidental clicks were rare, even at breakneck speeds while auto-attacking the crap out of a helpless mage in SMITE. The unibody design of this part of the mouse also gives each click a bit of bounce and resilience that feels really nice.
The only design aspect I didn't like so much is the scroll wheel. It's quick and works just like it should — and I really like that HyperX opted for a slightly smoother grip than the raised, edgy texture that you'll find on most gaming mice. But for me, the response was just a bit too flimsy. It feels a lot like a notched wheel that's trying to free scroll, which might really appeal to some people. I just prefer having a switch that lets me do either/or depending on the situation.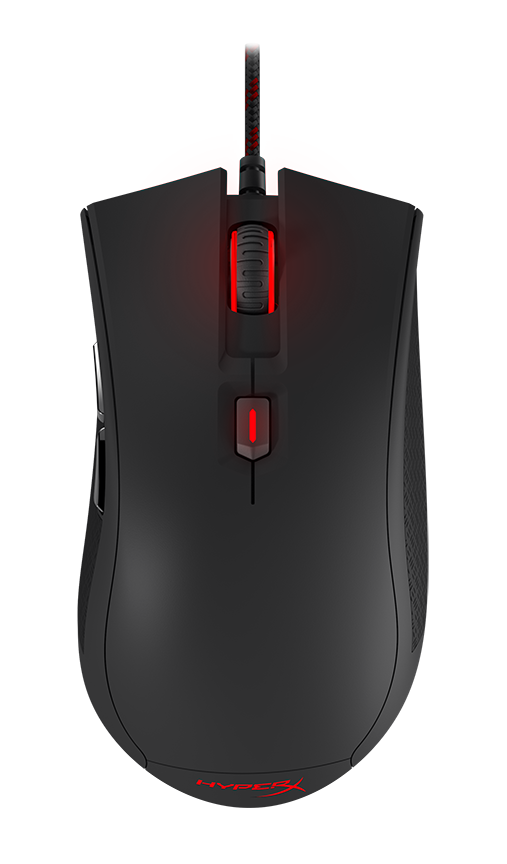 You Can't Ask For Better Plug-and-Play Performance
A well-designed mouse is nothing if it doesn't have the performance to match. And the Pulsefire definitely has both — without the need to tweak anything in customization software
I rarely get time to sit down and play games anymore. So when I do, I want to plug in and get going straightaway. That's exactly what the Pulsefire does. This mouse, like its other HyperX brethren, is 100% plug-and-play. There's nothing extra to install, no lights to mess around with, no custom button mapping, no complex DPI options to configure.
This will probably be a huge turn-off for those gamers who want to have as much control over every part of their peripheral performance as possible. But the simplicity of this mouse is a major plus for me — and it's the same reason I prefer HyperX's Cloud S Revolver headset over more complex competitors like the SteelSeries Arctis 7 or the Logitech G533.
Even without any sort of fine-tuning, this mouse handles beautifully across a number of games. It's highly responsive, latency-free, and has butter-smooth tracking to boot. Not once did I notice any sort of stuttering or poor control.
The DPI presets sit at 400, 800, 1600, and 3200 — which means that even without the ability to adjust them to your exact preferences, you'll have the general setting you need for whatever you're playing. The DPI button in the center of the mouse will light up different colors according to the setting you've picked, so you don't have to guess which one you've cycled to. After wrapping up a SMITE game at 1600 dpi with blue illumination, I could easily cycle down to 400, where the white glow would let me know that I've got the right setting to nail headshots in Paladins.
To put it plainly, not once did I feel like I needed customization software to make up for sub-par performance. And that's fine by me.
Verdict
The Pulsefire FPS is a top-notch foray into the final frontier of gaming peripherals. It's obvious that HyperX put a lot of consideration into its premier mouse, and the results are admirable.
If you're married to the idea of total customization and lots of little extras, you'll want to look at other products. But if you want a well-designed, no-fuss gaming mouse that does exactly what it's built to do — and does it better than many of its competitors at this price point — then the Pulsefire is definitely worth your consideration. Your wallet and your palm-gripping hands will thank you.
You can pick it up for yourself for $49.99 on Amazon.
Note: HyperX provided the Pulsefire mouse used for this review.
8
HyperX Pulsefire FPS Review: An Inaugural Mouse with Excellent Design
This may be HyperX's first try at a gaming mouse, but that doesn't mean they don't know how to make a great one.
What Our Ratings Mean
About the author