Google Rewards April Fools Winners the Title of Pokemon Master
Google Maps is awarding individuals with Pokemon Master business cards for completing its April Fool's challenge.
The internet was set ablaze with the fires of competition this past April Fool's day, when Google Maps inserted hidden Pokémon all over the world.
Anyone with a smart phone, and the Google Maps application, was able to participate in this nostalgic challenge, and GameSkinny was proving news coverage and a Pokémon Location Guide throughout the hunt.
Reliving the Experience
Many people thought the contest was merely a publicity stunt, with the prize simply the satisfaction of catching all 151 Pokémon, and the laughs along the way.
However, Google Maps has reportedly followed through by awarding individuals who caught all 151 cute, little monsters the official title of Pokémon Master, with the business cards to prove it.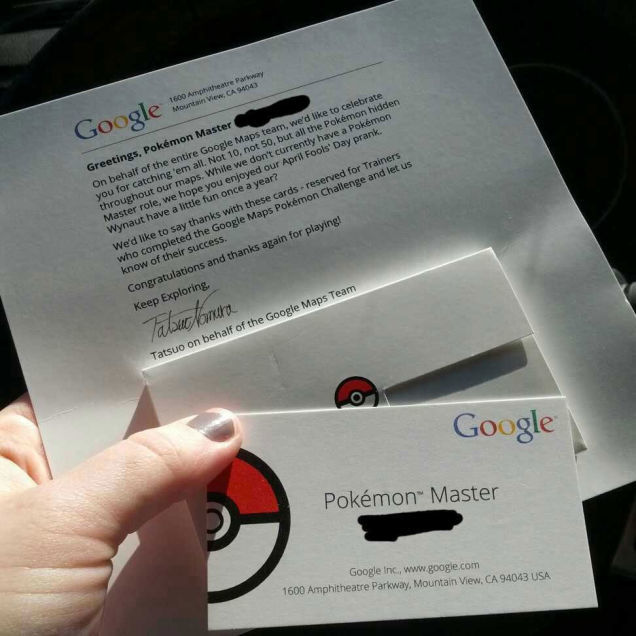 One Redditor, tinygrump, apologized for "abysmal nail polish and [an] awkward thumb," after posting the picture above on June 13, 2014 confirming having received 10 cards in the mail.
In order to have received the cards, the masses had to have replied to a post on Google's own Google+ account. Players had a certain time limit to fill out a form provided on Google+, Twitter, Reddit, etc. to "receive a special surprise."
People who participated in the challenge, and filled out the aforementioned form, should be receiving his/her personalized cards in the near future!
The original Reddit post: It's here guys!
Published Sep. 29th 2017