Pokemon Exclusive Character Distribution Event, Rare Pokemon Giveaway, and Free Stuff with Preorder
Pokemon fans can get their hands on an exclusive Mega Stone, some super rare Shiny Legendary Pokemon, and free stuff with preorder at their local EB Games (Canada) or GameStop (United States).
With new game titles come new evolutions.
Ever since it exploded onto the scene in 1996, the Pokemon franchise revolutionized the GameBoy, and fast became one of the most recognizable and successful video game-based media franchises in the world. It has since been merchandised into anime, movies, manga, toys, books, a successful trading card game, and other media.
The video game series spans more than five generations and over 20 titles, not including multiple spin-off games like Pokemon Snap. From the original 150 Pokemon, the cast has similarly ballooned and now numbers in the hundreds with new Evolutions and powers every time.
Mega Evolution
In the upcoming Pokemon X and Pokemon Y, the Mega Evolution feature is introduced: a super transformation that certain Pokemon undergo during battle that will increase both their strength and power, lending an incredible edge against regular Evolutions.
Integral to undergoing Mega Evolution is an item called a Mega Stone; special stones that exist for all Pokemon that can Mega Evolve. Each is named after the Pokemon to which it grants power.
Exclusive Character Distribution
One Mega Stone, Blazikenite, will not be found during normal gameplay in Pokemon X or Pokemon Y. Players of the new titles will need to participate in a special limited-time Wi-Fi distribution event via Nintendo Network to get a Torchic holding a Blazikenite Mega Stone. This is the only way for players to receive the Blazikenite Mega Stone when the new titles launch.
Character distribution begins October 12, the same day Pokemon X and Pokemon Y launch wordwide for the Nintendo 3DS. This distribution event will only last for a short period of time and will be held only at participating Canadian EB Games/US GameStop locations. More information can be found here.
Shiny Dialga, Palkia, and Giratina!
But Nintendo isn't stopping there, and are breaking out all the stops for giving players even more cool free stuff. For a limited time at EB Games Stores, you can get your hands on an extremely rare Shiny Dialga, Shiny Palkia, and Shiny Giratina in game!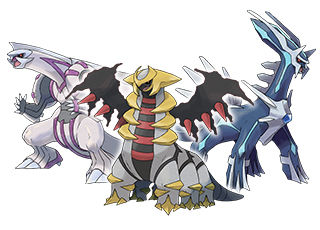 In order to get these special versions of the legendary Pokemon in your game, you must bring in a copy of Pokemon Black Version and Pokemon White Version, or Pokemon Black Version 2 and Pokemon White Version 2, plus one of the Nintendo DS systems during the following dates at EB Games to receive the Shiny Legendary Pokemon. Players need to have the Pokedex in the game and no more than 11 Wonder Cards.
8/30-9/12 – Shiny Dialga
9/13-9/26 – Shiny Palkia
9/27-10/11 – Shiny Giratina
These extremely rare Pokemon may actually be rather familiar to you, since they are featured on the covers of Pokemon Diamond Version, Pokemon Pearl Version, and Pokemon Platinum Version. Rarer still is the Shiny version, where these Pokemon appear in colors that almost never appear in normal gameplay.
For players in the United States
Nintendo has also announced giveways of the Shiny version Legendaries at participating GameStop locations during certain dates:
Shiny Dialga: Monday, Aug. 19, 2013–Sunday, Sept. 8, 2013
Shiny Palkia: Monday, Sept. 9, 2013–Sunday, Sept. 29, 2013
Shiny Giratina: Monday, Sept. 30, 2013–Sunday, Oct. 20, 2013
The rules remain the same: you must have a copy of both Pokemon Black and Pokemon White or Pokemon Black 2 and Pokemon White 2 plus one of the Nintendo DS handhelds.

Canadian Preorder Loot
Lastly, once again making the choice of which retailer to place your preorder with, Nintendo is offering two different kinds of preorder prizes.
If you choose Walmart, you land yourself a character pin (note: this is through the online store only) and are available at purchase.
Meanwhile, if you go the EB Games route, you receive an exclusive double-sided poster, which will be provided at time of presale.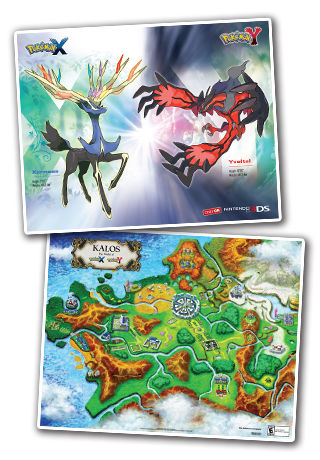 In both instances, preorder prizes are available only while quantities last and supply is limited.
If you're a fan of free stuff, you'd better start considering your preorder quickly!
Published Sep. 13th 2013