I'm always on the hunt for the next great casual game distraction. Whether it's a quick 5 minutes to clear a dungeon in a game like Bit Heroes or one of the many clicker titles out there, it's nice to have a fun, engaging game for those much-needed mini breaks throughout the day.
And then I stumbled upon Ballz.
Ballz — an endless "breakout" style game on Android from Ketchapp Studios — has quickly become the competitive obsession in my household. And in this guide, I'm going to help you get started on the right foot by offering up a few tips and tricks that'll have you busting ball..er, bricks..in no time!
Ballz Basics
The goal of Ballz is to survive wave after wave of bricks by hitting them the exact number of times labeled on them, and the game is over once a brick touches the ground.
To help you achieve this goal, there are 2 different items on the playing field that you can collect — the glowing white orb and the white ring. The orbs should be your priority, as they give you more balls to break the bricks with. The rings act as currency for you to purchase other colors to use for your ball.
Now that we have the basics out the of the way, let's get into some of those tips and tricks to help you crush your friends and their wimpy scores in Ballz.
1. Collect the white orbs whenever you can.
I know that this is a common sense tip, but I'd say that you should try to grab the orbs, and even prioritize doing so over breaking bricks — unless the brick is going to make you lose the game. When you hit an orb it gets added to your ammo for the next round. More orbs = increased survival.
2. Aim for the gaps
Your orbs are fickle and want to see you lose, so trap them above gaps in the bricks or between brick "walls" so that they maximize the number of hits. Remember that the placement of bricks is random, so that gap might not be there next turn to take advantage of!
3. Angle your shots
If you want to have any chance of surviving for more than 10-20 rounds, then learn to angle your shots! Don't just aim directly at a single brick or aim for the bottoms of bricks. You're wasting your shots doing that, because you're not going to catch anything on the ricochet.
4. When in trouble, shoot sideways
Much like angling your shots for maximum effect, shooting as close to sideways as possible can help you to clear up high-number blocks that might end your game early. By angling it as close to horizontal as possible, you'll actually hit the same block multiple times with the same ball. This is tricky to pull off though, so it will take some practice.
5. Use the videos to your advantage
So, you flubbed up and "lost" the game. Fret not! You'll get a limited window to view a 30 second video for a second chance at the level. Once it's over, the tiles will be shifted around at random and you'll get another go with all your orbs in tow. You only get one extra chance though, so make it count!
Bonus Tip: Tactical second chance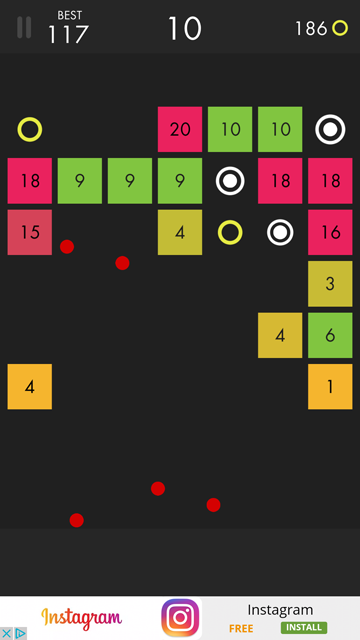 Maybe there is no way that you're going to be able to clear the brick(s) that will end your game — but you still have your second chance. Instead, look for a way to clear out some of the bricks that you can, especially if those also lead to you grabbing more orbs. That way, when you reset you've cleared some of the other bricks, and you have more orbs in your arsenal to give you that fighting chance.
—
Using these tips and tricks, I've been able to hit a score of 117 turns and am currently dominating my friends — until they read this article.
How far have you made it in Ballz? Share your score in the comments below as well as any tips you might have and thanks for choosing GameSkinny as your source for gaming news and reviews!
About the author