Both playable characters in Remedy Entertainment's latest survival horror game have their own means of progression. Our guide discusses how to use the clues in the Mind Place and Writer's Room in Alan Wake 2, so you can complete objectives throughout the campaign.
How to Use Clues in the Mind Place and Writer's Room in Alan Wake 2
The Mind Place and Writer's Room in Alan Wake 2 are functions used by specific characters. Here's a quick summary:
Mind Place — This is used by Saga Anderson, and it looks somewhat similar to an investigation board. I find this quite fitting since Saga is an FBI agent.
Writer's Room — This feature is used by Alan Wake, and it appears as a dimly lit and sparsely adorned room.
Mind Palace: Case Board, Evidence, and Profiling
Saga's Mind Place is akin to the Mind Palace concept from detective films and games (i.e. Sherlock Holmes). In it, Saga uses her deductive powers to ascertain the true nature of an individual or a relevant hint:
Evidence — The objects that you find scattered in various areas usually present clues. These can come from documents that you inspect or from collectibles. They'll then appear as pictures or notes.
Case Board — Clues are then placed on the Case Board (organized and limited to the type of case that you're tackling). You can manually place a clue by clicking on one option and dragging it to a related question or topic. If you do it right, the hint will be placed on the board. If you pick the wrong one, Saga will remark in an agitated manner. As you reveal more topics, the remaining clues will also become selectable.
Profiling — From time to time, you'll learn about other characters in the game world. In conjunction with your discoveries in the Case Board, you can use the Profile action to reveal the true nature of these individuals. I found this mechanic quite enthralling, since it implies that Saga is delving deeper into the mindset of people.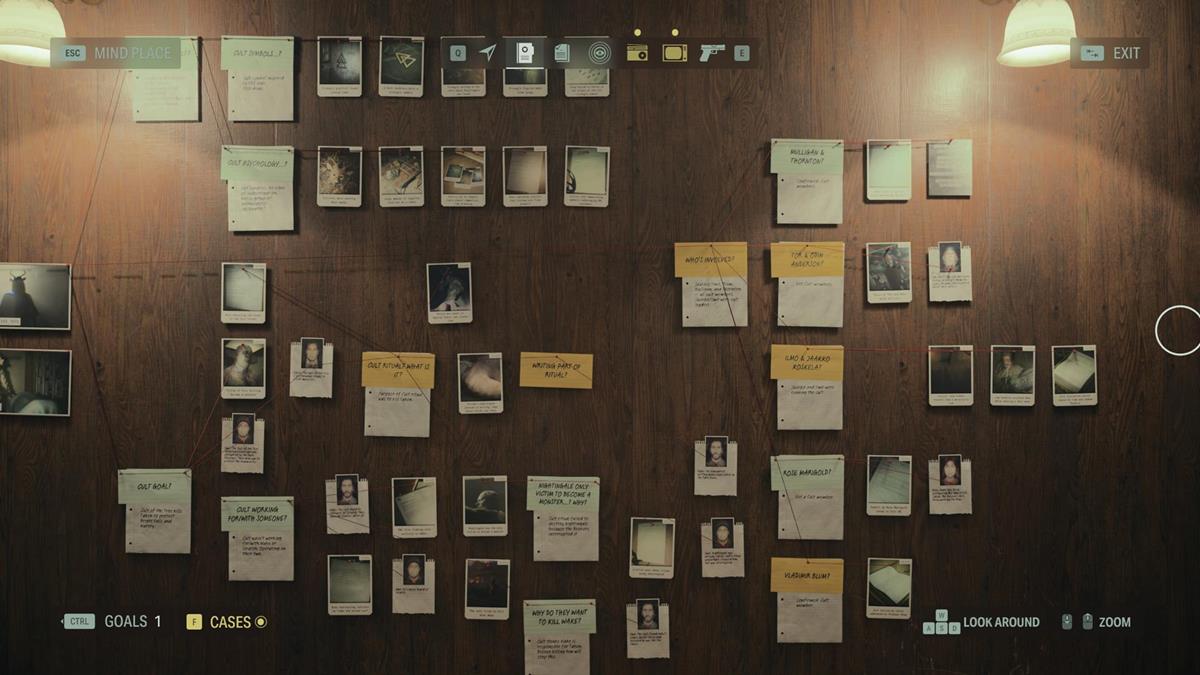 Writer's Room: Plot Board and Inspiration Themes
Alan has a Writer's Room, which I thought is fitting since he uses his works to change the narrative and his own reality. There are a few notable concepts here:
Echoes – Echoes themselves appear in the game world, and they look like light and dark orbs. The goal is to align Echo orbs to trigger a cutscene. Some of these simply add a bit of backstory, while others are integral to progression.
Scenes – Whenever you reach certain areas in Alan's chapters, you'll unlock specific scenes. These will have their own selections on the Plot Board.
Inspiration Themes – Speaking of Echoes, the important ones are those that unlock new inspirations or themes. These allow you to select a particular scene, as well as an accompanying theme, causing Alan to alter the world around him.
A good example of the above mechanic that I certainly recall is the Subway level. In it, I reached a scene called End of the Line. There were several themes available, such as "Missing FBI Agent," "Murder Cult," and "Torchbearers." However, the correct option was the "Summoning Ritual," which eventually led to the exit. There are also quite a few of these instances in the Zane's Film chapter.
In any case, that's everything you need to know about how to use clues in the Mind Palace and Writer's Room in Alan Wake 2. For other tips and tactics, you can visit our AW2 guides hub.
About the author