Remedy Entertainment's newest survival horror game has you battling terrors, all while trying to navigate dark locales with labyrinthine passageways. Our guide discusses where to find the Subway Station Map in Alan Wake 2, so you don't feel lost in the underground area.
How to Get the Subway Station Map in Alan Wake 2
You can get the Subway Station Map in Alan Wake 2 by interacting with it on a board in front of the first Break Room (i.e. save point) in the underground area. Here's a quick summary:
During Initiation 1 – Late Night, Alan has to escape a building. This is done by unlocking the Talk Show Studio door.
Shortly thereafter, you'll get a new chapter, Initiation 2 – Casey. This is when you'll be able to explore a pseudo-New York City, which is somewhat akin to what you'd see in detective films and crime thrillers.
While there are various goodies to be found, such as supply stashes, Words of Power glyphs, and Echoes that you can align, your main goal is to head into Caldera Street Station.
You'll notice a flickering lamppost at the edge of the plaza. Once you use your Angel Lamp, you'll see the steps that lead down into the station proper.
From there, place your Subway Ticket in the booth and proceed to the tracks. You'll receive the Caldera Station scene, as well as the Missing FBI Agent theme/inspiration, which leads you deeper into the railway.
Subway Station Map Location
Here's the kicker: the Subway Station Map isn't readily available when you first arrive at the terminal. Instead, you'll need to proceed a bit further into the next tunnel.
You'll then see a Break Room to your right. It's well-lit, so you can't miss it. There's also a "Lost" graffiti above the door. Right next to it is a wooden board that has this map. Simply interact with it, and you should be able to check it in the Writer's Room or by pressing the "M" key on your keyboard.
Now that you have what you're looking for, feel free to explore this place at your leisure, but watch out for deadly Taken shades. Likewise, a bit later in the End of the Line scene, you might want to know how to use the Summoning Ritual option.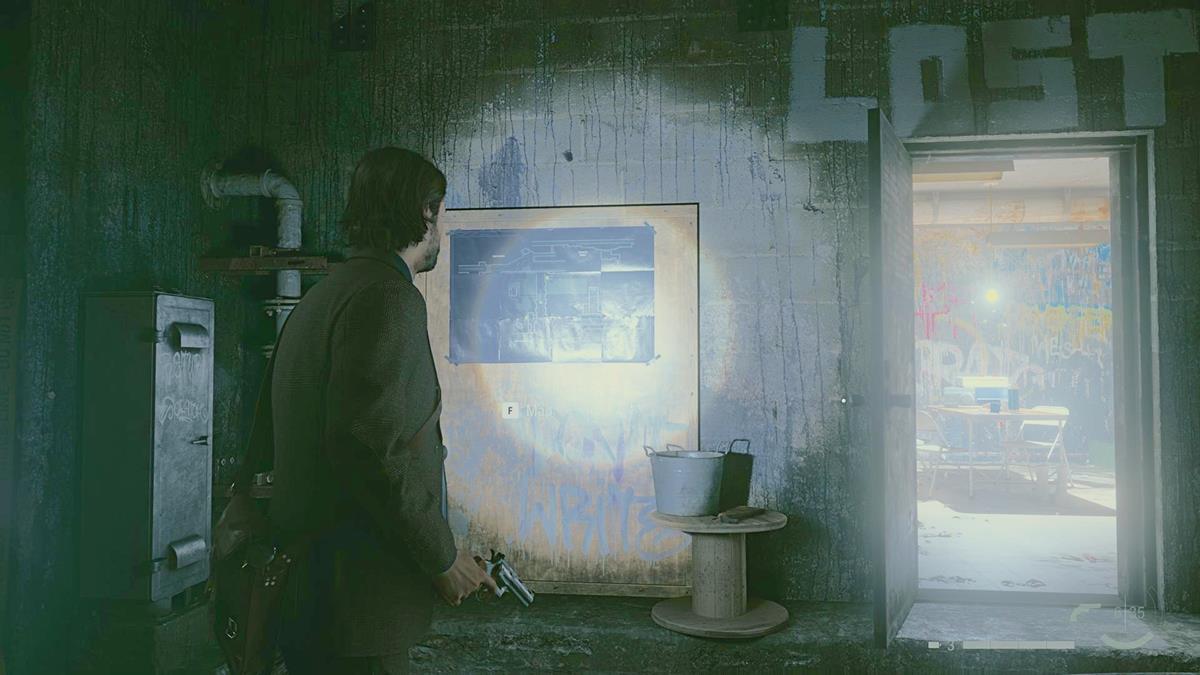 As an aside, I also encourage you to look for Tim Breaker locations. This sheriff appears in Alan's chapters, including this one in the subway. I can tell you that the room where he's located also has a similar map. However, interacting with it also reveals collectibles and points of interest nearby. I definitely had an easier time locating various rewards while playing as Alan thanks to this supporting character.
In any case, that's everything you need to know about where to find the Subway Station Map in Alan Wake 2. For other tips and tactics, you can visit our AW2 guides hub.
About the author